Design Experts Advise Against These Bathroom Towel Colors
New Africa/Shutterstock
Bath towels are a beautiful way to either reinforce existing color schemes in any bathroom or introduce contrasting shades. From stacks of fluffy bath sheets to attractive hand towels near the sink, choosing the perfect towel color is as important as rugs and shower curtains to how you create your bathroom's overall aesthetic. There are, however, some towel shades you might want to avoid in your bathroom palette, including stark whites and bright energetic colors that might conflict with the overall feeling of relaxation you may want to create.
In the main or master bathroom, most designers and homeowners decorate the bathroom like an oasis, whether it's for relaxing mornings getting ready for the day or long, hot baths at the end of it. Certain colors and combinations lend themselves to this vibe, while others work against it and might be something you want to avoid in your main bathroom space.
You might want to avoid some neutral shades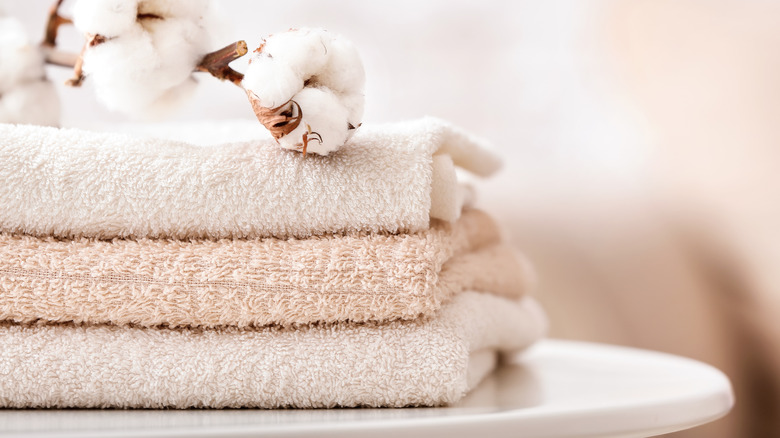 Pixel-Shot/Shutterstock
While your first impulse in a neutral-toned bathroom might be to opt for the simple classic look of white linens, you might instead want to opt for creams or other warmer neutrals. Stark white towels can be difficult to keep clean, and after a few launderings, they sometimes take on a grayish tinge that makes them look less than fresh. Keeping them clean with bleach is always an option, but aesthetically, even brand new, white towels can give a sterile and impersonal look to your bathroom. Other neutrals like creams and ivories are better options for long-term use while still giving off a similar classic look. Other deeper neutrals are also a great option, including tans, beige, caramels, and browns.
While many modern homeowners love a black-and-white color palette for their bathroom, choosing black towels can also be a poor choice. Black is often severe and can make a room look smaller and more claustrophobic than other shades. To maintain a monochromatic look, consider a gray or cream towel in various shades, or choose an accent color like emerald green or midnight blue to liven up the black and white.
Stay away from bright, harsh colors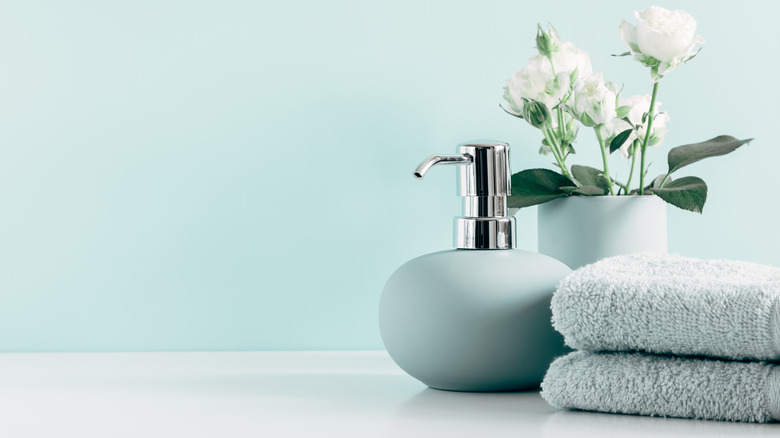 All for you friend/Shutterstock
If you want a more colorful bathroom, you may want to avoid energetic and bright colors like orange and yellow, which can be eye-catching and may work against your calming energies in the space. Even the less saturated and paler shades, like dusky orange and lemon yellow, can sometimes be overwhelming. Similarly, red is a color that demands attention and works against relaxation, particularly in primary, highly saturated shades. If you really desire red for your towels, better options include dusty pinks or deep maroons.
If you are longing for colorful towels, experts suggest choosing colors that are found in nature like various shades of blue and green. A wealth of options exist in these two hues from light to dark, from the palest aqua to the deepest emerald green. If you still love more dynamic and bold colors and patterns, including in a wall-to-wall red color scheme, these bolder shades may be an excellent option for a guest bathroom or a small powder room that is not your main or master bathroom.