The Outdoor Decor Element Home Town's Erin Napier Never Forgets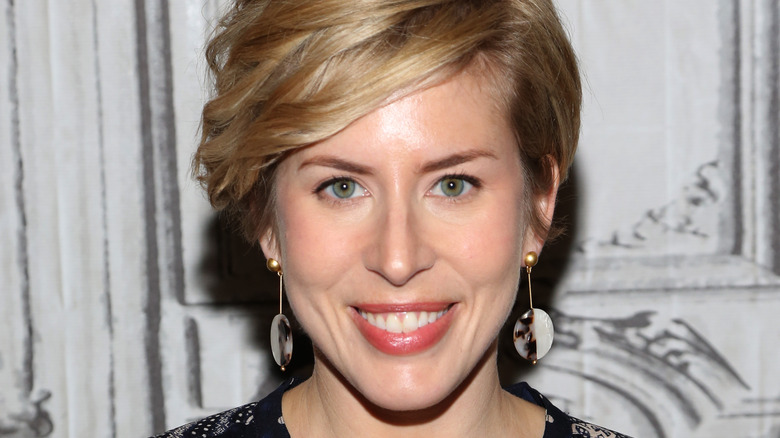 Manny Carabel/Getty Images
If you want to dress up your exterior living spaces in style, there's one outdoor décor element that Erin Napier from "Home Town" never forgets. While Napier and her husband, Ben Napier, have designed and remodeled multiple homes in the last several years with their thriving HGTV show, the front porch is a space she loves to decorate. "Porches are magical," she explains, per HGTV. While the home designer can't live without a quality rug to highlight indoor areas, she knows how well it can enhance various outdoor living areas as well. Whether it's the front porch or back patio, an area rug can bring a touch of interior coziness to a more natural facade. 
In season 1, episode 7 of "Home Town," the Napiers make an artist's porch dreams come true by establishing an inviting front porch with a vast area rug centered. By implementing the appealing add-on, Erin Napier showcased a neutral-toned covering with a comfy armchair, a wicker loveseat, and a plush, square ottoman. Additionally, large planters with tall, tropical plants and other greenery were added to blend well with the patio elements. Ready to entertain, the scene was complete with a quaint cafe table, including a drink pitcher and glassware. Both practical and stylish, outdoor area rugs or runners have the ability to extend your indoor lifestyle beyond borders. Depending on your style, Erin Napier shows us how significant decorating with a rug produces a welcoming outer vibe.
Create a warm, inviting environment with an outdoor rug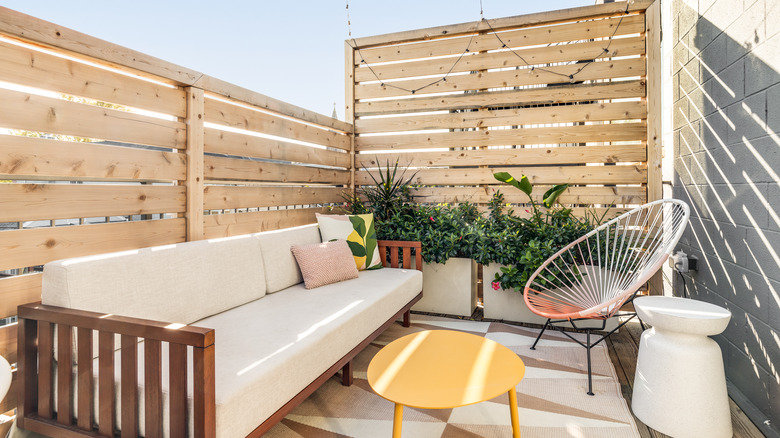 Hendrickson Photography/Shutterstock
When decorating an outdoor space, Erin Napier never neglects to add a naturally made rug to create the perfect scene. Featured in "Home Town's" season 1 finale, The Hayes Project inspired Napier to spread out an authentic, multi-colored dhurrie rug upon a homey Craftsman bungalow porch. Accompanied by a collection of potted plants and hanging vines, the result was made for daily tranquility. Additionally, the Napiers showcased a similar larger piece in the backyard that was draped across a hand-crafted, wooden pergola deck, intended as a small music stage.
Where's the best place to display your outdoor rug? Whether it's for entertaining purposes or quiet moments, you can transcend a drab, alfresco space into an alluring sanctuary. Make things cozy with your pool lounge furniture, under a hammock or swing, or by the outdoor kitchen or grill. Add comfort by placing one on a terrace with an intimate seat for two, or center a larger size amidst a fire pit and couches. However you imagine it, a rug sends out a warm invitation, especially when positioned with other complementing décor and furnishings.
Versatile styles to mix with furniture and greenery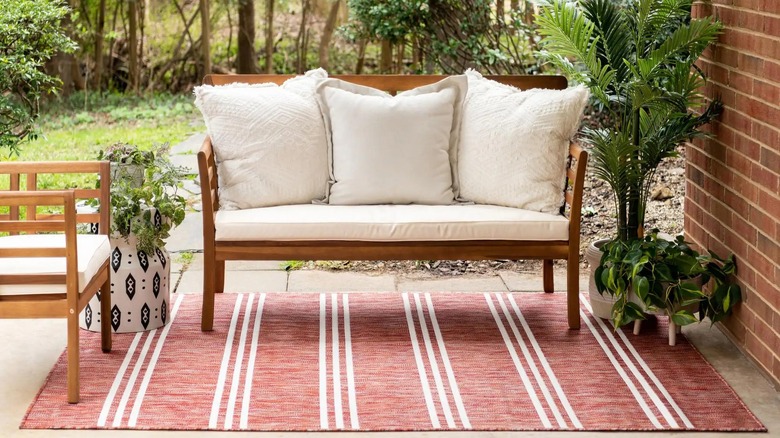 DesignStock09/Shutterstock
While rugs receive a lot of foot traffic indoors, including spills and mishaps, you may want to explore a sturdy, weather-resistant type wherever your exterior haven exists. If you don't have a lot of outside space to work with, showcasing a stylish rug within a limited area may elevate a mundane deck or patio. When the Napiers were challenged with a tiny, overlooked screen porch in season 7, they enlightened and expanded the space with a simple, hand-woven style rug. "It seriously adds so much square footage that the house didn't have before," explains Erin Napier (via Homes & Gardens).
What's the best material for an outdoor area rug? While indoor coverings like wool might rarely be used as outdoor pieces, you might opt for synthetic layers. Choices might include acrylic, nylon, polypropylene, or polyester, which are generally substantial and lightweight while easy to clean and maintain. Olefin is also highly stain-resistant around the grill and other food messes. Other strong, all-natural materials might be jute or sisal, which both mingle well with many designs, although some might not take well to humidity. With style in mind, you might consider a vibrant area rug with captivating colors or intricate designs to contrast against a mellow mood from your furniture pieces and plant life. Whatever your design, always remember to accentuate your style with an ideal rug.