Find Out Where You Can Still Use Your Expired Bed Bath & Beyond Coupons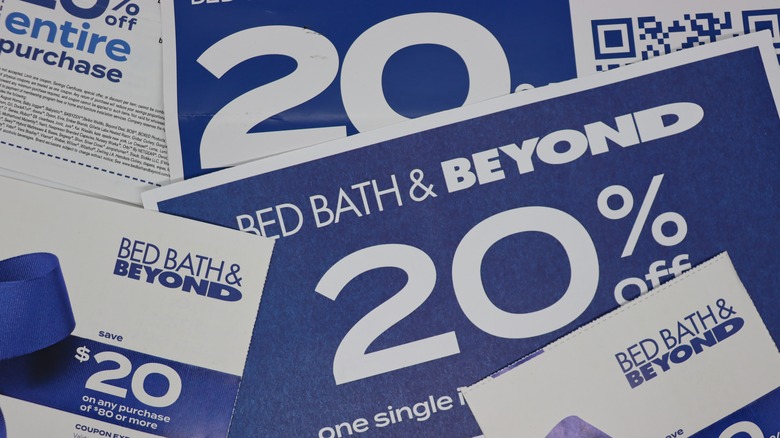 Elisha Eseonu/Shutterstock
It's no secret that Bed Bath & Beyond has struggled for years to keep its doors open to the public, but it seems that the last straw has finally fallen on the camel's back. The giant home goods retailer will soon be permanently shuttering the doors of all its locations. On its website, Bed Bath & Beyond writes, "Thank you to all our loyal customers. We have made the difficult decision to begin winding down our operations." According to CNN, the company only gave customers three days to cash in on their coupons after announcing bankruptcy, but now that the brief coupon window has closed, many people feel cheated out of a great deal. Luckily, competitor brands have swooped in to honor Bed Bath & Beyond's now defunct coupons, including Joann Fabric and Crafts stores, Big Lots, Boscov's, and The Container Store. 
Dedicated coupon collectors are likely familiar with Bed Bath & Beyond's 20% off coupons, but how will the competitors honor these discounts? Before you rush out the door to cash in on your coupons, plan ahead to know what kind of deals you can expect — for a limited time.
Act fast at these competitors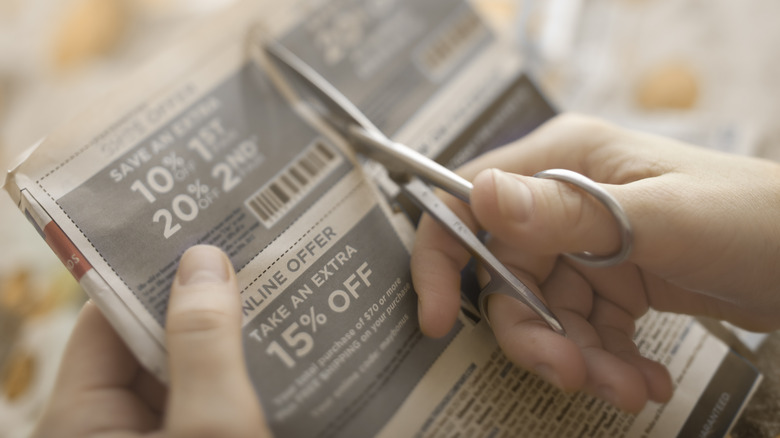 igor kisselev/Shutterstock
While it isn't published on their website yet, Joann Fabrics announced on their Twitter account that they would accept non-expired Bed Bath & Beyond "blue coupons" in exchange for 20% off a single item in their stores. This deal will be available until the coupons have expired. Similarly, The Container Store will provide 20% off one product if customers bring in a non-expired Bed Bath & Beyond coupon. Unlike the popular fabric and craft store, however, The Container Store will extend this deal until May 31 (via Lifehacker). Boscov's is a department store that sells a wide variety of home goods, furniture, décor, and select clothing and beauty products. Until May 31, Boscov's will accept mailed Bed Bath & Beyond coupons in exchange for $10 off any purchase of $50 or more (via Boscov's).  
However, Big Lots may offer the best deal in exchange for the beloved blue coupons. Bring a mailed Bed Bath & Beyond coupon to any Big Lots location, and you'll receive 20% off your entire purchase of $50 or more. However, if you want to cash in on this deal, you'll need to act quickly, as the brand only offers coupon exchanges through May 7. If you can't make it into any of these stores in time, keep an eye on your local Bed Bath & Beyond, as the company will soon be liquidating merchandise in preparation to shut all stores.