Here's How Much It'll Cost You To Build A Barndominium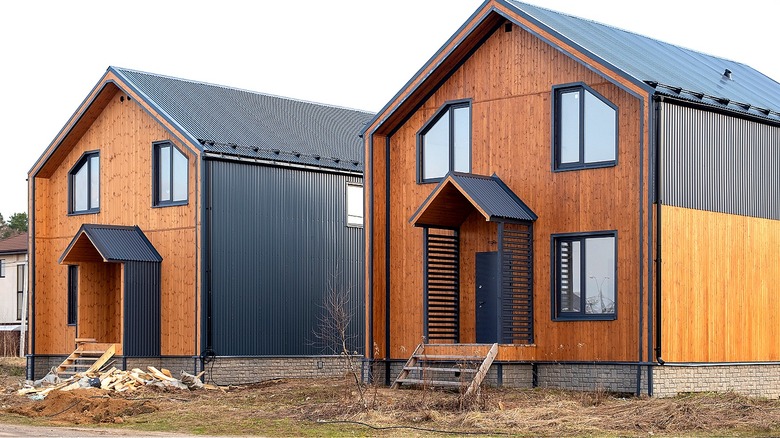 Dina da/Shutterstock
Ever since "Fixer Upper" stars Chip and Joanna Gaines renovated a former horse barn into a modern farmhouse open-plan family home, the word on barndominiums has been out. Even people who prefer a more urban lifestyle versus rural living seem to be getting in on the rising "barndo" trend, too. But how much does it actually cost to build one of these barn homes?
Depending on factors, such as size, site accessibility, materials, and bardominium features chosen, the cost to build a barndo can vary greatly. However, the average to build one of these homes is around $250,000, which is considerably less than building a traditional home from the ground up.
This said, when building any new construction, the first question is: Where are you going to put it? In order to build your dream bardominium, you'll need a piece of land, and that's where the cost of building a barndo will begin. On average, an acre of land in the United States costs $3,380 to purchase, according to the U.S. Department of Agriculture, with much of it depending on the state. In Wyoming, for example, an acre of land costs $790, while the same amount of land in California will cost nearly $11,000, and in Rhode Island, $16,400.
Bardominium factors to consider
Building a bardominium from scratch costs more than converting an original barn for a number of reasons. For a newly built home, you're not only purchasing the land, but you'll need to draft design plans, lay a foundation, and buy the materials for all the construction, as well as account for any landscaping, fencing, and additions you'd like to see, such as a porch or patio. Then there are the costs for running electrical and plumbing through the home, along with connecting to basic utilities. And that's even before purchasing interior fixtures and fittings.
This said, for anyone who loves the look and custom-building process of a barndo, the cost to build one would certainly feel worth it. Newly built barndominiums have the open-barn feeling of a barn, but have all the advantages of modern construction. Plus, the buyer can work with the architect to create exactly the footprint they want versus converting an existing structure.
Note that local building codes in more metropolitan areas may limit or restrict the ability to build a new barndominium, so it's best to make sure you know if you're even allowed to build one in your area. Getting the permitting to even start the build can also be a lengthy process, so be prepared for it to take longer than you might think.
Building from a barndominium kit
There are a number of companies now selling kits for barndominium builds that include all the materials you need to quickly erect your new barndominium once you have the land. These kits include everything, from the barndo's walls and steel support columns to the new home's roof, doors, and windows, not to mention every bolt and screw needed to put it all together.
Because everything is pre-manufactured, barndomimums from kits can be complete in as few as 10 days, which can be a huge saving on labor costs. An owner, or their general contractor, still needs to acquire permits, check local building codes and utility hookups, but the time saved can be huge. The only downside is that they're pre-made plans, so it will cost you extra if you want any custom features. In general, if you go the kit route, you should expect to pay between, on average, around $225,000.
If you don't want a full kit, but you also don't want to pay for a fully custom plan, you can look into stock plans. However, similarly, any changes to the plans will cost extra, and there are still the normal building costs involved. But on average, stock plans tend to be in the $1,250 to $1,750 range, whereas custom-designed plans go for upward of $4,000.