The Best Kitchen Cabinet Color To Replicate That Effortless Hamptons Style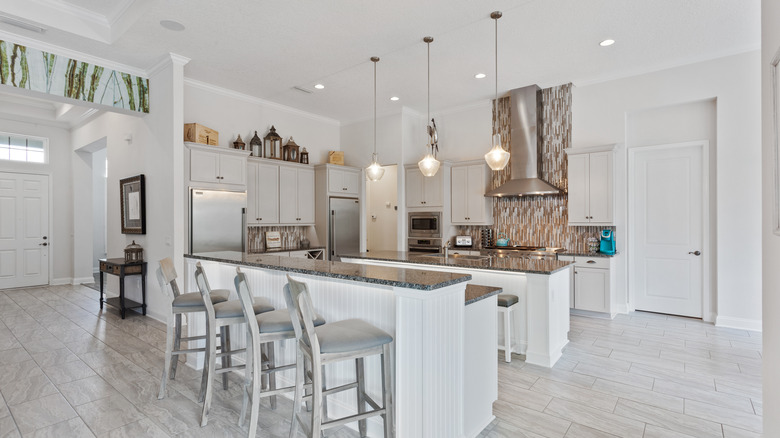 Pipas Imagery/Shutterstock
The Hamptons and other nearby coastal communities are known not only for their wealth and luxury, but also their laid-back, beachy style. Hamptonesque kitchens are often the gathering spot of the home, providing spaces both elevated and homey. The result is a useful room for spending time with family and friends over meals and cooking that is both well-appointed and beautiful. The cabinets, which are one of the key elements of any Hamptons kitchen, are an integral part of the overall design scheme, with a particular trend toward white or off-white cabinets dominating these coastal kitchens. 
The Hamptons style is more a way of being than a mere trend, manifesting in different coastal-inspired aesthetics like "coastal grandmother," an old-money and preppy style that goes back many decades since the early days of the East Coast's elite flocking to the haven of island life every summer. But you can get the look of a coastal kitchen wherever you are — without the hefty price tag of a beach house — by keeping a few key points in mind when making cabinet choices.
Coastal cabinet colors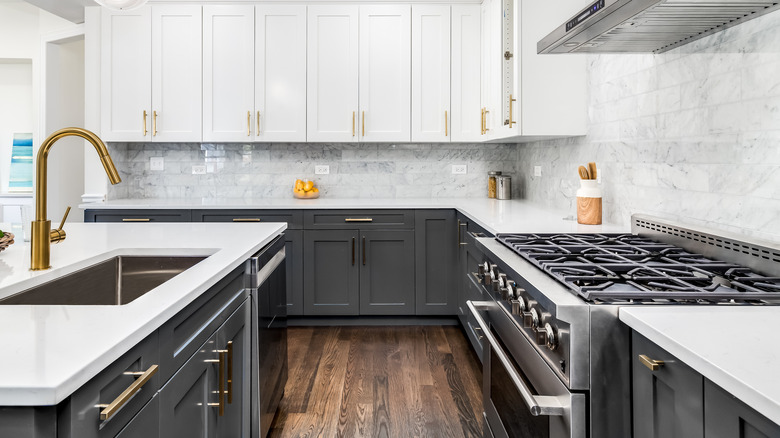 Hendrickson Photography/Shutterstock
Many Hamptons kitchens feature white cabinets, which is always a great choice to make rooms feel both larger and filled with light. It's a color that goes well with other details you might find in a coastal kitchen, including lots of weathered wood, sea glass accents, and black iron or polished brass fixtures. The overall effect allows the cabinets to become part of the backdrop while other elements like gorgeous countertops, butcher block islands, and rattan pieces are given their due attention. Colors in Hamptonesque kitchens are usually drawn from nature, like blues, greens, and grays, which often are used for dishware, linens, and accessories.
The flavor of white paint you your cabinets utilize can vary, from cool and crisp whites to creamier, warmer varieties. Hamptonesque kitchen cabinets also sometimes feature grayish whites that mimic the vast Atlantic landscape. A popular trend in many rustic coastal styles is lighter cabinets at eye level and higher with darker, deeper colors below, including midnight blues or teals, olive or emerald greens, and rich grays.
Coastal cabinet styles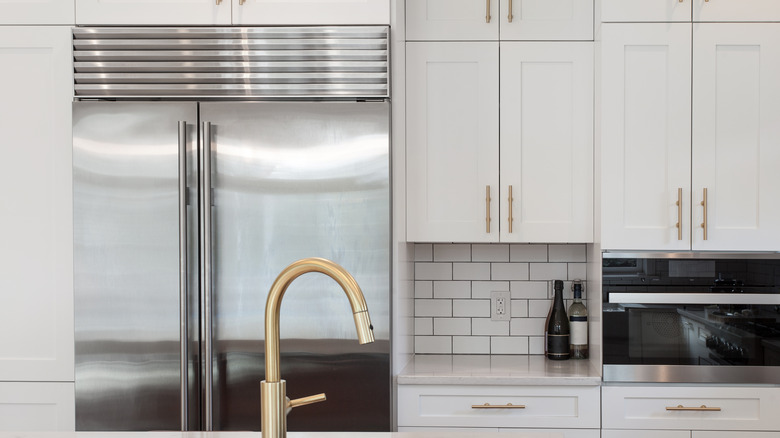 Berkay Demirkan/Shutterstock
Kitchens in the Hamptons are often cozy, but filled with light, employing large windows, skylights, and soaring ceilings. As such, the cabinets themselves tend to extend all the way to the ceiling, either as a single continuous high cabinet or a set of smaller cabinets above lower ones. The style of these doors is usually classic and simple, with shaker-style cabinets being a popular option.
For a touch of luxury and uniqueness, opt for more luxurious hardware on these simple cabinets including polished brass, antique silver, and black finishes. They can be as simple or ornate as you like, with floral and sea-inspired details often being favorite decorative touches. Coastal style, with its emphasis on natural materials also often mixes up traditional cabinetry with open shelving or glass-fronted cabinet doors to show off pottery and dishware. Other options for cabinet, shelf, and pantry storage include rattan baskets or doors to add texture and a beachy feel.