The House Hack Fix My Flip's Page Turner Recommends For First-Time Homebuyers
Page Turner of HGTV's "Fix My Flip" has some helpful advice to keep first-time homebuyers from accidentally overspending. A professional real estate agent with over 100 successful flipped properties, Turner is full of tips for maximizing your budget. For instance, once you're ready to purchase a house, Turner suggests investing in a property that can help supplement your income. "If at all possible, find a home where you have multiple units where you can live in one and rent out or Airbnb the other. It can be a great source of extra income, really for homebuyers at any age," Turner says in an exclusive interview with Realtor.com.
Because of her struggles with going over budget at the beginning of her career, she relishes the opportunity to help homebuyers avoid making the same mistake. "It's such a [historically] high market, it breaks my heart when it seems on paper that people can purchase a home, but when they get into the real amounts of money — down payment and closing costs — they find they've priced themselves out of that monthly payment," Turner explains.
Tips for first-time homebuyers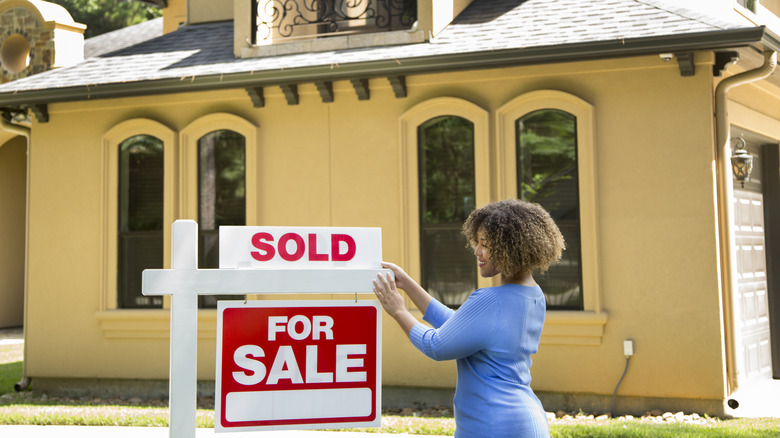 Lifestylevisuals/Getty Images
The seasoned flipper also stresses the importance of saving and making compromises when planning to purchase your first home. "So you may need to take more time, save as much as you can. You may have to move a little farther from where you work," Turner explains (via Realtor.com). However, she still recognizes the importance of finding a mentor and receiving financial assistance wherever possible.
"Most important is finding a really good real estate agent and lending partner that can put a great plan together for you and tell you how many options are out there," Turner says. "For example, a lot of people don't realize if you're a retired or active VA vet, there are 100% loan programs, with no limit to how much house you can buy."
Programs for first-time homebuyers and veterans are great for covering down payment costs, but there are other options. Some people may qualify for grants, low or no-interest loans, and deferred payment loans. So before buying a house, make sure to save up, seek out trustworthy lenders, look into assistance programs, and search the market for affordable multi-unit properties.