Here's What Joanna Gaines Is Growing At The Magnolia Silos Garden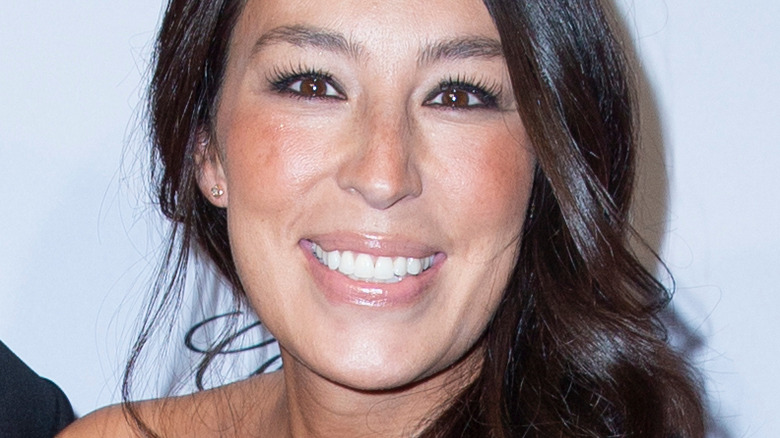 captureandcompose/Shutterstock
It's no surprise to followers of "Fixer Upper" that Joanna Gaines is right at home in the garden. HGTV, in fact, chronicled a project at her farmhouse where a charming garden cottage was built adjacent to a garden where the whole family could get further involved in planting and growing everything from flowers to veggies. When Gaines envisioned the garden space at Magnolia Silos in Waco, Texas, she sought some of the same elements included in her home garden like raised beds, flowers meant for cutting, fresh herbs, and other produce. Climbing roses and fruit trees are also part of the Magnolia Silos garden experience.
The person in charge of carrying out Gaines' concept for a garden at Magnolia Silos is Brooke Garcia, a gardening expert who worked to transform a blank canvas into a delightful space complete with a greenhouse. "She had this vision of putting this garden on the grounds, because how contradictory is that to have a garden space in downtown Waco, full of life, attracting bees and pollinators, and just the beautiful moment in the middle of downtown," shared Garcia, in an interview with Better Homes & Gardens about her experience working with Gaines.
Colors, textures, and patterns in the Magnolia Silos garden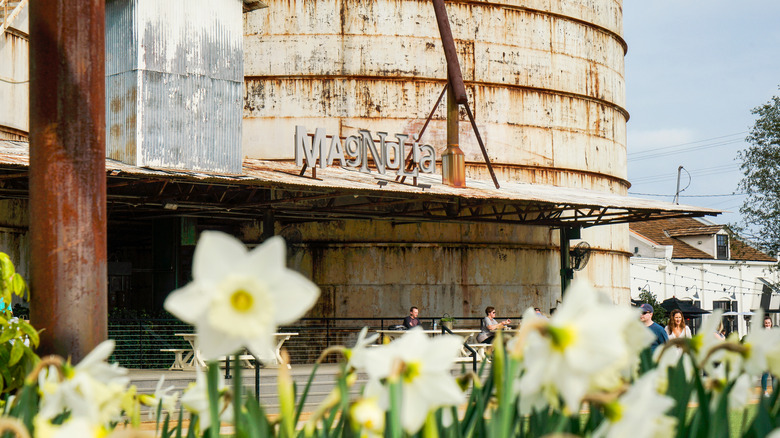 captureandcompose/Shutterstock
Joanna Gaines is famous for inspiring others to create beautiful and inviting spaces in and around their homes, so a visit to the garden at Magnolia Silos does just that. It's filled with elements that gardeners on all levels can incorporate into their own outdoor spaces when they get back home. Colors are selected seasonally, but textures and patterns are just as important when curating this informal space. Brooke Garcia likes to keep it interesting with plants that have a "sense of softness and whimsy."
"I tend to associate the texture of a plant with more of a feeling: Is it rigid? Is it flowy? Is it soft?" Garcia said in her Better Homes & Gardens interview. "So we might have some like formal elements in the garden of these straight lines, these walkways — there's not a lot of curvature in our garden spaces, but we break that like formal line through plants and texture and this loose kind of feeling."
Flowers and produce growing in the Magnolia Silos garden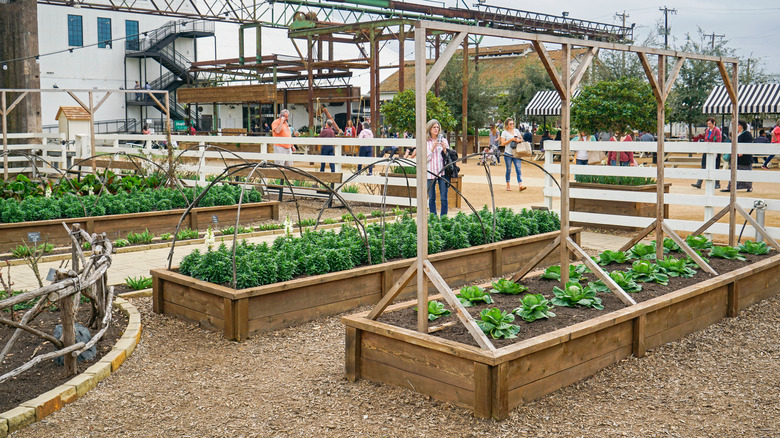 captureandcompose/Shutterstock
When it comes to planting flowers in the Magnolia Silos garden, Brooke Garcia focuses on what would look great in a cut arrangement and uses that as a guideline. Flowers are changed out regularly with color choices that reflect the current season and Joanna Gaines' favorites can be among the mix. For cutting, Gaines likes chocolate lace dara so those are mingled with white king delphinium, hummingbird poppies, dalmatian white foxglove, and champagne hollyhock, among others for the current spring selections. The garden also includes ice cap and heirloom roses that add fragrant touches.
Produce plantings in the Waco garden are seasonal as well. The raised beds there currently include lots of strawberry plants, lettuce, jalapeño peppers, and several types of basil. For those wanting to give this style of gardening a try, Garcia suggests using cedar or treated lumber to frame a raised bed garden and using a shape that works best for your yard. With a little planning, and some trial and error, you can create your own little garden paradise inspired by Gaines and her horticultural staff in Waco.