These Are The Best Kitchen Tile Colors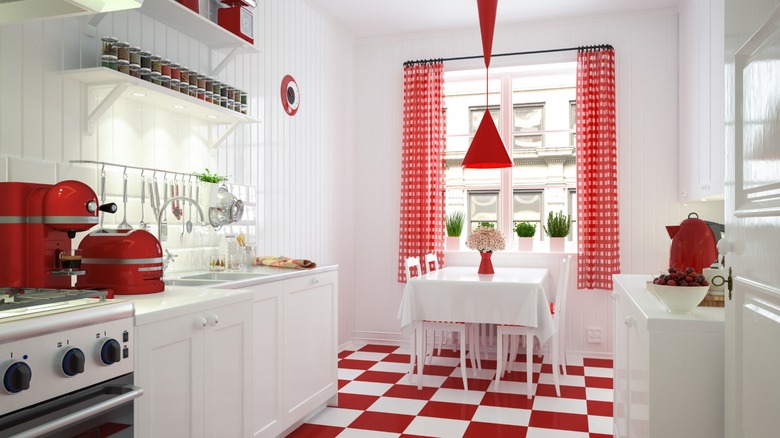 Bulgac/Getty
When taking on a kitchen update, you have a ton of different choices to make, and one of the biggest is the color of tile you want to use. There are multiple applications in the kitchen you may be considering tile for, with one major surface being your kitchen floor. Much will depend on what type of tile you decide to go with, but regardless you'll want to have an idea of what basic color you want. Although you may be trying to stay under a certain budget, spending a little more on a tile color you'll adore well into the future will pay off in the long run. 
There's an overwhelming number of tile colors on the market. You can do a lot of research and even request samples online to get a good idea of what you want. That way you can compare the color with your kitchen cabinets and your home's other surfaces. You can choose a monochromatic look for your kitchen, or you can opt for a floor in a contrasting shade for a dynamic impact. So, in no particular order, these are the best kitchen tile colors to create a stunning floor.
Terracotta is earthy and warm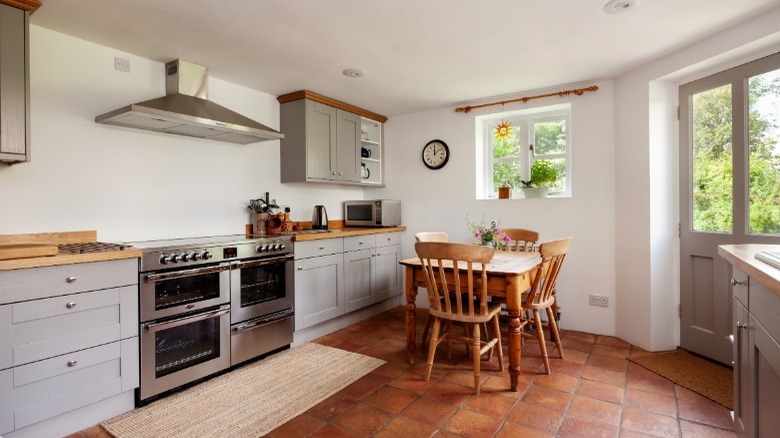 Mike Higginson/Shutterstock
Terracotta is a stunning choice that's an earthy reddish brown earth tone with color variations in the natural clay that create a weathered appeal. This tile gives a warm, rustic vibe to your space and complements many other different styles as well. This type of tile is on trend, especially in farmhouse-style kitchens. Terracotta tiles are also perfect for Spanish Colonial or Mediterranean-style homes. Sometimes people use them with patterned or encaustic tiles in mosaics in contemporary kitchen designs.
In a kitchen with terracotta floor tile, the warmth of wood cabinetry accentuates the cozy feel. White cabinets can also make the ideal contrast and add a clean, fresh vibe in just the right spot. Conversely, if you like a more bold design style, you can accent terracotta tile with many other colors. Warmer, more saturated shades of red or yellow also work well. Either way, add some strategically placed houseplants to add to the nature-infused space.
Classic white marble is timeless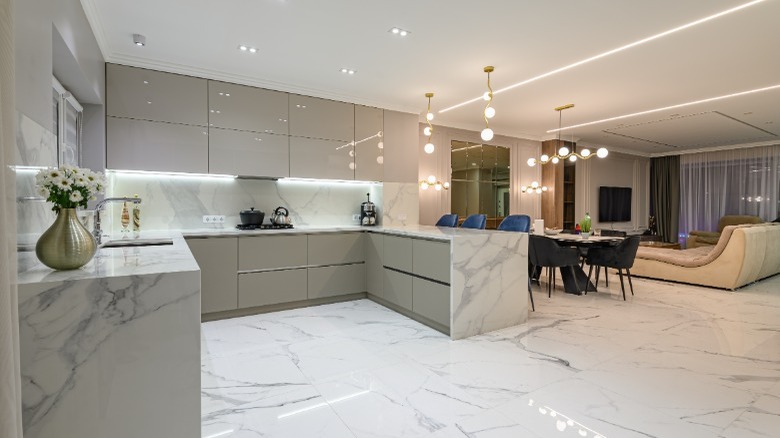 Serghei Starus/Shutterstock
One of the most classic and timeless looks in kitchen floor tiles is accomplished with white marble. White marble tile is luxurious and sophisticated, and it looks beautiful while adding home value at the same time. Calacatta, Carrera, and Breccia are three popular types of white Italian marble floor tiles. The natural material is known for its gorgeous dark gray and gold veining that results in extraordinary organic beauty. If you want a clean, tasteful aesthetic that's ideal in both modern minimalist and traditional-style homes, white marble is the natural stone tile that fits the bill. Additionally, white goes with everything and symbolizes purity and cleanliness.
White marble looks stunning with lighter shades of wood, in particular, such as pine. You can also opt for cabinetry in dark gray to bring out the veining of the marble for a timeless yet modern look. If you're looking to create a clean, minimalistic vibe that makes the kitchen look more spacious, select cabinetry in white or pale grey. Overall, white marble tiles are a classic choice to give your kitchen a pristine appearance.
Blue is true
There is plenty of variety in blue kitchen floor tiles, many of which are ceramic or porcelain. Both of these materials are durable and make excellent choices for your kitchen floor tile. The color blue symbolizes peace, tranquility, strength, and reliability. The specific shade of blue you use will have its own unique meaning, and there is no shortage of options. Blue tile is also often used in tiles with a pattern, and it can give your kitchen a delightful rustic charm.
Farmhouse-style kitchens often are enhanced with blue patterned tiles, and you can use them in both traditional and contemporary kitchen designs. Blue tile is aesthetically pleasing and can give a space a coastal feeling. Additionally, it can be used to create multiple effects and is extremely versatile. Used with white it acts as a neutral backdrop for other colors, as well. Sometimes blue shades can be tricky to match with each other, so check it with a sample to ensure it matches the cabinet color you're using.
Travertine is on the scene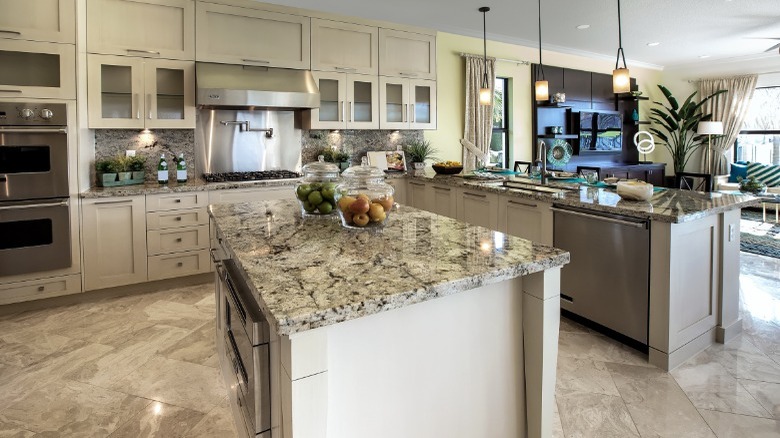 Jodijacobson/Getty
Travertine is a natural limestone tile that makes the perfect warm beige neutral for your kitchen. It ranges in shades from light cream to deep coffee, and it offers a timeless look that never seems to go out of style. Travertine tile also comes in different finishes such as polished, textured, brushed, tumbled, and honed. Another great thing about this type of tile is it can be used for every kitchen application if you want to match all of your surfaces. This option gives a space an earthy, comfortable yet sophisticated feel. Whether you're going for a modern or traditional style, the classic look of travertine is a solid pick.
Travertine tile has been widely used in Tuscan-inspired kitchens in particular, and in the past, it has often been paired with mid-toned and dark wood cabinets. Today, while dark wood still pairs splendidly with it, oaky yellows have been replaced with warm whites for a modern, clean look. You can even choose shades of greige, one of the trending colors in 2023. 
Black is back
One popular tile choice is deep black which makes a dramatic, refined impression. This choice is absolutely stunning in modern minimalistic and contemporary kitchens in particular. The really great thing about black is that it's a classic neutral that goes with everything. Not only that, but stains won't show as much, and for kitchen floors, that matters! Look for different styles of black tile such as herringbone mosaic, hexagon mosaic, and classic subway to create a sleek, custom vibe. You can also choose black grout to minimize visibility and create a seamless look.
With black tile, there are different finishes to consider, as well. For example, matte-finished tiles are ideal to mesh with warm surfaces like stone countertops. On the flip side, glossier finishes may look best paired with smoother surfaces like granite countertops. Combined with clean white cabinets, black tile creates a neutral palette that gives you the freedom to play with endless accent colors. 
Black and white is dynamite
Now if you're like some people and can't decide between white or black, why not do both? Using a combination of black and white tile is classic yet stylish, seen in both traditional and modern homes today. To quickly elevate the space and give it a unique touch, there are many ways to incorporate black and white tile into your kitchen design. Often they're made of porcelain, but they come in many other types including ceramic, marble, and cement tile. If you want an art deco look, a simple black and white checkerboard pattern can achieve this nicely. For a more modern design, try hexagonal or geometric patterns and create your own mosaic.
Using black and white in design is often used to strike the perfect balance, achieving harmony by bringing everything together just right. Some modern kitchens look great with a monochromatic and minimalist palette. But if you really want to make your kitchen pop, try an accent color like pink, lime green, or red. 
Green is keen
Green tile is always fashionable and offers a variety of possibilities for the kitchen. Depending on what shade you choose, you can create the atmosphere you desire. For example, dark or deep shades of green floor tile are more modern while lighter shades are great for farmhouse or art deco styles. Like blue tile, green tile comes in nearly every material. Some common ones are ceramic and porcelain, and these are both durable and long-lasting. The color green evokes a natural, earthy vibe and symbolizes renewal and growth. It also represents health, vitality, and affluence.
If you're thinking about this color, green-themed kitchens are currently on trend. Green tile flooring for the kitchen looks especially striking with wood accents and gold hardware. It's a color that's easy to match with other shades, and the tile makes the ideal backsplash color. Another idea to accentuate green tile is by matching it with light green Shaker-style cabinets for the perfect charm of a farmhouse kitchen.
Wood look for rustic charm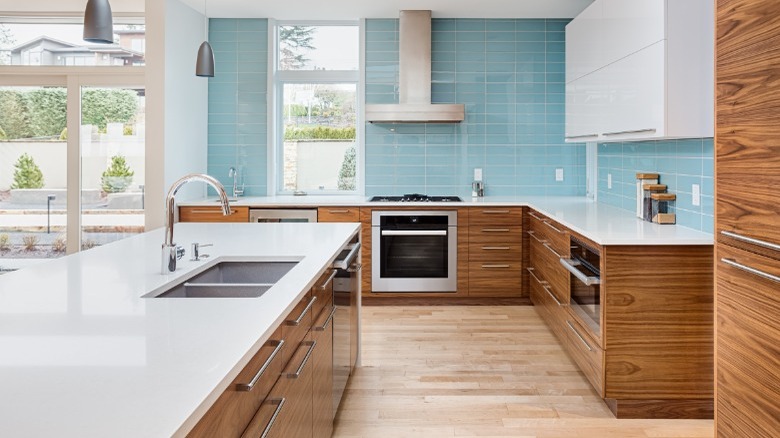 Justin_Krug/Shutterstock
If you love the idea of hardwood floors but hate the idea of caring for them, try ceramic or porcelain tile that looks just like wood. These tiles are wonderful in farmhouses or traditionally-styled kitchens as well as modern designs. They are made with convincing wood grains and many different lifelike shades, and you can find something to match any vibe you want to achieve. In addition to ceramic and porcelain, you can also opt for more affordable materials made to look like wood. For example, there are tiles made from laminate and cork that can create authentic-looking faux wood kitchen floors.
You can choose simple or intricate patterns for your tile layout depending on whether you want a classic or innovative design. There are also different looks to consider, such as distressed or exotic wood. You can blend light wood shade tiles with darker shade natural stone countertops for a kitchen full of welcoming character. Darker wood shades pair excellently with light-colored cabinets and silver-colored hardware, as well as with stainless steel appliances.
Gray is cool and sophisticated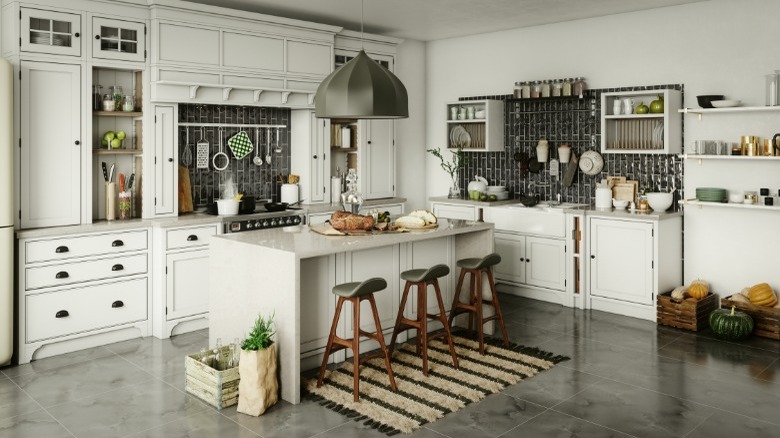 Bulgac/Getty
Gray tile is definitely something to consider if you're going for a luxurious, sophisticated vibe. It's ideal in modern kitchens of all kinds, and can be marble, porcelain, ceramic, or gray slate is another natural stone tile. Although gray tile can feel industrial and moody, it can also make the perfect neutral with a clean, chic vibe. Subway tiles in varying shades of gray are trending strongly in many kitchens today. They can also be used for the kitchen backsplash in varying shades and patterns.
With a base of grey tiles, you can add an accent color like pink or green for a more art deco or vintage feel. These floors go with marble or granite countertops extremely well, providing the perfect neutral yet stylish backdrop. Gray tile floors also make an excellent pairing with either light or dark blue cabinets, and they look exquisite with silver or black hardware.
Terrazzo is trendy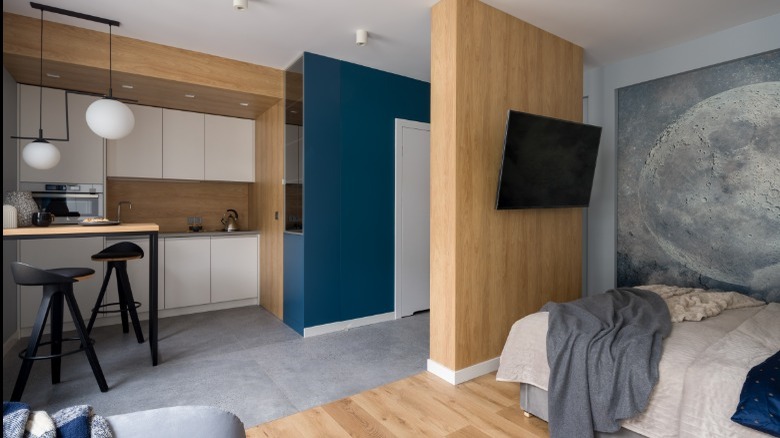 Dariusz Jarzabek/Shutterstock
Terrazzo tile was big in the 80s, and it first became popular during the art deco period. However, it has recently made another comeback with the latest trends. Terrazzo is made up of assorted chips of marble in a cement mold. The chips in these tiles can be marble, quartz, glass, or metal. This is definitely an interesting option to explore because the color variations are endless, and it can create a unique vibe in your kitchen. They're somehow reminiscent of a calico pattern, and this makes them able to be matched to any decor or accent color. Terrazzo tile looks great with a variety of styles and gives a slightly eclectic and fun art deco look.
Warm shades of terrazzo can be accented pleasantly with off-whites or greiges, red, orange, or yellow. On the other hand, cooler shades of terrazzo will benefit from pure white, blue, green, and gray surfaces. Choosing an accent color lies within your particular tiles themselves. In other words, look closely and carefully at the color variations, and pick out one or two colors within them. Using these colors for things like your kitchen textiles and serving pieces can bring out the beauty of the floors, as well.
Encaustic cement patterns are eco-friendly
Encaustic tiles are another version of cement tiles that are poured by hand as opposed to other methods, which creates bright colors that are fade-resistant. They are typically patterned in two to six colors that result from different colors of clay rather than from a glaze. If you love the look of patterned tile, encaustic tiles may be the way to go and are even considered eco-friendly. Because they come in an endless variety of colors and patterns, they will go with both modern and traditional styles. You can even mix and match for your own distinctive design. 
Patterns such as flowers, crosses, or starbursts are available to give a slightly eclectic, boho vibe. Many homeowners find their appeal and charm irresistible, and they add a touch of personality and warmth to any space. The hues in the tiles you choose can also take the guesswork out of forming your kitchen's overall color palette.