What To Consider When Purchasing A Sleeping Sofa For Your Home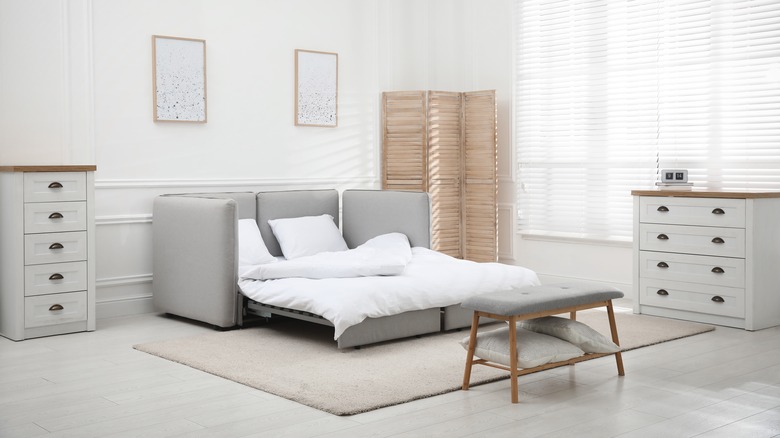 New Africa/Shutterstock
Whether you're looking to accommodate guests, create a cozy nook for relaxation, or maximize space in a small apartment, selecting the best sleeper sofa for your needs can make all the difference. However, with numerous options available, it's crucial to consider several factors before making your purchase.
For instance, comfort and functionality are paramount. After all, a good night's sleep or a relaxing lounging experience depends on it. You'll want to carefully assess your available space, considering the dimensions and layout of your room. Understanding the primary purpose of the sofa, whether it's for occasional guest accommodation or regular use as a primary seating option, will help you determine the most suitable design. Additionally, consider the sofa's frame, fabric, and mechanism to ensure durability and ease of use. Finally, don't overlook the importance of mattress quality and comfort. The thickness and materials of the mattress, such as memory foam or innerspring, can significantly impact your overall sleeping experience.
Comfort, durability, and convertibility factors
Look for a model designed for optimal comfort. First, consider the thickness and materials of the bed. Memory foam mattresses provide excellent contouring and pressure relief, while innerspring mattresses offer firm support and breathability. Opt for a sturdy frame constructed from long-lasting materials like wood or metal. Additionally, pay attention to the mechanism that facilitates the conversion. It should be smooth and effortless, allowing you to switch between modes with minimal effort and strain.
Upholstery and maintenance are other crucial considerations. Choose upholstery fabric that suits your lifestyle, considering factors such as durability, stain resistance, and ease of cleaning. Tightly woven fabrics and synthetic options like polyester are known for their durability and easy maintenance. Also, consider whether the sleeper sofa has removable and washable covers, as they can make cleaning and maintenance a breeze. 
Finally, evaluate any additional features and accessories that can enhance your experience with the sleeper sofa. For example, some models come with built-in storage compartments, which can be handy for storing extra bedding or pillows. Others have reclining or adjustable positions, allowing you to find your ideal seating or lounging setup. USB ports, cup holders, and other customizable features can also add convenience and functionality to your sleeper sofa.
Other considerations for the best sleeper sofa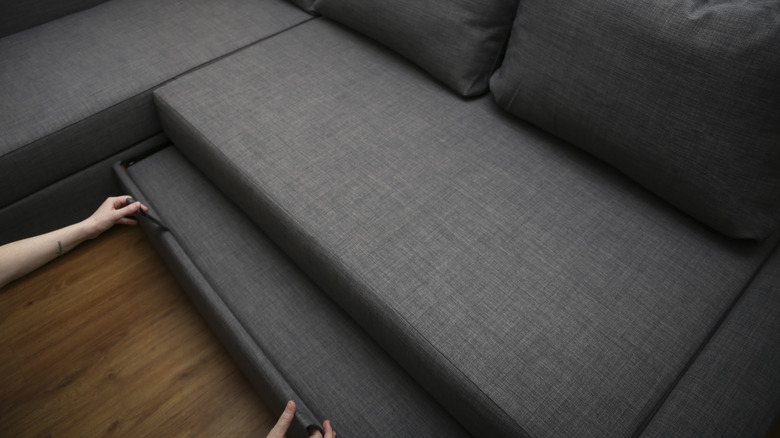 Thamyrissalgueiro/Getty Images
Budget considerations play a significant role when purchasing a sleeper sofa. Testing and researching options are also crucial before making a final decision. If possible, visit furniture stores to assess comfort, seating support, and mattress quality. Then, sit on a sofa, test its conversion mechanism, and evaluate its overall feel. Reading customer reviews and ratings online can also provide insights into the experiences of others who have purchased the same sleeper sofa model. 
Assessing your needs, available space, and desired aesthetic will guide you in choosing the right type of sleeper sofa. Comfort and mattress quality are crucial for a restful sleep experience, while a sturdy frame and easy-to-use mechanism ensure durability and convenience. Upholstery and maintenance requirements should align with your lifestyle, and additional features can add functionality to your sleeper sofa. Finally, consider that investing in a higher-quality sleeper sofa can offer better durability and long-term satisfaction. By considering all these factors, you can confidently select the best sleeper sofa that meets your specific requirements and enhances your home for years to come.