We Tried The Viral Pool Noodle Hack For Saving Potting Soil In Large Pots And We're Rooting For It
Kailen Skewis/House Digest
Pool noodles are quickly becoming one of the most-used and versatile items for DIY projects. From creating a chic and inexpensive pool noodle headboard to preventing kinks in your garden hose, there are seemingly endless ways to use this cheap summer staple around your home and garden. One popular trick many have been trying out this spring is a hack for the garden. Consider picking up a couple of pool noodles with your bags of potting soil and preferred flowers.
With the weather warming up, we're itching to decorate our patios with potted plants. Normally, we have to buy several bags of potting soil to fill up our favorite planters, but this year, we're getting thrifty. Most bags of potting soil are not cheap, and depending on the size of your flower pots, you could be wasting a lot of it just filling up space. However, by coiling one or more flexible foam pool noodles, you can pad the bottom of your large planter and save on soil. Pool noodles are the perfect material for this project as their malleable nature makes them easy to form into the shape of the planter. They also attempt to create more space for oxygen, water, and root growth, so your favorite spring and summer flowers can grow healthy and strong.
The soil-saving supplies you'll need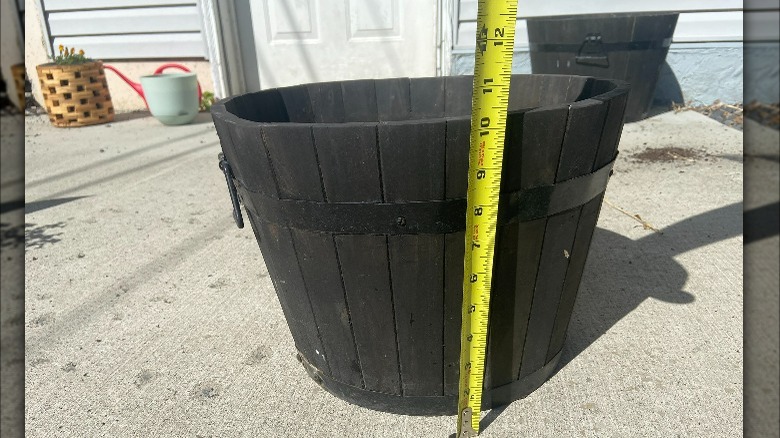 Kailen Skewis/House Digest
The container gardening hack needs a few supplies to deliver a stunning result. We purchased nearly everything we needed at our local Walmart, including two 8-quart bags of Miracle-Gro's Moisture Control Potting Mix for approximately $6, two pink Big Joe Foam Swimming Pool Noodles that were approximately $1 each, and two 2.5-quart live Aubrieta flowers from Expert Gardener that came to about $9. In total, we spent $31.84 for everything we needed at Walmart. For our planter, we decided to use a 14-inch half-whisky barrel planter from DreamPatio that we already had on hand. Currently, it's available in a set of two for approximately $64 on Overstock. However, there are many other similar options at Walmart and Amazon at a cheaper price.
Our concrete patio was the stage for this trick. We piled our supplies outside next to our large planter, and we also gathered gardening gloves, a watering can, and a pair of scissors. Before trying out the hack, we rinsed out our planter to get rid of lingering soil from last year's plantings and took the tags off our pool noodles. Once everything was clean and ready to go, we got to work.
Trying out pool noodles in pots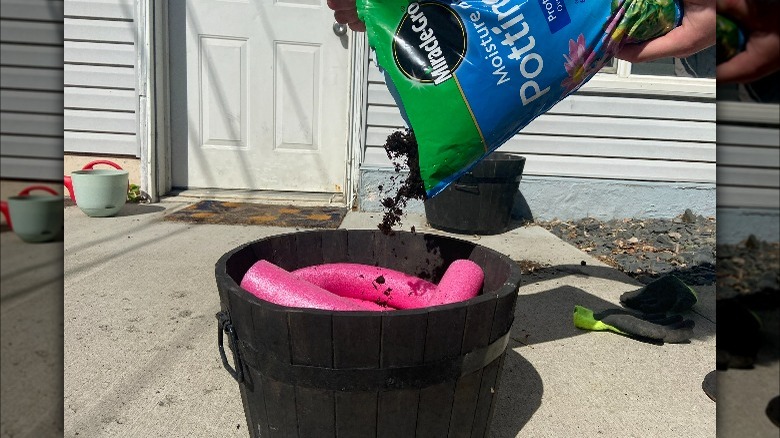 Kailen Skewis/House Digest
The first step in filling our large planter was to find the perfect way to coil our pool noodles without blocking the drainage hole or taking up too much space. This took a few tries, and we finally settled on creating a wide pretzel shape before pressing the noodle down into the bottom of the pot. We stacked a second noodle on top of the first one to fill up even more space. The pool noodles we found at Walmart were extremely skinny, measuring just 2.5 inches in diameter. If you are using a thicker version, you may be able to use just one to fill up the extra space.
After ensuring that there was plenty of room in the middle for plants, we filled the container up with soil, leaving room for the roots and dirt balls that our live plants came with. Be sure that there isn't too much dirt in the center of your pot, and don't hesitate to dig out a larger hole than you think you'll need. After gently breaking up our Aubrieta plants' root balls, we placed them into the hole and packed more soil around the base of their stems. When the pool noodles and roots were totally covered, we watered until it seeped out of the pot's drainage hole and left the plants in the sun to get accustomed to their new home.
Our opinion of the gardening trick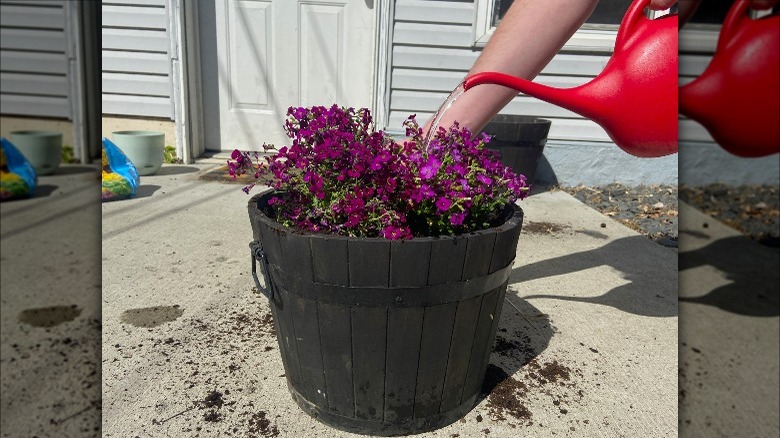 Kailen Skewis/House Digest
Thanks to this viral hack, we were able to save money on soil and easily plant flowers that do not need much extra space to thrive. Purple rock cress, or Aubrieta, is a perennial plant that grows well in the conditions that the Pacific Northwest provides. Because it's normally grown as a ground cover plant, it was perfect for this experiment. Adding the pool noodles beneath the soil will help keep water retention to a minimum. The extra foam will also support Aubrieta's short and spreading habit, allowing it to be lifted to the top of the container, where it can eventually spill over the pot in a wonderful display of color.
The noodles bring forth other unseen advantages. In previous years, filling the entire 10-inch tall and 14-inch wide container made it extremely heavy. Replacing some of the soil with foam made the planter much less strenuous to move. In addition, the soil now takes less water to saturate fully. We may have to water it more often, but for now, water drains out of the hole easily, so we can worry less about root rot and water waste. We love this hack for its invisible rewards. Your plantings look exactly the same, but below the surface, your pool noodles are providing valuable benefits. We can't help but recommend this trick to all our friends, family members, and to you, our readers. Give this noodle trick a try!