Chic Ways To Hide Your Water Dispenser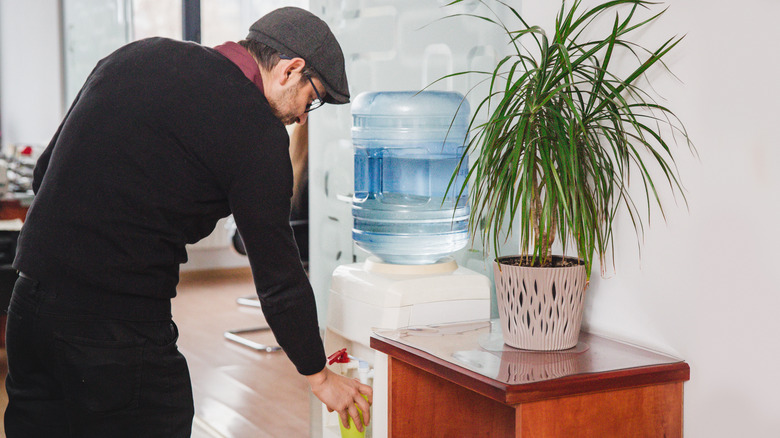 Pavlina Popovska/Getty Images
We may receive a commission on purchases made from links.
Indoor plumbing is a modern miracle, but unfortunately, the days of "drinking water straight from the hose" may be over. Tap water today can have various contaminants, such as lead, arsenic, and PFAS (via Environmental Working Group). Some experts are even worried that harmful substances from farms and factories known to cause various medical problems, such as hormone issues and reproductive harm, may be making their way into our drinking water. Bottled water is generally much safer to drink, but as many may know, plastic waste is a serious threat to the planet's health. One way to avoid consuming contaminants and reduce plastic waste is to purchase purified water in large jugs and plug them into dispensers. 
To help the large, clunky water dispenser blend into your home, consider hiding it in a cabinet, pantry, or converted furniture console. Of course, there's more than one way to hide a dispenser, and some may improve the overall look of your residence. Check out these creative solutions so you can enjoy fresh, clean water and a seamless, aesthetically pleasing design. 
1. Tuck in the pantry
One of the most practical and seamless solutions is to hide your water dispenser in a pantry or cabinet space. To do this, you'll need a spare pantry or tall cabinet with the shelves removed. Measure the dimensions of your dispenser to ensure a proper fit, then pop it into the cabinet and hide it behind the closed door. TikTok user ninawilliamsblog posted a video of their home's smart setup, where someone can be seen pouring water from behind a white shaker cabinet door. 
You can turn any tall, awkward cabinet, or floor-length pantry into a nifty hiding place for the water dispenser. If your dispenser has a cooling or heating ability or needs a power source to pump water, remember to run electricity into an outlet inside the cabinet. Because you're playing with a combination of electricity and water, it's always best to call an electrician if you feel uncomfortable making changes on your own. If you don't already have a cabinet large enough — or empty enough — to accommodate your water dispenser, consider building on an attachment beside the fridge or existing counter's edge. 
2. Transform a console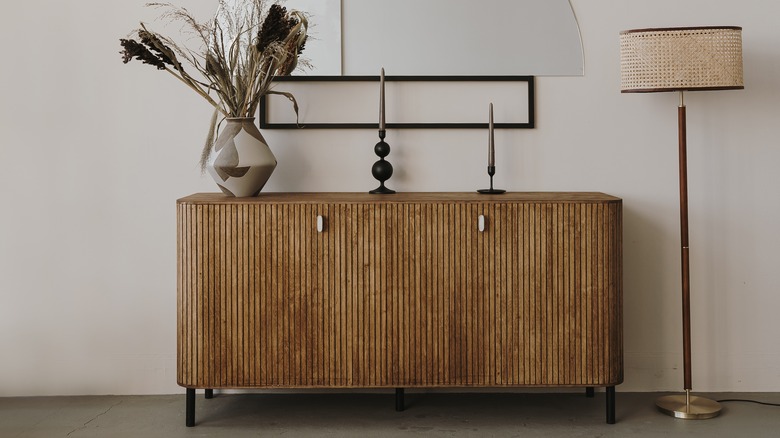 Floral Deco/Shutterstock
If your home doesn't have any available cabinet or pantry space, but you aren't interested in building a dedicated water cabinet, add a console to your kitchen or nearby living area. With a few minor changes, you can easily turn an old piece of furniture like a buffet, console, or dresser into a water station. Measure your water dispenser and jug before heading to your local thrift store or garage sales, or browse your home for furniture you're willing to flip. 
Clean up the console and cut two small holes in the back or top of the piece to create an opening for your hose line and power cord. Store the water jug underneath the console, then attach a portable electric water pump, such as the Rejomine from Amazon. Keeping the dispenser faucet on top of the console creates an elegant, seamless design, almost like a wet bar. To enhance the look and functionality of your water station even more, decorate it with a tray, glasses, a bowl of fresh lemons, and accessories like glass straws or flavor packets. Like a coffee bar, a hydration bar is a great way to decorate your home and make drinking water feel more fun. 
3. Stow in a basket
You don't need a fancy, expensive stand to pump water from the large plastic jug. Automatic, rechargeable water dispensers are much more affordable, and they keep a low profile on your countertop, kitchen table, or even your nightstand. A small, portable water dispenser does little to hide the actual plastic jug, but it can make it much easier to stow under cabinets or hide behind furniture. One affordable and creative solution that TikTok creator thelazydispense used is a large woven basket. Using baskets in your home for stylish storage is an age-old secret. Typically used for blankets, books, and papers, a large woven basket can also work in the kitchen to hide your dispenser and protect it from sunlight.
 "We decided to hide the 5-gallon jug in a basket and feed the tube out the top so we can have it sitting on our kitchen counter," thelazydispense said in their video. "This turned out super aesthetic, and I love that we have a pretty water station on our countertop." A large woven basket is an ingenious solution for renters, people on a budget, those avoiding construction projects, and anyone who loves a boho, earthy vibe in their home. 
4. Use a room divider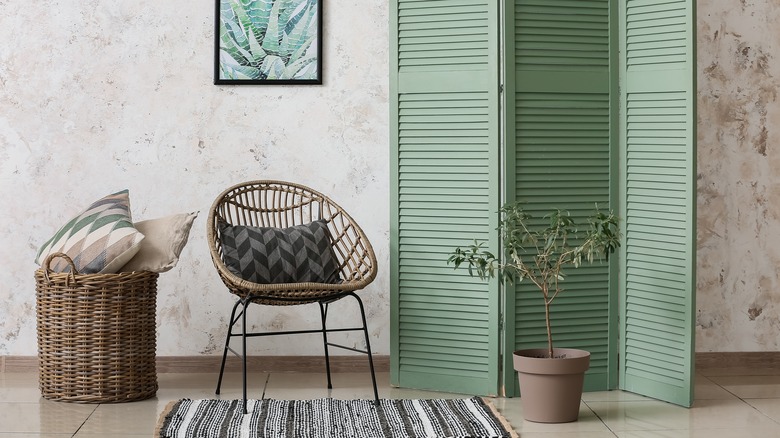 Pixel-Shot/Shutterstock
While room dividers aren't commonplace in every room, there's no reason why you can't make one work in your space. If you can't build a cabinet but want something that still feels sleek and semi-permanent, a room divider may be just the thing to help you conceal your water dispenser. Opt for a small three or four-panel room divider with the right dimensions to encapsulate your dispenser — each panel should be a few inches wider than your dispenser. Wrap the room divider around the water dispenser so that one panel can hinge open, like a door. This way, you can easily access your water when needed and tuck it away when not in use. 
To make the room divider feel even more cohesive and less clunky, choose one with a gorgeous pattern or color that compliments your color scheme, and add hardware, like an ornamental knob on the hinging panel to make the design appear more intentional. The versatility of this solution allows you to bump your water dispenser and room divider up against the fridge or even hide it around the corner in the dining room or living area. 
5. Hide in plain sight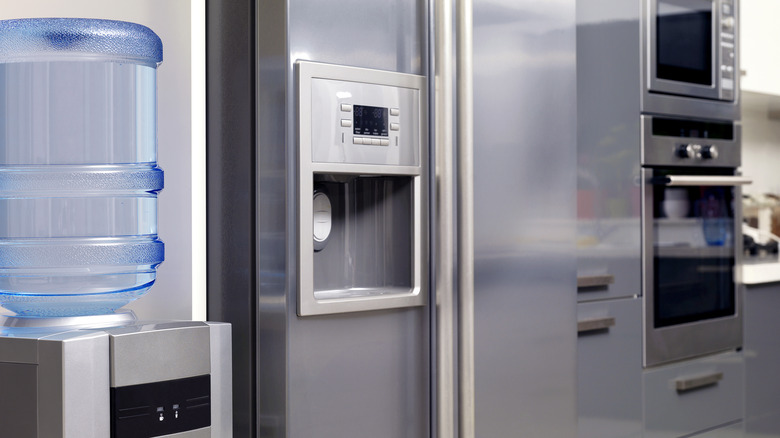 S-cphoto/Getty Images
Not everything in our lives has to be Instagram-ready at a moment's notice. If you can't beat them, join them, and choose a water dispenser that matches your appliance finishes so it will blend well into your kitchen. When you invest in a high-quality dispenser, you won't need it to hide in your house. Instead, you can treat it much like any other appliance. If possible, keep it next to the refrigerator. The two tall, rectangular pieces next to each other will help the water dispenser blend in, instead of having it look tall next to a table or kitchen counter. 
If you're still not into the idea of a clunky, stainless steel box, look for more aesthetically appealing designs or small countertop models. Remember that a lot can be accomplished with a little paint or contact paper! Decorative fabric covers can also slide over your big blue bottles to minimize their obvious plastic gleam and add a pop of pattern or color to your kitchen. Don't be afraid to decorate your water dispenser and make it feel like a part of your home.