HGTV's Drew And Jonathan Scott Preview The Season Premiere Of Celebrity IOU With Heidi Klum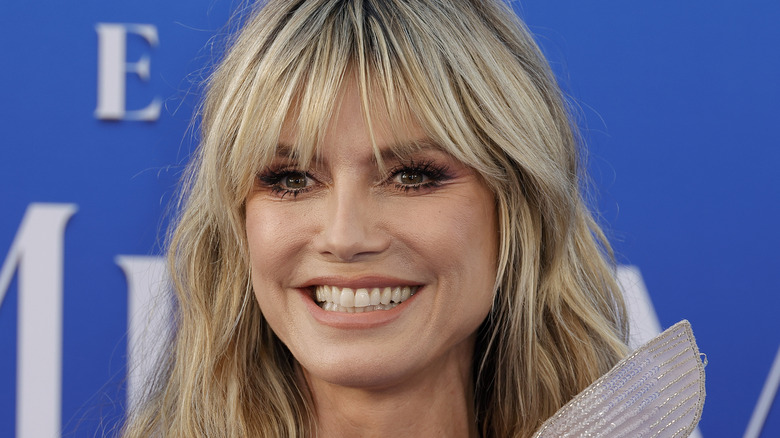 Frazer Harrison/Getty Images
The newest season of the hit renovation show, "Celebrity IOU," is about to premiere on HGTV. Starting May 15, the Property Brothers will be joining a lineup of A-list celebrities such as Glenn Close, Emma Roberts, Jay Leno, Taraji P. Henson, and more. Similarly to past seasons of the show, we can assume that we'll be seeing many heartfelt moments, some awesome design choices, and even a couple of celebrities who are hilariously out of their element in the renovation space. Yet, with the help of Drew and Jonathan Scott and the rest of their team, each makeover stuns the members of the celebrity's inner circle.
We all got a few sneak peeks into what we can expect from Season 4 of "Celebrity IOU" when clips from Heidi Klum's episode were released. Her chosen recipient was Lucia, who has been her housekeeper for 17 years. If you are unfamiliar with the show, Hollywood celebs like Klum demonstrate gratitude to certain people in their lives by surprising them with a total makeover of their space. The supermodel says that she chose Lucia because "she always has my back. It feels good that now I can have hers, too" (via People).
How the trio went about renovating the space
In an exclusive first look with People, Drew and Jonathan Scott shared how they enjoyed working with Heidi Klum on this renovation for her housekeeper. It appears they had a lot of fun together in this episode as they poked fun at each other's ability to model on the runway and install hardwood flooring. However, despite all the fun, it's evident that this project was a labor of love from Klum to Lucia. She put in her all while demolishing and rebuilding the space to help her longtime friend live more comfortably in her home.
The threesome, led by Klum, flipped Lucia's living room and kitchen into a place that could be enjoyed by her large family. From the shared photos and clips, it appears that they replaced the old flooring with some light beige wood-texture planks which brighten the space. They gave the walls a fresh coat of white paint and replaced the cabinetry in the kitchen with something that looks more streamlined and modern. Somewhere in the house, Klum also laid fresh white tiles with the help of Drew Scott, taking necessary dance breaks to keep them going.
Heidi surprises her longtime housekeeper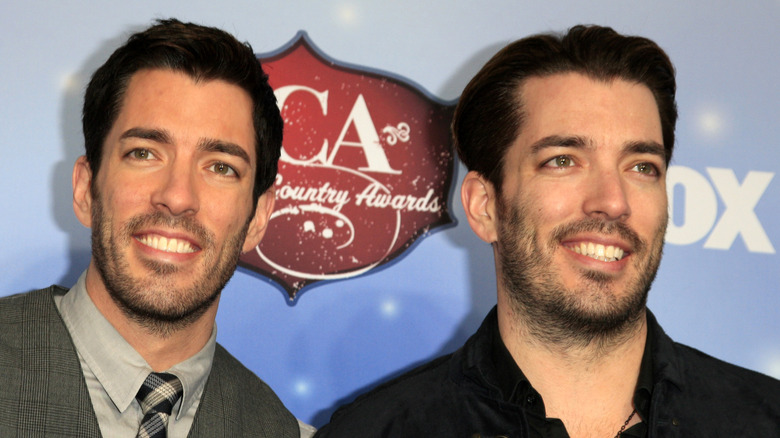 Kathy Hutchins/Shutterstock
One released image of the finished project shows Klum holding Lucia's hand and shielding her eyes as they enter the newly renovated living room. The space is gorgeously updated, and it's obvious that the three paid close attention to detail as they worked to make the living room and kitchen areas perfect for the family.
In the main room, Klum opted for a classic and chic open design style that will stay on trend for many years to come. In the same photo from the sneak peek, we can see how the space was transformed with some new window treatments, an elegant rug, and a modern square black coffee table.
Of course, several of the new furniture pieces come from the Scott brothers' own brands. For example, the Palladium Sideboard and the Culver 118-Inch Two-Piece Sectional are available on the Living Spaces website at reasonable prices. To see the rest of the reveal, we'll be tuning into "Celebrity IOU" on HGTV or Discovery Plus Monday, May 15, at 8 p.m. EST/PST.