Why Design Experts Are Loving Anne Hathaway's Retro '70s Backyard Patio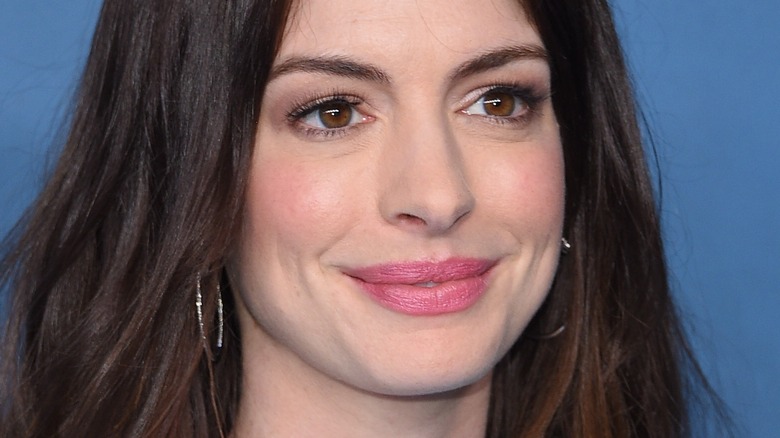 DFree/Shutterstock
Anne Hathaway is known for her style and grace on the red carpet, as well as her stellar performances in everything from dramatic roles to slapstick comedy, beginning with her star turn in 2001's "The Princess Diaries." The award-winning actor's home, a rustic Alpine chalet — with a retro patio — tucked amidst the California hills, is also notable. A glimpse inside the abode reveals a rich interior that combines the cozy feel of a mountain retreat with a hip sensibility that evokes the 1970s.
While the home looks like it was plucked from some Swiss Alps ridge, the structure actually appears quite at home in the Golden State, surrounded by a stunning panoramic view of the California countryside. Hathaway's patio, with its retro touches, casual boho vibes, and endless chic, is perhaps the star of the home, with an impressive stone fireplace, rich pattern and texture, and an enviable indoor/outdoor feel.
A 1970s boho retreat amid California's rolling hills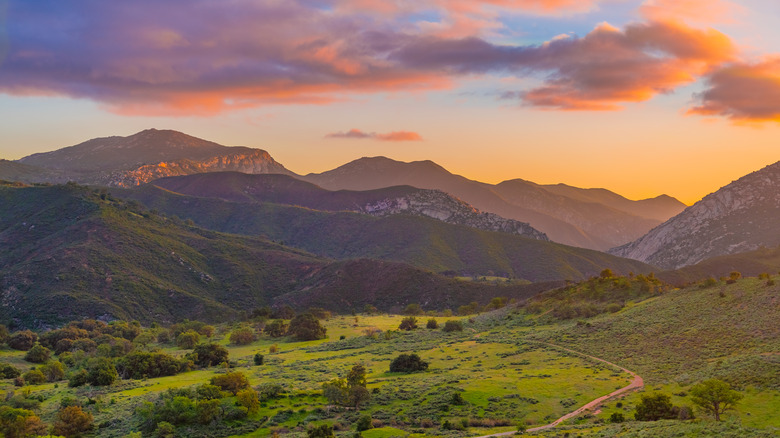 Ron And Patty Thomas/Getty Images
The beauty of Anne Hathaway's large backyard patio (which she shared on Instagram) lies in a number of factors, according to landscape designer Nathan Heinrich, including the very landscape itself.
In Homes & Gardens, Heinrich described Hathaway's patio as being picture-perfect. "Mature citrus trees, native oaks, and specimen succulents encircle the terrace's stone retaining wall and offer both privacy and contrast to the earthy elements while perfectly framing the panoramic view of the desert hills," he said. Already gorgeous in its surroundings, the choices of Hathaway and designer Pamela Shamshiri set the tone for a warm and endlessly inviting exterior space.
A wood timber pergola arches above, twined with vines and more greenery, while a stone floor in warm yellow and gold tones provides a birth for rich wicker furniture, patterned cushions, and a stunning tree slab table that evokes both midcentury design and old European flavor. The stone fireplace serves as a big focal point and provides coziness and warmth on chillier California nights. The laid-back bohemian feel of the space evokes the casual glamor of 1970s Hollywood.
How to get Anne Hathaway's retro patio look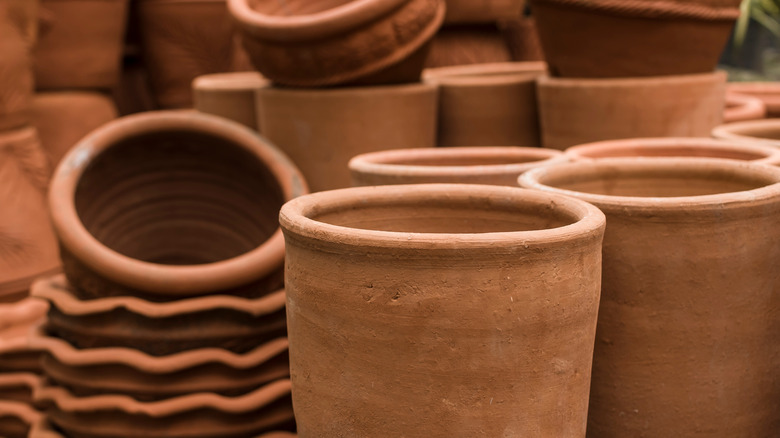 MDV Edwards/Shutterstock
While not everyone has a home tucked amid such beauty and amazing views, there are some key ways to bring a little of Anne Hathaway's retro backyard patio design to your own outdoor space, including the attention given to the patio as a carefully designed outdoor room. Hathaway's patio succeeds thanks to its ample soft seating, ruddy and dynamic textures in materials, and a feeling of calm provided by an abundance of natural elements. Speaking to Homes & Gardens, horticulturist Nathan Heinrich noted, "None of the single elements scream 'Look at me,' instead, they each play their own soft note in a melody that is both cohesive and soothing."
For a similar '70s boho-style patio, look for rich textures and woven fabrics in warm, multiculturally influenced patterns, plus materials like suede, leather, and fur. The hard materials of Hathaway's patio are warmer-toned, like the stone floor and the rich wood of the pergola, with other accents added like time-worn terracotta pots and a vintage-style amber glass light fixture overhead. The wicker of the sofas, meanwhile, provides additional texture and is the perfect accompaniment to the patio's organic feel.