Reimagine Your Kitchen Pantry Using This One Unexpected Door Makeover Trend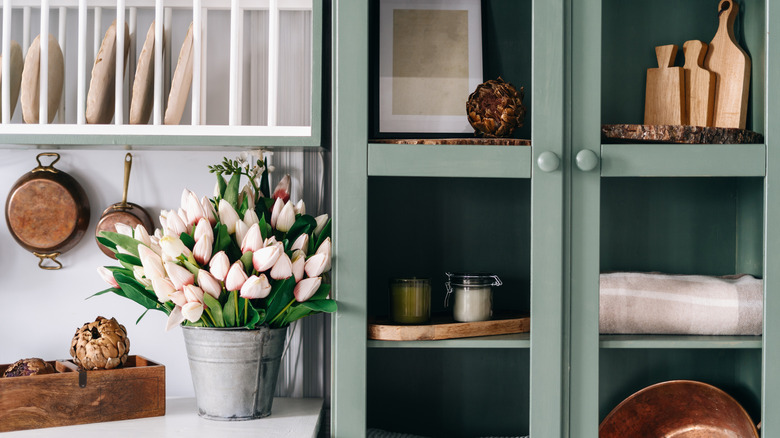 brizmaker/Shutterstock
One recent trend spotted at the 2023 Salone del Mobile trade fair is the behind-glass kitchen pantry. Staged in a room set, it shows how glass doors can transform a pantry and make it feel like a walk-in. Glass pantry doors are a popular choice for homeowners looking to add a touch of elegance and style to their kitchen or pantry area, and it might just be the unexpected door makeover trend you need to transform your kitchen pantry.
They can be made from various types of glass including clear, frosted or etched, stained, textured, and decorative patterned. If you want this style but prefer to conceal the contents of your cabinets, frosted or etched glass provides a translucent appearance, allowing light to pass through while obscuring the view. You can even have your own personalized designs with frosted glass doors. Glass pantry doors typically come with frames made from wood, metal, or a combination of both. The frame can provide structural support and add to your kitchen's overall design.
Glass kitchen pantry doors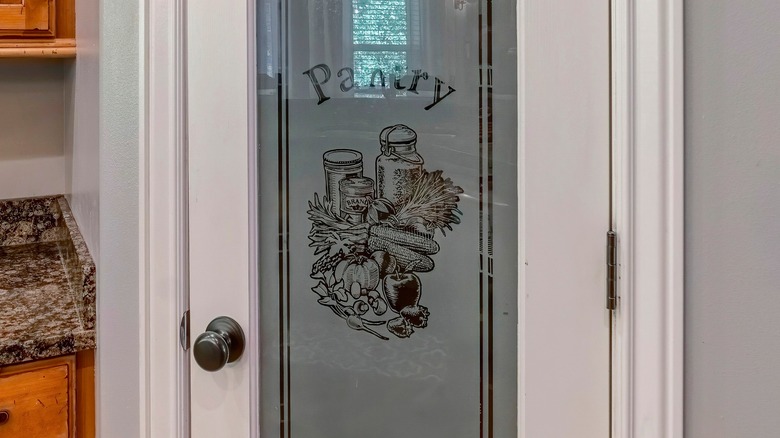 Jason Finn/Shutterstock
Glass pantry doors can enhance the visual appeal of a kitchen or pantry area, providing a stylish and functional element to the space. They can help bring light into the kitchen, making it feel open and bright, especially when there isn't a lot of natural light. The visibility aspect is another pro, as it makes it easier to locate items without having to open the door. Glass pantry doors also come in many variations. With a French pantry door with half glass, you don't have to have glass from floor to ceiling, while being as modern as you want with a sleek, metal frame, or traditional with a statement wooden frame.
Note that the choice of swinging or sliding for your glass pantry doors largely depends on how much space you have in your kitchen. Sliding doors are the best option to save space, and swinging doors are great to tie together the concept of a walk-in pantry. Whichever type you have, clear glass doors mean the pantry should always be clean, organized, and visually appealing, since its contents are visible.
How to maintain
Compared to normal pantry doors, glass ones are more work to maintain because they need to be kept shiny and clean. This can vary based on the type of glass you choose, however, as some require more work than others. Clean the glass regularly with a glass cleaner or a mixture of mild soap and water by spraying the mixture onto the surface and wiping it with a clean cloth. This helps to remove fingerprints, smudges, and dust. Avoid using abrasive cleaners or rough materials that could scratch the glass. Clean the frame around the glass as well, as dirt and grime can accumulate there.
Don't neglect the hinges, handles, and other hardware attached to the glass door either. Regularly check them for loose screws or any signs of wear so you can tighten or repair them as needed. As the doors are made of glass, safety considerations should be taken into account. Periodically inspect them for any cracks, chips, or damage, and address any issues promptly to prevent further damage or potential safety hazards. If you have young children or pets in the house, you need to take extra precautions to prevent accidents.