Here's How The 'Paint Color Of The Year' Is Really Picked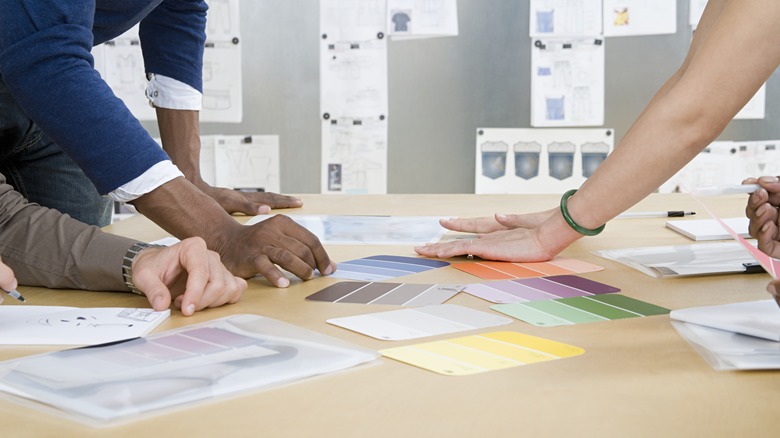 Image Source/Getty Images
Pantone's color of the year has been an annual tradition since 1999 when they launched the project in an attempt to start a conversation and build a relationship between culture and color. Following in Pantone's footsteps, many home paint manufacturers wanted to launch their own colors of the year, but how do these brands and companies settle on the perfect color collection?
While it might seem random, there's actually a lot of thought and planning that goes into picking the paint color (or colors) of the year. Stylists, colorists, and marketing managers often come together in a series of meetings to discuss current trends in fashion, home design, pop culture, politics, and more, leading them to the perfect shades that summarize it all.
When it comes to publishing a "colors of the year" report, paint brands must carefully gather information from several aspects of life and balance them into a collection of colors that play well together and make sense in the home. But where do paint color experts get their inspiration for their colors of the year? And how do they use paint colors to relate to culture at large?
Gathering and curating inspiration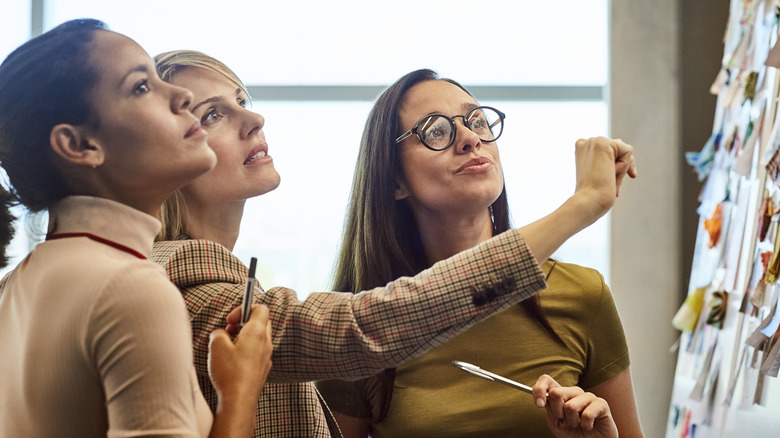 Morsa Images/Getty Images
Teams who decide the colors of the year must pay close attention to fashion, home décor, marketing, social media, and other trends of the zeitgeist. Dee Schlotter, a colorist and marketing manager at PPG Paints told Realtor, "We analyze the fashion runway; textile, wood, and metal markets; as well as demographics and global inspirations."
Representatives may even travel around the world to discover what colors people are loving and using everywhere. By studying colors that are currently popular across several zones of life, these color-of-the-year teams can predict what shades will be meaningful and trendy in the upcoming year.
Balanced with public consciousness, global events, and pop culture, colors of the year may also signify some hope or need that exists within communities. For example, after the attacks of 9/11 shocked the nation in 2001, popular paint colors that emerged were grounding tones like warm brown and soothing pink, reflecting people's need for comfort and security.
Later, Pantone's 2002 color of the year was Bright Red, perhaps in honor of the brave firefighters who died in the attacks, and the courage of the nation coming together. In 2021, Pantone named Ultimate Gray and Illuminated as their colors of the year, intended to symbolize lasting endurance and hope for a brighter future after the stressful events of the pandemic in 2020.
Bringing the collections home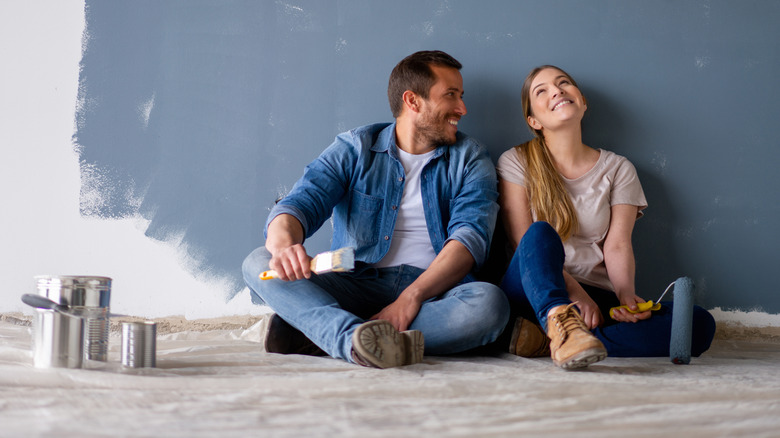 Hispanolistic/Getty Images
The result of all these painstaking and elaborate social studies is a collection of paint colors that speaks to people's lives and their current environment. "Each color of the year tells a story that's tied to micro and macro trends we're seeing," Erika Woelfel, vice president of color and creative services at Behr, told Bob Vila.
A great example of this attention to detail might be Valspar's 2023 paint colors of the year, which are centered around the concepts of joy, comfort, and acceptance. Within the collection, each color also holds its own meaning, showing that the collection is more than just a series of colors haphazardly thrown together — these are paint colors designed to be lived in.
For many brands and paint manufacturers, publishing new paint colors of the year is a great way to keep their customer base in touch and inspire them to make changes. "Each year, we invite homeowners to use the color trends palette as a point of inspiration to bring color into the home in new ways," explained Andrea Magno, director of color marketing and development at Benjamin Moore.
As the saying goes, paint is cheap, and a fresh splash of a trendy color can be a great way to transform your home on a budget.