Types Of Sunrooms And Which One Is Right For Your Home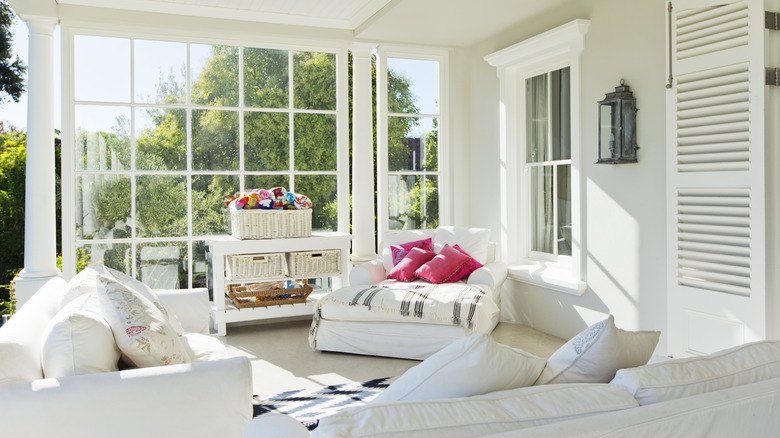 Robert Daly/Getty Images
Sunrooms are often a great addition to a home, providing a useful indoor/outdoor bridge space. Depending on the climate, certain times of year can be more or less suitable for outdoor recreation. A sunroom or similar space in your home can be a great solution to enjoying the outdoors while remedying excessive heat or cold, the elements in general, and pesky insects. Additionally, it can also offer greater privacy and serve as a perfect place for harboring plants that might not be amenable to the outdoors all year long.
At the most basic level, sunrooms provide an enclosed space under a roof with walls made of glass or screening that is attached to the rest of the home. But sunrooms are not all the same, with different varieties meeting different needs for homeowners and entailing differing amounts of construction needs and costs. Looking for the perfect sunroom addition to your home? From screened porches to fully glassed enclosures, we've outlined a few different options that will help you find the perfect indoor/outdoor haven for you.
1. Conventional sunroom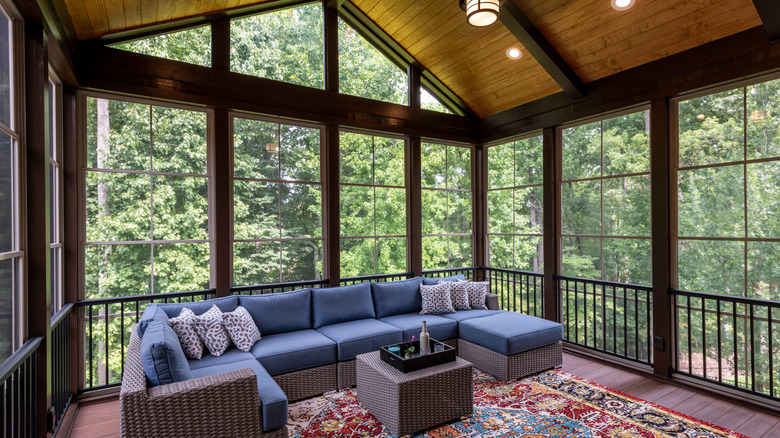 VIS Fine Art/Shutterstock
Often called a conservatory, a traditional sunroom is a glass-enclosed room with a roof. Taking their cue from similar spaces often popular in Victorian homes, sunrooms provide a space for outdoor living inside the safety of glass walls, which moderate the temperature, offer a respite from the sun, and deter insects and other pests that might interfere with your enjoyment.
Many sunrooms take advantage of existing rooflines of homes or involve a buildout (or bumpout) of a new roofed area, usually made of more lightweight materials like aluminum. Because they are uninsulated, sunrooms are usually only habitable during certain times of the year and can grow too warm or chilly during extreme weather. When not made of wood, newly built sunrooms can also be made of vinyl or aluminum framework outfitted with glass panes. They also often include screens for a more open feel when desired that further connects you to the outdoors.
2. Three- or four-season room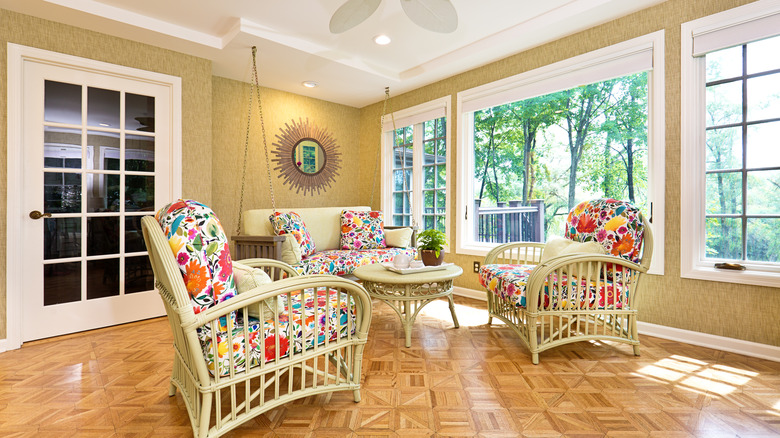 Yinyang/Getty Images
Three- or four-season rooms often offer a greater range of use throughout the year than more simply designed sunrooms. Employing both insulation and heating/cooling, four-season rooms are designed to be used all through the year whatever the climate. This can include heating to combat the colder months and allow a place to enjoy winter sun, or air conditioning to make the room more habitable during the hottest months.
A three-season room is typically amenable to living during the spring, summer, and fall due to good insulation, but may not be heated and too cold for winter living. Like other sunrooms, the enclosure is usually fully roofed and glassed in, with the option for screens in the warmer months. These rooms were often popular additions during the mid-century when many ranch homes were built with an eye toward creating indoor family spaces with an outdoor feel that could be enjoyed all year long. A popular design included a three-season room situated between the exterior of the home and a garage.
3. Screened porch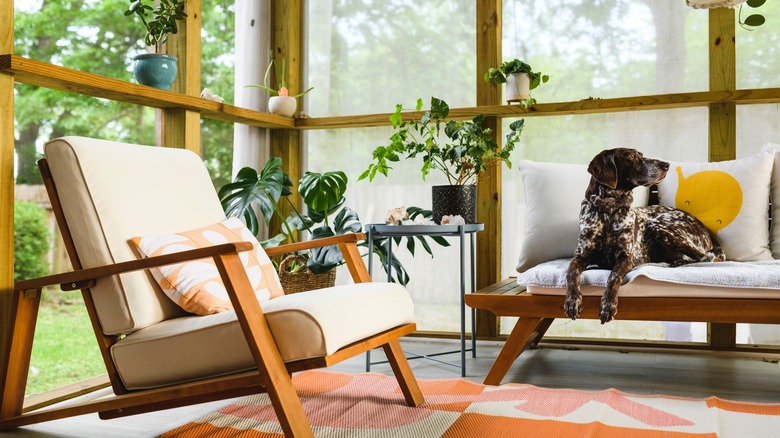 Brian Goodman/Shutterstock
A screened porch or room is typically a space adjacent to the home that is surrounded by screens made of metal, fiberglass, or other materials. A screened porch allows the feel of an outdoor porch or patio but with protection from insects and other pests. While they sometimes do have glass panes or storm windows that can be used during colder weather to keep a more moderate temperature and regulate moisture, a screened porch is usually only usable during the milder seasons of the year. Unlike a sunroom or three- or four-season room, the screened porch typically contains an opening to the outdoors or serves as an entry point.
During remodeling, many homeowners create screened porches from an existing open porch or patio, making it one of the most affordable options for creating an indoor/outdoor space on a budget and with minimal impact construction-wise in the home. Screened porches, unlike many sunrooms made of vinyl or aluminum, are typically made from wood framing to allow the screening to be attached to the frame easily.
4. Solarium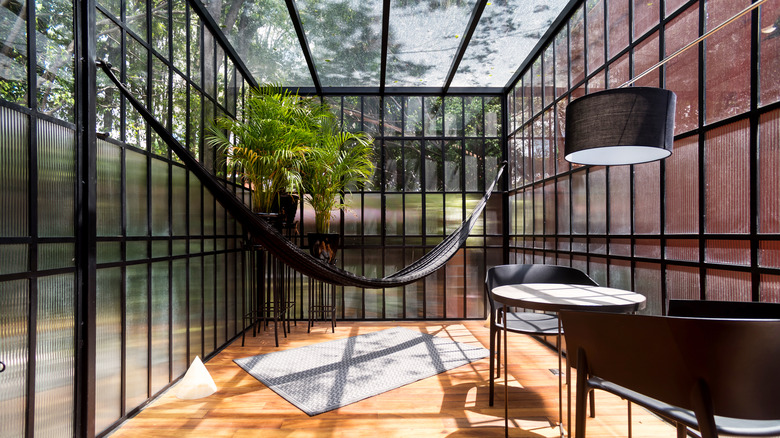 Bisual Photo/Shutterstock
A solarium is similar to a sunroom, with the notable difference of including a glass roof, either full or partial. While this typically will not fulfill the function of the sunroom that offers shade, it does allow a greater feel of being outdoors and more panoramic views from the interior. Because of the sun, depending on which side of the house it is placed on, the solarium must often be climate controlled to avoid being too hot in the summer. It can, however, often be a nice spot to spend time in the winter, when most are heated somewhat by even the lowest winter sun.
Because they often involve building a glass-encased roof, requiring more complicated engineering than traditional aluminum or other roof materials, solarium additions can be one of the more costly solutions to outdoor living spaces. But they also offer one of the most striking and beautiful spaces from both interior and exterior views.
5. Attached greenhouse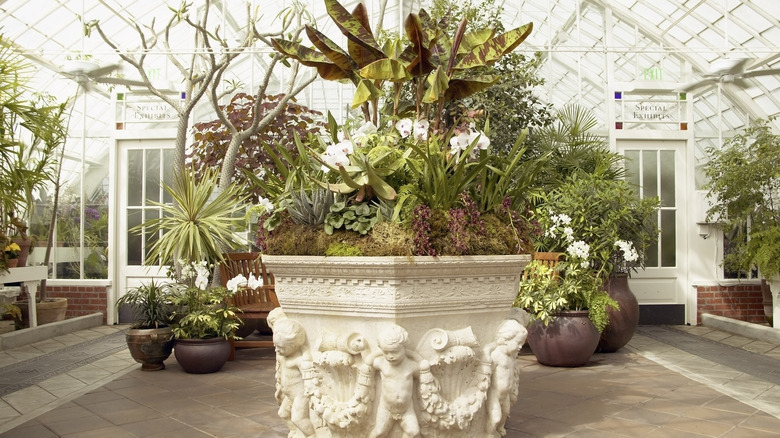 Jupiterimages/Getty Images
Like a solarium, an attached greenhouse entails a glassed-in roof and is primarily meant as a home for plants, though can often contain other outdoor living elements as desired such as seating, tables, and decor, as well as space for tending to plants like benches and worktables. As such, in more variable climates, they are typically temperature controlled to provide a consistent environment for plants, trees, and other greenery that would not otherwise be able to grow outdoors but still need sun. 
Many attached greenhouses are placed on the south side of the home for maximum sun exposure all day long in any season. Like a solarium, building an attached greenhouse is often more expensive than sunrooms or three- or four-season rooms due to the glass framework outfitting, but they can be an excellent solution for plant lovers and their greenery in otherwise inhospitable climates. Like unattached greenhouses, they are typically made of lightweight framework and entirely encased in glass to allow maximum sunlight exposure.