What's The Difference Between Counter Height And Bar Height?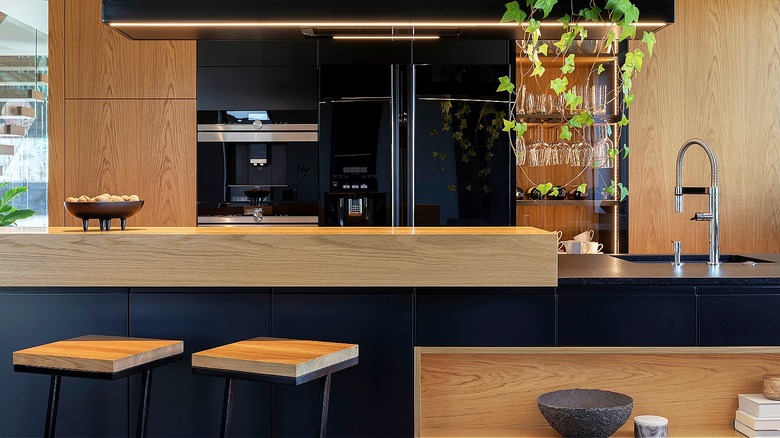 Followtheflow/Shutterstock
Decisions, decisions, decisions. Whether you're designing a new home, remodeling one, or simply outfitting it with new furnishings, the endless number of decisions that need to be made can be paralyzing. Seemingly mundane selections suddenly mushroom into monumental choices. This is especially true when planning the perfect kitchen. If you're adding an island to this all-important room, you'll likely have to choose between counter height and bar height. The difference is a mere 6 inches, but the contrast in functionality is far greater.
Standard kitchen-countertop height stands about 34 to 36 inches from the ground while bar height measures roughly 40 to 42 inches from the floor. Basically, the measurements indicate the height of the eating surface. To put those numbers in perspective, consider that the height of an average 3-year-old is approximately 37 inches. Whether you have little ones running around, you live in a cramped condo, or you have a ton of appliances stored on your counters, each impacts your decision to pick between counter height and bar height. Ultimately, the choice boils down to which one best fits the needs of your family and how much space you have to work with.
Pros and cons of counter height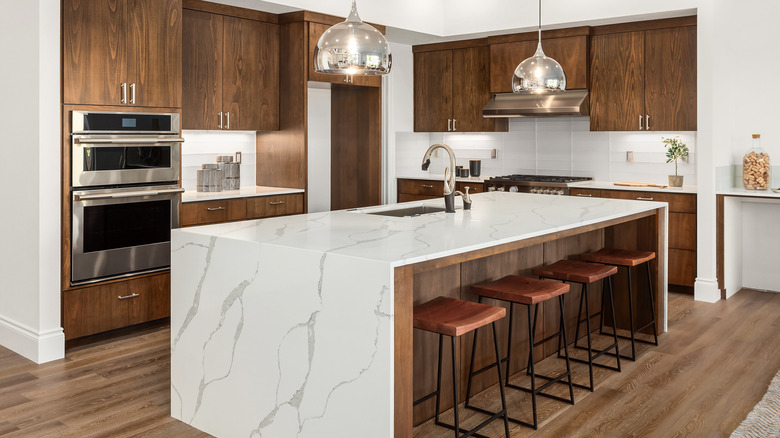 BM_27/Shutterstock
Think about the current height of your kitchen counters. Is it easy to prepare your favorite meals on them? If you're not unusually tall or short, standard counter elevations are likely appropriate for everyday purposes and could serve well as the height of a kitchen island or peninsula. An advantage to maintaining the same counter height throughout your entire kitchen is that it creates a uniform look. Visually the room will appear larger and more spacious as the continuous single height allows for clear sight lines and easy accessibility to items placed on the counter's surface.
In addition, extending counter height to an island allows you to spotlight an aesthetically pleasing material, such as colored granite or quartz rather than chopping it up into different levels. As for seating, counter height calls for stools or chairs that measure 24 to 27 inches from the floor to the seat's cushion area. This height is typically convenient for children and the elderly to easily navigate without assistance.
The downside to counter height is that it doesn't cater to messy homeowners. If you tend to use your island as a dumping ground for everything, from car keys to kids' backpacks, counter height allows the world to see your clutter. What's more, if your kitchen island includes a sink, there's nothing to hide piles of dirty dishes. Additionally, counter-height sinks built into islands don't have the luxury of backsplashes which help reduce water spills and sprays.
Pros and cons of bar height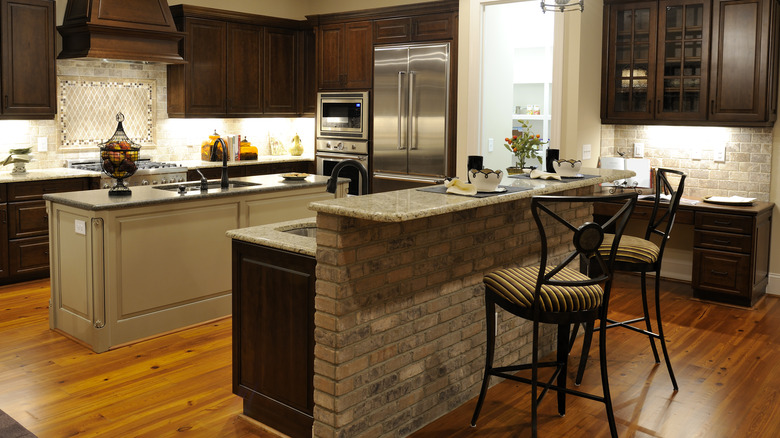 Ericvega/Getty Images
When deciding the best and worst upgrades you can make to your kitchen, installing bar-height countertops may be at the top of the list. Bar height mimics the elevation of counter surfaces found in pubs and restaurants. If you and your family members have been blessed with height, then having raised countertops is a matter of practicality. Those few extra inches of height make it more comfortable to meal prep, clean, eat, or do homework.
With kitchen islands, taller countertops can be incorporated solo or mixed and matched with counter height so reaching the surface isn't such a stretch for shorter guests. Bar height is also a great option if have a large open kitchen, as a higher island counter can act as a room divider, creating a visible definition of space between two living spaces. It additionally provides separation between your guests and your workspace without compromising interaction.
Still, bar height is not without its drawbacks. For example, bar-height seating measures 28 to 33 inches from the floor. Small children, older adults, and those with mobility issues may struggle to maneuver on and off taller seats. In addition, to maximize comfort, you want to keep roughly 9 to 13 inches of space between the stool or chair's seat area and the underbelly of the counter. Doing so will give you enough room to cross your legs and freely slide in and out, but may make it tricky for short-statured guests.