Unique Ways To Make Your Side Garden The Star Of Your Backyard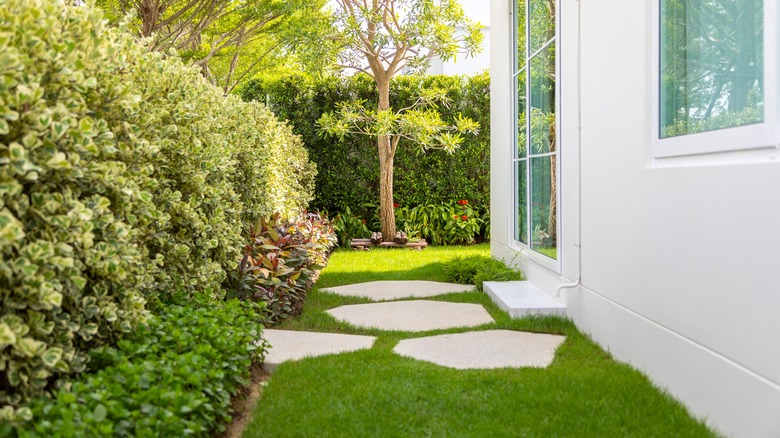 ben bryant/Shutterstock
When you're thinking about how to make the most of your outside space and are eager to find ways to liven up your yard, you may want to give your side garden a makeover. In fact, you can even transform it into the star of your backyard by opting for features that'll put it to good use. That can be key to truly enjoying your abode thanks to the fact that yards are becoming more precious.
While those in rural areas tend to have more backyard space than residents of big cities, the average exterior still sits at around 6,000 square feet. Of course, as overall property sizes get smaller, the same may apply to your side yard as well. That's why you might be interested in how to turn your side garden into a special spot instead of just leftover space that you tend to ignore.
Fortunately, there are plenty of fabulous ways to give your outdoor space new life. There are also a fair share of unique ideas that you might not have thought of but will likely love.
Add a private pond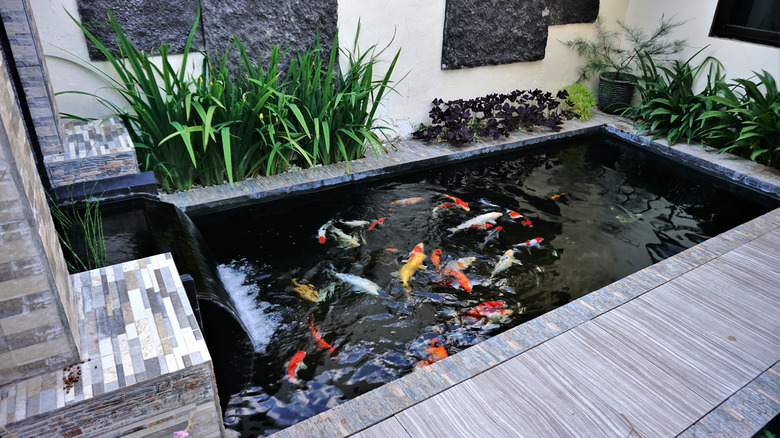 ANI ROFIQAH/Shutterstock
Ponds are a popular addition to backyards, however, they're also ideal for secure side gardens. You'll surely appreciate the fact that you can customize the feature to suit your taste as well as fit the size and shape of your space. You can also integrate it into your existing garden or plant new greenery around it.
Create a dining space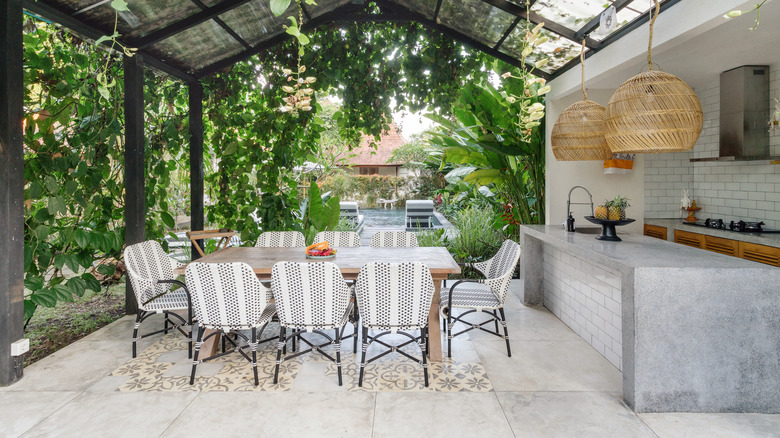 brizmaker/Shutterstock
By adding dining space to your side garden, you can create a nook that's both cozy and private. Opt for a full outdoor kitchen or simply a table and chairs depending on how much room you have to work with before finishing off the spot with gorgeous plants and maybe an awning or roof.
Build a catio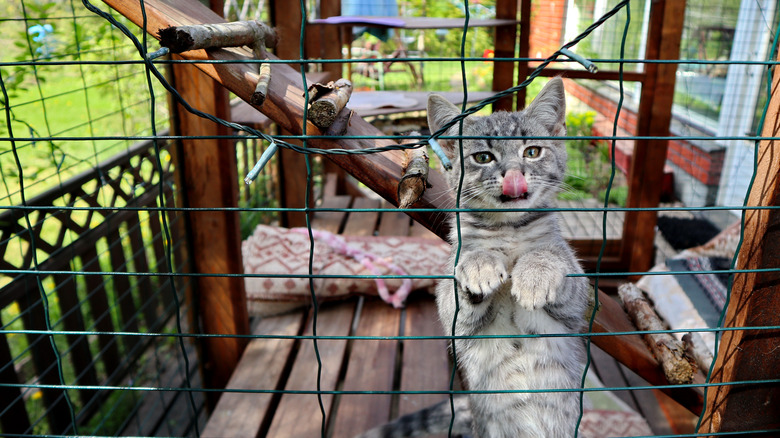 SariMe/Shutterstock
You may have a patio set up in your backyard for yourself but you also might want to set up a catio in your side garden for any feline friends. A safe place where they can enjoy the outdoors, you can even plant some catnip around the space for your furry, purry buddies.
Put in a sandbox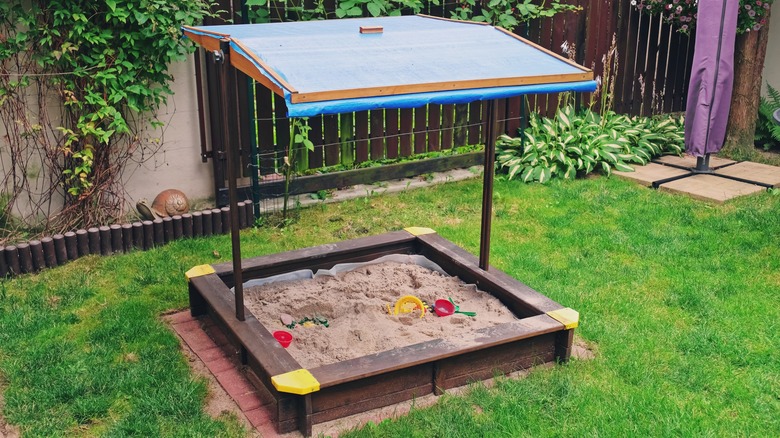 moomin201/Shutterstock
Give your kids a place to play that's a little tucked away by putting a sandbox in your side garden. As big or as small as the space allows, you could keep the grass mowed for a tidy look or let plants grow high around it for a fun wild atmosphere.
Install a hot tub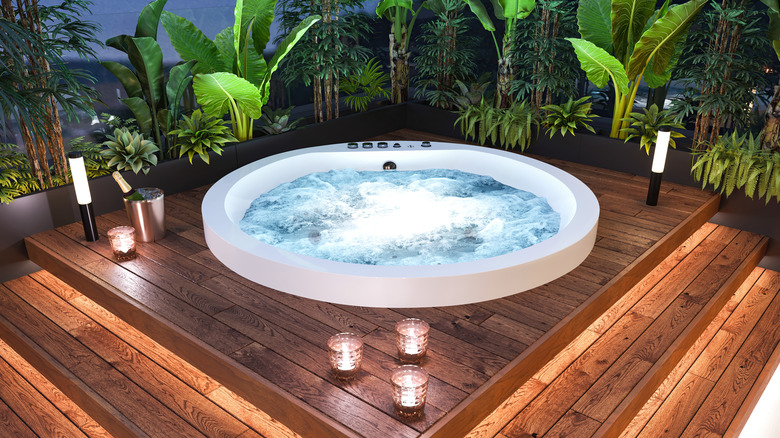 Experienceinteriors/Getty Images
If you don't have space in your backyard for a hot tub, then you can always install one in your side garden. Choose a hot tub that comfortably fits the area and build a wood platform around it with a few glowing lights. Plant ferns and palms to finish off your new oasis.
Put in a pool
The idea of putting a pool in your side garden may seem ridiculous due to the fact that it can be a rather snug spot. However, it can be done if you choose a small plunge pool. For those who have kids or just don't like deep water, you could opt for a wading pool instead.
Work on a zen garden
If you'd like a place to relax, meditate, or do a little yoga, then you might want to work on a Japanese zen garden beside your home. Add soothing stones that you can rake into calming circles as well as sturdy rocks and ancient-looking plants that will fill the space with life.
Get a greenhouse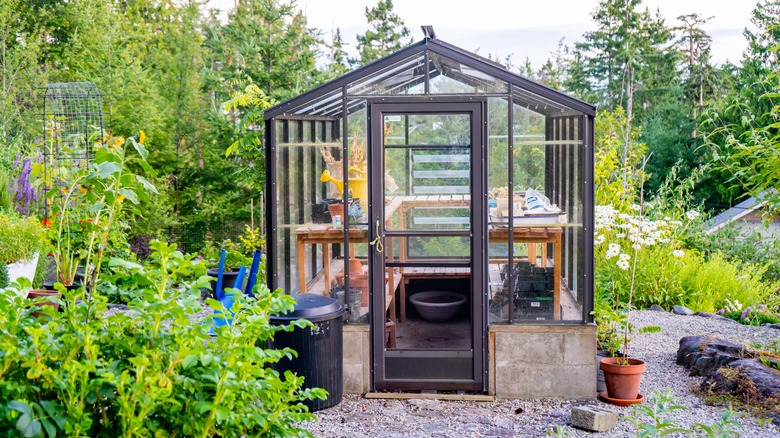 thoughtsofjoyce/Shutterstock
If your side garden gets a fair share of sunlight, then it might be the perfect spot for a greenhouse. Available in a range of sizes and designs that work for various budgets, you can surely find one that suits both your needs and your style so that it's both a practical and attractive addition.
Add a mural
Add an artistic touch to your side yard by putting up a mural. You could keep things on theme and opt for a design that incorporates garden flowers, or go for something totally unexpected. If you don't have the skills to do the mural yourself, you could always hire an artist to handle it for you.
Add a fountain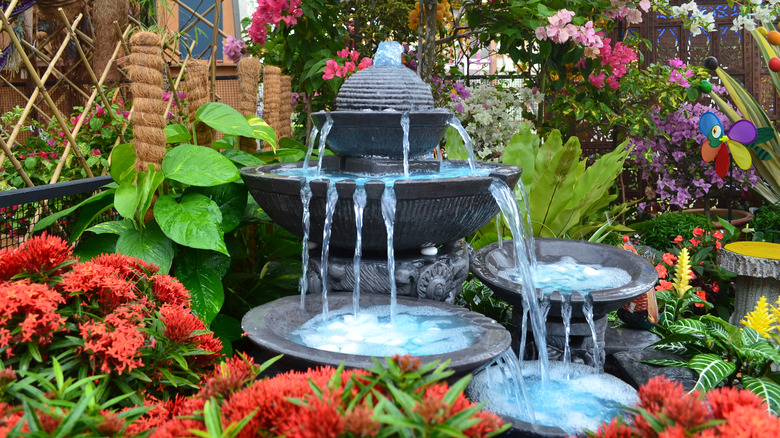 Anis Mardhiah/Shutterstock
Along with or instead of a pond and other potential water features, you can add a fountain to your side garden. The mesmerizing sight and soothing sound of the steaming flow can help to create a calming space while the design of the fountain can enhance the look of the area.
Install a climbing wall
If you or your family members like to stay active, then you may want to install a climbing wall in your side garden. You can simply pop hand and foot holds on the side of your house if it can support your weight, or you can add some supports for extra sturdiness and safety.
Set up a wishing well
Do you know what's both adorable and whimsical? A wishing well! Although it's not necessary for your well to actually provide you with water, you can still wander into your side garden to toss in a penny or two whenever you want to make a wish.
Build an outdoor chessboard
Your side garden might have just the right amount of space for an oversized outdoor chessboard. Although that might seem like a large project, you simply need to put down two colors of patio tiles in a checkered pattern and find larger toys or garden statues to represent each game piece. Checkmate!
Set up a bat house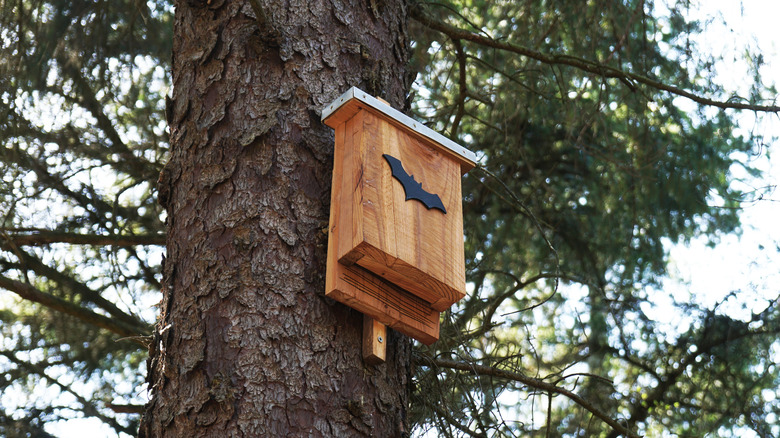 Axel Bueckert/Shutterstock
Bats are great to have around your home because they feed on mosquitoes. That's why you may want a bat house. However, their poop can be problematic, which is why it's best to place the house in a spot like your side garden where you can see the bats but won't step on guano.
Create an outdoor art gallery
Turn your side garden into an outdoor art gallery by picking out a few pieces like a stone statue or metal piece. Either place them in an area where they stand out or pop them in spots where they blend in so that they're a pleasant surprise for anyone who comes across them.
Put in a putting green
Practice your golf game at home by putting a personal putting green in your side garden. Another option that you can adjust to fit the space, you can also opt for a design that'll challenge you and keep your skills sharp while also looking great.
Set up a basketball court
You don't have to have a massive space that can accommodate a full-size court to be able to enjoy basketball at home. You just need to have a side garden that's big enough for a small concrete or tile surface as well as a net which can either be permanent or temporary.
Install an outdoor shower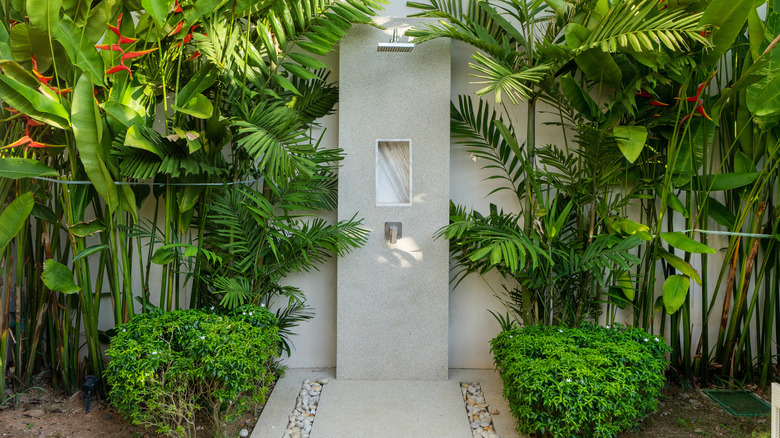 Alan SK/Shutterstock
Soaking in a shower in the fresh outdoor air as the sun warms your skin is truly a delightful experience. That's why you should consider installing an outdoor shower in your side garden. Of course, this works best if it's a private spot where your neighbors won't be able to see you.
Opt for an outdoor bathtub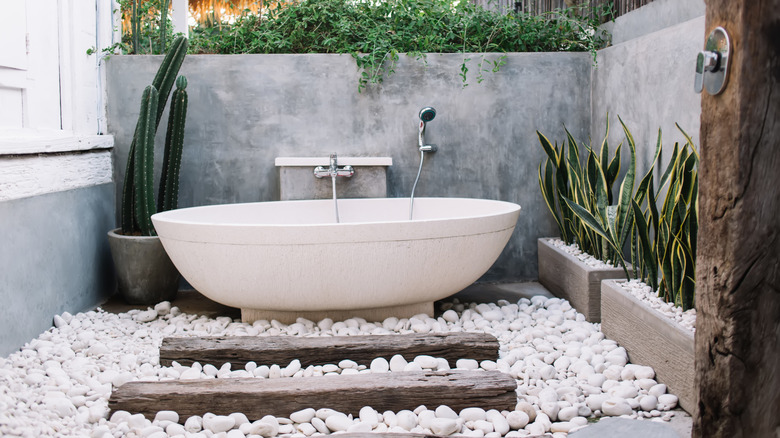 GaudiLab/Shutterstock
Some people simply prefer to enjoy a bath instead of a shower, and you can take that experience to the next level by placing an outdoor tub in your side garden. Another addition that will require a somewhat hidden spot, you could add various touches that make it both private and peaceful.
Add a sauna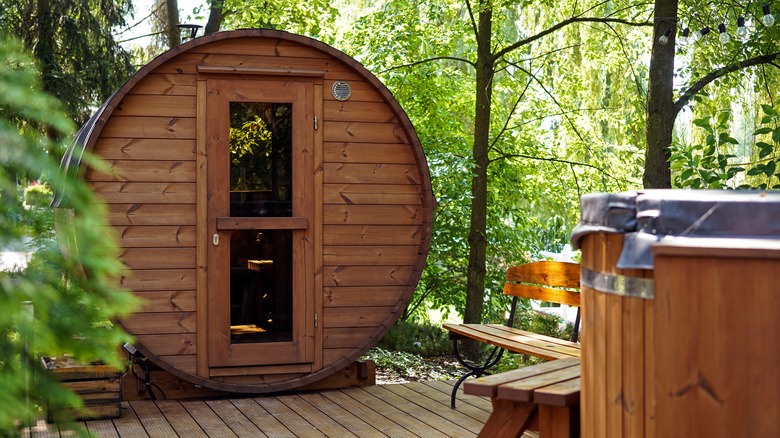 chrupka/Shutterstock
Having a sauna at home is another fantastic way to treat yourself to a soothing space while adding an enviable aspect to your side garden. Available to purchase in different shapes and sizes, a sauna with a richly colored cedar exterior would certainly complement a stunning outside area.
Build a firepit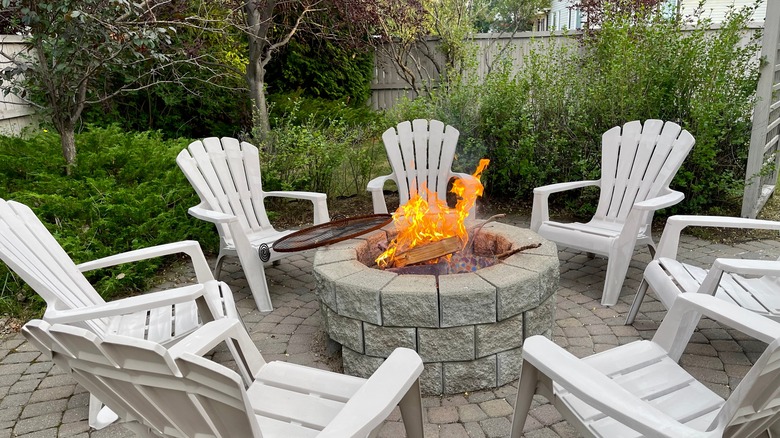 Avinash.Saini/Shutterstock
Get comfy with loved ones by cozying up to a fire pit in your side garden. It may become your favorite spot to cook hot dogs and tell scary stories. Just be sure to check with local regulations when it comes to how far the fire needs to be from your home, fence, and other structures.
Pop up a trampoline
You'll get some exercise and have fun when you pop a trampoline up in your side garden. Although there are versions that stay above ground, you can also have one lowered so that it's level with your lawn. From there, you can surround it with flowers or trees to help blend it into the landscape.
Hang up a hammock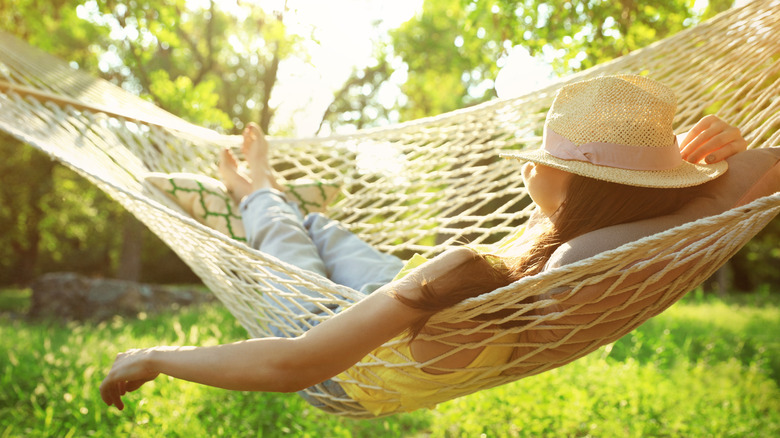 New Africa/Shutterstock
Turn your side garden into a quiet spot where you can take a nap or read a book by hanging up a hammock. While you can always secure one between two strong trees, you might also be able to use the exterior of your home as an anchor as well as two individual poles.
Create a flower-covered walkway
Your side garden can be both functional and fabulous if you use the space to create a flower-covered walkway. Another idea that may seem out of your league skill-wise, it's actually not as hard as it may look. Just install arches and plant climbing flowers that do well in your part of the country.
Plant a hedge mini maze
When you think of a garden maze, you might imagine an endless labyrinth. However, you can have your own mini version by planting a hedge maze in your side garden. All you need is some hedges to create a path that twists and turns, and perhaps a few pretty flowers here and there.