What Is Organic Architecture And How Is It Used Today?
Architecture has always been an art form that holds a lot of significance for traditions, religions, and cultures all around the globe. There is heavy importance in the spaces we spend day-to-day life, which is why organic architecture has become so widely loved. The term was crafted in 1908 by American architect Frank Lloyd Wright, who emphasized the harmony between form and function. "So here I stand before you preaching organic architecture: declaring organic architecture to be the modern ideal... Exalting the simple laws of common sense — or of super-sense if you prefer —determining form by way of the nature of materials,"  Wright wrote in "An Organic Architecture" in 1939 (via PBS)
Wright was adamant that organic architecture creates a balance between ecosystems by blending our construction with nature and other natural surroundings. He believed our lives should be an extension of nature by using plant life, stone, water, wood, and other elements to drive our designs. Organic architecture is still valued today, but with a renewed sense of urgency as climate change is more understood and social and technological advancements are ever-evolving.
What is organic architecture?
Richard A. Cooke Iii/Getty Images
At its essence, organic architecture seeks to uphold a conversation between nature and construction, creating a cohesive partnership that further benefits the Earth rather than disrupts it. Buildings feature open floor plans, incorporate greenery, use natural stones and woods, and even orient window placement around the sun's movements for the utmost natural lighting. Wright advocated for buildings to look the part they play, meaning an office building shouldn't look like a temple of worship. Form and function co-exist with design in organic architecture. It should all have a nature-driven aesthetic, from the structure and materials to the furniture and colors.
Wright published many works on organic architecture, including "In The Cause of Architecture" in 1908 and "The Future of Architecture" in 1953. One of his most notable projects includes the Fallingwater House in Mill Run, Pennsylvania. The home was built into a cliff and waterfall, the main residence being 9,300 square feet; nearly half of that space is dedicated to outdoor terraces. Additionally, the color scheme doesn't stray from nature's palette, with Wright using red for the steel and light beige on the concrete. Worldwide, organic architecture has made an impact, and this art form also took on an appreciation for wildlife. In Tampere, Finland, Reima and Raili Pietilä designed the Tampere Central Libary to resemble a bird from above. Using natural concrete, granite, and copper materials, the designers paid homage to the Earth by tilting the entrance hall's axis at the same 12 degrees. 
Organic architecture today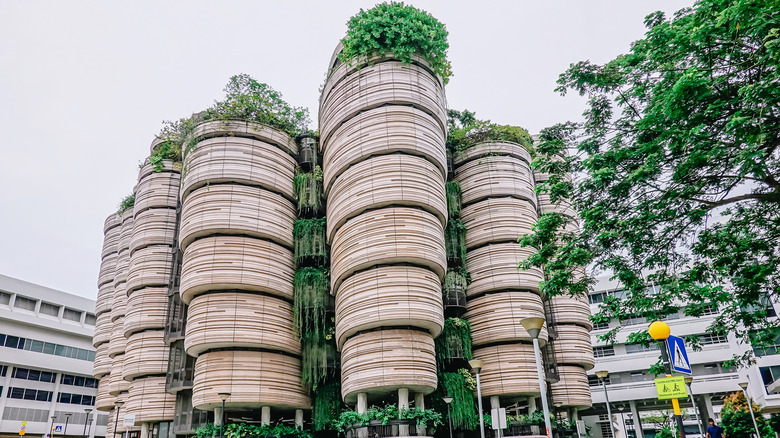 Chingyunsong/Getty Images
Everything is constantly evolving, and organic architecture is not exempt from that. In a world that is seeing continuous social changes and technological advancements, it's natural that we are moving towards more modern designs and gaining more understanding of why organic architecture is important. Keeping nature at the forefront of our construction will help lower the usage of natural resources, decrease the number of harsh chemicals we are exposed to in paints and finishes, and reduce air pollution as we keep plant life intact and encourage its growth. Increasing awareness of climate change plays a large part in prioritizing things like renewable resources and energy efficiency in living spaces.
Some 21st-century examples of organic architecture include the Learning Hub at Nanyang Technological University, designed by Thomas Heatherwick in Singapore in 2015. The building features round concrete towers surrounding a garden-driven atrium. Qatar's National Convention Center, designed by Arata Isozaki in 2011, is famous for the two overlapping faux trees that uphold the building. These spaces are largely comprised of open layouts with natural lighting and nature-driven themes. Rounded and soft lines, water structures, and plant-focused designs like green roofs are becoming more prominent.  Trendy movements like minimalism and healthy homes have also been taking over the interior design industry. Organic architecture not only has a positive impact on the environment, but it also does excellent things for our mental health.