Nate Berkus Takes Organization Into The Kitchen With A 'Game Changer' For Your Fridge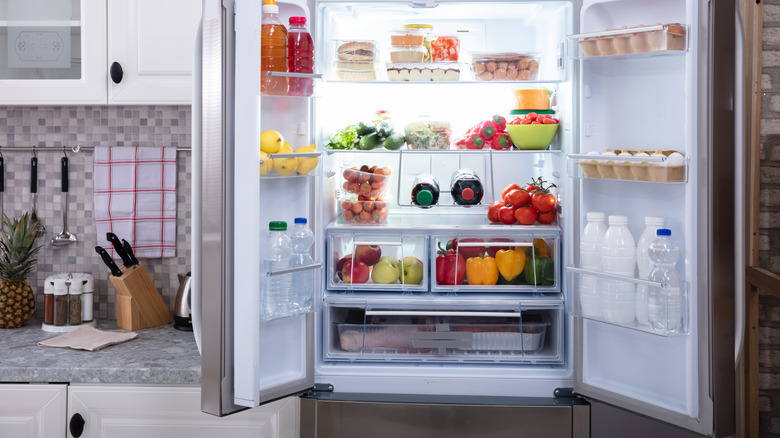 Andreypopov/Getty Images
We may receive a commission on purchases made from links.
If you struggle to keep your refrigerator organized, this product designed by Nate Berkus will change the way you store your food. Berkus, an HGTV star, author, and respected interior designer, has started a line of products called Nate Home, which includes this incredible set of two-tier sliding drawers for your fridge, available on Amazon for $38.99. Not only will it help you organize, but you won't need to adjust the height of your refrigerator's shelves.
The sliding drawers can sit on a shelf next to taller items, like a bottle of juice or a gallon of milk, and you won't waste the vertical space beside it. You can stack snacks, like cheese sticks or yogurts, in the drawers for easy access or use it to organize smaller items that tend to get lost in the back of your fridge. Last week, Berkus posted an Instagram video showing how he uses his product in his home. "It's great because it keeps all the kids' stuff and fresh fruit and everything super organized," he said (via Instagram).
Other Nate Berkus' products to organize your kitchen
Berkus' Nate Home products can be found at Target, Kohl's, Walmart, Amazon, Faire, and MDesign. While his line features bedding and bathroom products, there are tons of helpful items for your kitchen. You can find the two-tier sliding drawers on Amazon, as well as these Stackable Refrigerator Organizer Bins ($34.99) that come in three sizes and this Water and Wine Bottle Organizer ($33.49) that can fit nine bottles. The collection also includes a variety of plastic bins with different features, such as drawers or handles, to help you organize your kitchen.
If you don't want to use the sliding drawers or bins in your fridge, you can also put them in your cupboards to store your spices or small kitchen gadgets or under your sink to make sure all your cleaning supplies are easy to reach. With Berkus' organizational tips and products, your kitchen will be beautiful and functional.