How To Replicate Hilary Farr's Thoughtfully Organized Closet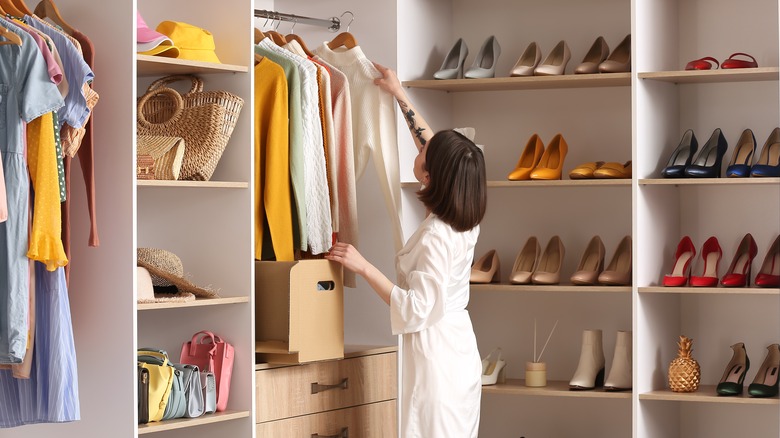 Pixel-Shot/Shutterstock
Having trouble keeping your closet organized is a common problem. Over time, it's easy to accumulate a lot of clothes, resulting in an overstuffed closet, but there are some tricks to help you organize. Hilary Farr, star of HGTV's "Love It or List It," rebuilt a home for herself in Season 19 Episode 2, showing off not only the main rooms but also a large walk-in closet. She also shared a picture of the closet on Instagram, saying, "I've never had a closet large enough to actually see what [is] hanging and stored. Now I have this amazing space so simple and well thought through."
An interior therapy expert and author, Suzanne Roynon, points out how to organize your closet like Farr's, even if you have less space. In an interview with Homes & Gardens, Roynon explains how getting rid of clothes that you don't wear often or that don't fit can make a huge impact on your closet's space and accessibility. "The first step is always to pull everything out of the closet and ruthlessly declutter," Roynon said. "In the average closet, just 20 percent of clothes are worn regularly while the other 80 percent are ignored, and their hangers gather dust."
How to organize your closet like Hilary Farr's
While decluttering is a crucial step in tidying your closet, the way you store and organize your clothes will also have an impact on how it looks and functions. In the photo of Farr's closet, there are numerous shelves, drawers, and closet rods to store her wardrobe, and her clothes seem to be hung in specific groupings. For those with less space, having dedicated rods for coats, shirts, and pants is difficult, but you can still mimic Farr's organizational style.
Roynon suggests sorting the clothing by length, starting with coats on one side, followed by long dresses and short dresses. This system makes it easy to find the item you're looking for and improves the aesthetic of your closet. If organizing by length doesn't sound appealing, there are other methods you can try, like sorting your clothes by color. "Another option is to create a rainbow effect, but I find this makes it more difficult to find a particular item quickly," Roynon said (via Homes and Gardens).