The Design Hack Used On HGTV's Home Town To Update Dated Paneling
Wood paneling can be a gorgeous element that adds texture and personality to any space. Some designers and homeowners love it and believe it's coming back in style, while others see it as an eyesore from a bygone era. Design experts are also split on how to deal with it if it's not your thing. Leave it to remove it? Paint it or appreciate it as is?
Some designers suggest the answer completely depends on the age, style, and variety of wood paneling as well as what the homeowner's final design vision is. In the third episode of the third season, HGTV's "Home Town," Erin and Ben Napier show off an inexpensive and easy DIY to bring your old paneling into the modern age with some white paint. While designing a client's home, they painted the paneled walls in the living room white, creating contrast with the dark brown ceiling beams.
Painting existing paneling white can sometimes make the paneling almost disappear or make the visible grain and texture a subtly beautiful element that does not call attention to itself or hinder alternative design schemes. While paneling can, at one end of the spectrum, seem overly formal and traditional, and at the other, rustic and cabin-like, many homeowners desire a more modern and versatile look and feel that white paint provides.
Should you paint your paneling white?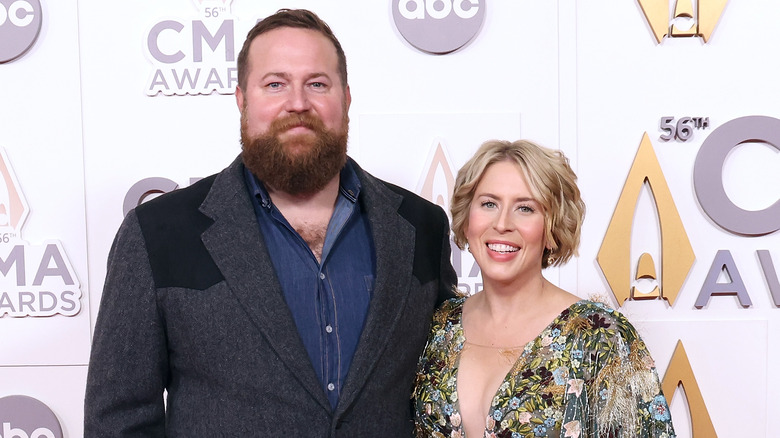 Taylor Hill/Getty Images
There are many considerations to factor in on whether this hack is for you. The primary one is the variety of wood paneling in your home and its age. While things like beadboard and shiplap are easy to remove, other types of paneling may be harder to remove without major renovations requiring new plaster and drywall. These may present an opportunity where painting is the best option for a more dramatic change. While a natural finish can be beautiful, certain design eras popularized wood with an overly yellow or orange cast that looks very dated when left unpainted.
Keep in mind, however, that historic homes may have gorgeous real and rare wood details and paneling that only increase the beauty and salability of your home at a later date. Others feature wood veneer and thin paneling that was a popular design element in the mid-century, including knotty pine and other materials that can sometimes feel dated if left as is.
While ultimately it is a matter of taste and making your home your own, you might want to check with a design or real estate expert on the impact of painting the paneling in more historic homes. For more recent and inexpensive paneling jobs, painting may work in your favor and often presents an easier alternative than removing the paneling.
Tips for painting paneling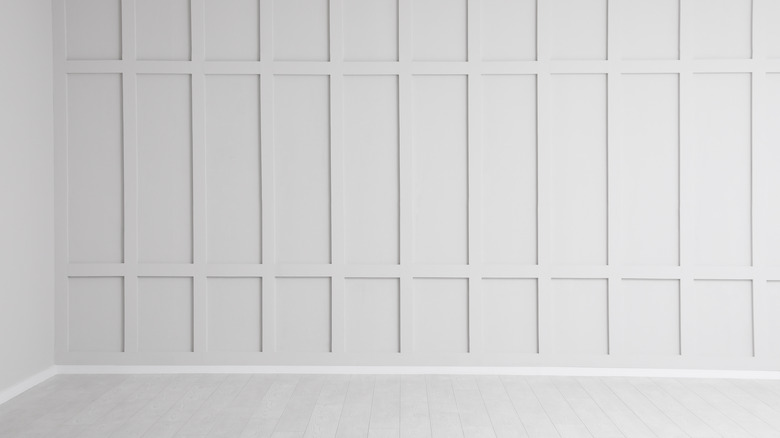 Liudmila Chernetska/Getty Images
When beginning your paint job, you will want to start with the cleanest and most uniform surface possible. Thoroughly cleanse the paneling of debris and sand away imperfections. Fill the lines between panels and cracks, as well as any nail holes, with joint compound, caulk, or putty. This includes filling deeper wood grain lines that may not take primer and paint fully. After thorough sanding of the entire surface, begin by applying a primer. Then do a light coat all over, allow it to dry, and examine again for any remaining imperfections. Apply additional coats (usually 2–3) until you get the desired results and coverage.
Be aware that some woods will be harder to paint, either absorbing it or not taking it at all, so make sure to do a test swatch in a less-visible spot before starting the project. Knots can sometimes be the trickiest to cover on solid wood, so you need an oil-based primer specifically formatted for painting over these tough areas to keep them from seeping through the paint job. As for the best paint to cover paneling, experts suggest a satin or matte finish as higher gloss varieties will show more imperfections.