The Whimsical Detail The Property Brothers Use To Add Life To A Sleek Bathroom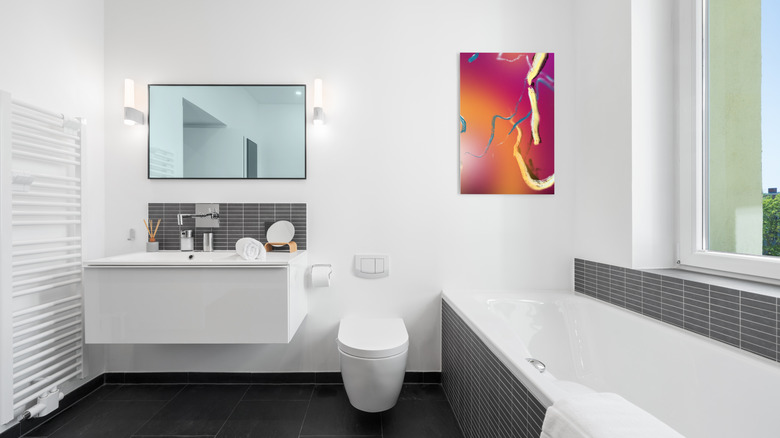 Igphotography/Getty Images
From the many dream homes they've brought to life to launching their own line of living art prints, the Property Brothers are experts on using art to complete an interior look. After designing a contemporary bathroom for one of their clients, they added a framed photo of a cat in a bath to bring a playful energy to the space. The small-scale photo in black-and-white with a simple frame placed in front of the tub shows the difference it makes when a piece is selected with intention.
When decorating a bathroom, adding artwork requires a careful balance between maintaining aesthetics and introducing a touch of creativity and personalization. The lack of color in this art piece works well because it doesn't become the anchor point of the whole room and allows the golden accents to pop, making it work as a supportive piece. Artwork in a sleek bathroom should generally be simple with clean lines and minimalistic designs. It should also be limited to one or a few well-chosen pieces because, when strategically placed, they will make a more significant impact.
Adding life to a sleek bathroom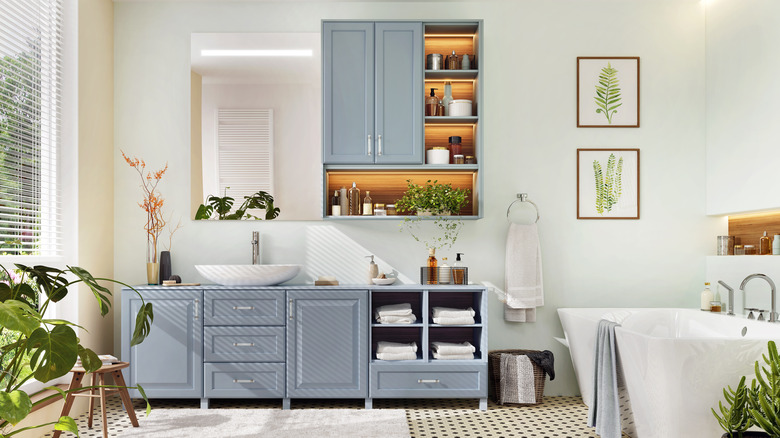 Sl-f/Getty Images
When choosing artwork, you should select pieces that resonate with you on a personal level. Whether it's a meaningful photograph, an artist you like, a unique piece you found, or even something you created, this will add a lot more meaning. Nature is always a good theme because beautiful views and landscapes can contribute to the serene environment you want to maintain in a bathroom. It's also fun to pick content that fits with the space, however loosely, such as the whimsical bathtub cat. Abstract or modern art pieces work well, too.
Artwork with a monochromatic or neutral color palette will harmonize well with a modern bathroom's overall design, but subtle pops of color can also add life when used sparingly. The Property Brothers do just that in this mainly-white bathroom by hanging up a pair of abstract pieces with bold colors and a vase of matching flowers on the countertop. Textured pieces or frames can also add some life and depth as long as they're not overpowering.
How to effectively incorporate artwork into contemporary bathroom décor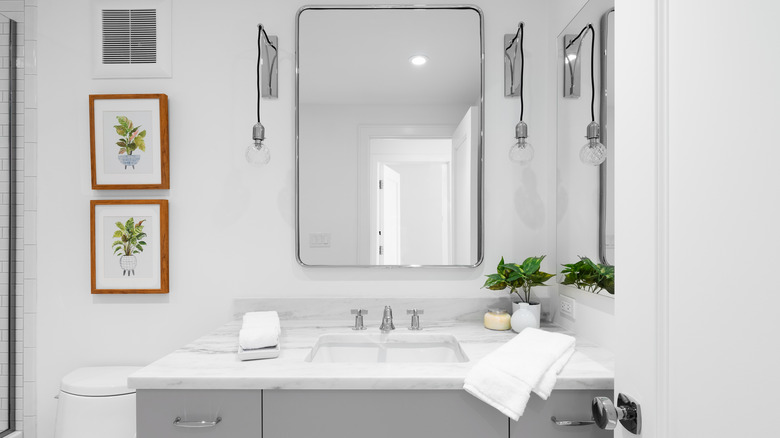 Hendrickson Photography/Shutterstock
When it comes to placement of bathroom art, first, think about where you want to place the artwork. Common locations include above the toilet, beside the sink, or on an empty wall opposite the shower or bathtub. Since the bathroom is a humid environment that can cause damage to certain materials over time, ensure your piece is water-resistant and durable, especially if it's close to the shower. Next, measure the available wall space in the chosen area to determine the appropriate size for the artwork, so it doesn't appear unbalanced.
If you have a huge bathroom, you might even be able to get away with big, statement pieces. "Oversized art helps define a space while adding a nice burst of color that really stands out from the walls," said the Property Brothers on their Facebook page. You can also go beyond the typical art choices. Think outside the box of flat wall art by incorporating three-dimensional art pieces such as sculptures. For a unique effect, consider backlit artwork to create an ambient glow and make the piece stand out.