This Unexpected Paint Color Gives Your Bathroom A Fresh New Look But With Classic Vibes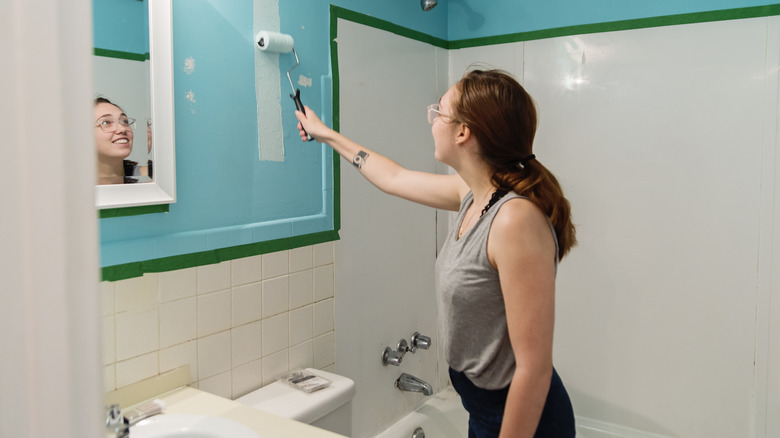 Martinedoucet/Getty Images
If you're thinking of updating your bathroom and want something neutral but with a twist, look no further than pretty periwinkle. Selected to be Pantone's Color of the Year 2022 (referred to as "Very Peri"), the violet-infused blue hue will bring a sense of calm to your bathroom without being dull. As outlined via Clare Paint's blog, one couple who saw the appeal of the popular paint color were Jordan Slocum and Barry Bordelon (popularly known as the Brownstone Boys). Both ambassadors for Clare Collective, the pair were initially divided about which color to paint their bathroom, given that Slocum loves color and Bordelon not so much. 
They eventually settled on "Wink," a chic periwinkle shade with more of a gray base than periwinkle typically has by Clare Paint. "It came into fruition during Valentine's Day," Slocum shared. "I said, 'Barry, please let me paint this' — he really compromised and allowed me to do it. He actually really loved it." Luckily it was a happy ending, and we can see why. The dreamy, soothing color of "Wink" updated the Brownstone Boys' bathroom without diverting from its unique retro charm.
Periwinkle is a traditional color with a modern twist
If you want to decorate your bathroom in a color like periwinkle, it's recommended to keep the rest of your color palette simple. So, if your walls are periwinkle, your floor, bathtub, sink, and toilet should all be white (or another neutral shade). Your towels and smaller accessories can match the walls, but overall your color scheme should be kept understated to ensure your bathroom still feels calm rather than overcrowded. Think of the 60-30-10 rule. This means that 60% of your bathroom will be one color, 30% a second, and 10% a third. Usually, the 60% and 30% of this rule are neutral colors that go with most other shades, whereas the 10% is where you introduce a pop of color. 
Though this situation is slightly different because you'll most likely be painting your walls periwinkle, you can still use the 60-30-10 rule to balance out a brighter color in a room that's often smaller, like a bathroom. Moreover, periwinkle is the perfect color to bridge the gap between classic and contemporary, especially as it can lean toward having more gray or blue undertones, essentially allowing you to choose whether you want something fully neutral or something brighter.