Erin Napier's Hack To Fake A Soapstone Countertop Is Pure Genius
Renovating a kitchen is incredibly exciting, but budgeting for countertops can be less fun. From granite to marble to natural stone, there are plenty of design choices out there, but there's also a wide range when it comes to price. Soapstone, for example, is a popular countertop material, due to its appearance, soft texture, and resistance to heat and acids. Though it makes a great countertop for these reasons, soapstone can also get expensive. Thankfully, one interior designer, Erin Napier, knows how to get the look without the high price tag.
As the host of "Home Town" on HGTV, Erin Napier is no stranger to kitchen renovations. So when it came time to renovate the family's own vacation home, she had insight into less expensive alternative materials, including for her fake-soapstone kitchen countertops. To get the look, Napier went with a black mist leathered granite, which she explains is budget-friendly and just as attractive and effective as its costlier counterpart.
Leathered granite is the key to a soapstone look
Erin Napier's fake-soapstone countertop is genius because it mimics the look of a more expensive stone. Soapstone can cost up to $300 per square foot for material and installation. Alternatively, leathered granite like the Napiers' can cost as little as $35 a square foot for materials. That's a little over 1/10 the cost, and you won't be able to tell the difference. As Erin Napier shared in an Instagram post about her family's kitchen renovation, and specifically about the countertops, "I can't believe it's not soapstone."
Unlike polished granites, leathered granite isn't shiny but matte in finish. Black mist, or as it's also called jet mist or Virginia mist, leathered granite has a dark natural stone appearance that helps to hide stains and minor damages like scratches that may occur over time. Also like soapstone, leathered granite is soft to the touch, but it's textured, too, and, therefore, more stain-resistant than sleeker polished countertops. Further, because it's an igneous rock primarily consisting of quartz, it can withstand high heat.
There are many granite options that can mimic soapstone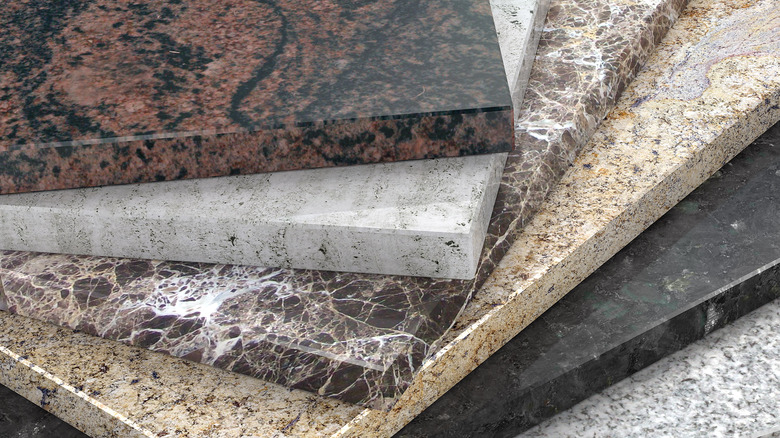 Scibak/Getty Images
If a dark material doesn't suit your tastes, but you still want to fake a soapstone countertop, you can choose from a plethora of differently colored and textured granite options. Honed granite, like the leathered variety, has a smooth matte finish. And similarly to all granite, it's one of the most affordable countertop materials. Though it's less stain-resistant than leather or polished granite, you can avoid water spots more with gentle daily cleaning.
Faking the matte texture of soapstone can also be done with leathered quartzite as well. Leathered quartzite comes in bright shades with veins of iron similar to that of marble. Quartzite is more expensive than granite but less expensive than soapstone. Installing a kitchen's worth of quartzite will cost, on average, between $75 and $180 per square foot, and by doing so — as with Erin Napier's kitchen — you can achieve an expensive look like soapstone for a good deal less.