Designers Are Big Fans Of Nicole Kidman's Chic Living Room Color Scheme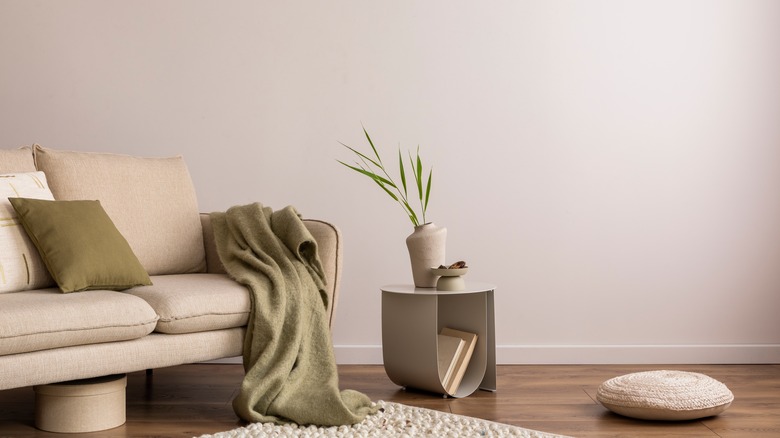 Followtheflow/Shutterstock
Celebrity homes have been gathering the interest of interior designers lately. Alongside the love for Reese Witherspoon's kitchen cabinets, now Nicole Kidman's home decor choices are also winning her praise from those in the design world. In an Instagram post captioned "Saturday Night," Kidman can be seen posing on an armchair. However, it isn't Kidman herself but the glimpse of the room behind her that caught the eye of interior design experts.
As well as the beige chair Kidman is sitting on, the room also features a light beige sofa, mid brown flooring, and warm cream walls. Overall, the chic beige color scheme effuses a warm and welcoming energy, giving the space a sense of calm. It isn't just the American-Australian actor who's a fan of the neutral shade, though. Beige has been in for a while now, with its popularity now eclipsing the cool-toned gray shades that were everywhere. As a color, beige falls under the warm neutral category alongside tan and other shades with gold undertones. So, why exactly are designers such a fan of beige?
A warm neutral decor scheme creates a relaxing vibe
Jennifer Ebert, deputy editor at Homes & Gardens, discussed why beige is having such a moment right now. "Warm neutrals are great because they make a room feel cozy and inviting. As opposed to cooler neutral colors like gray, warm neutrals have a friendlier feel. They allow a room to be both understated and comforting," she revealed. Of course, decorating a room with only beige hues may appear visually dull, which is where adding complementary colors comes in. In the background of Nicole Kidman's Instagram photo, an army green cushion is propped up on her neutral sofa. This introduces a pop of color that still remains in harmony with the calming beige color scheme. "A medium green like this bold emerald shade paired with warm neutrals ... is my current favorite color scheme," designer Mary Patton told MyDomaine. Beige is a chameleon color that will match a multitude of both bright and neutral colors.
Beige shades can feature either brown or cream undertones. Because of this, you could go for a deeper, brown-toned color on one wall, and then a warm white or cream-based shade on your other walls. For furniture, a deeper shade is advisable to hide marks and stains, but you could also utilize throws and shrugs within the warm neutral color palette. Not convinced about a fully neutral living room? Add accessories like a light tan lamp, which will infuse your space with warm, golden light.