The Type Of Countertop The Property Brothers Warn To Avoid During A Kitchen Reno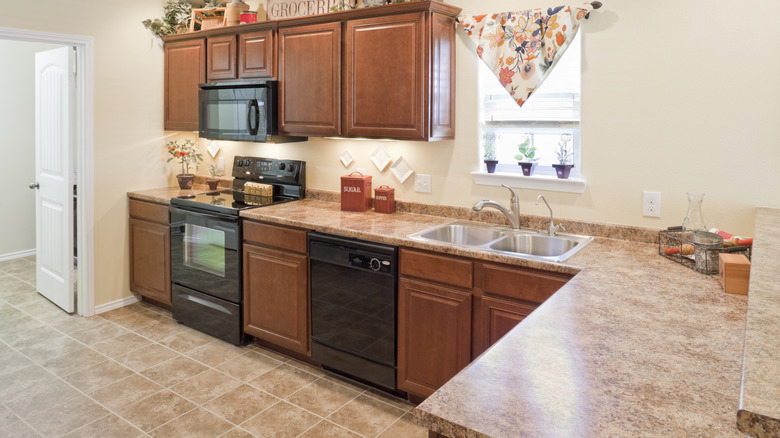 Dszc/Getty Images
Laminate countertops can seem appealing due to their affordability and wide range of design options, but the Property Brothers don't seem to be big fans. Drew and Jonathan Scott recommend avoiding this cheap countertop material whenever possible. "I can't think of a single kitchen design where laminate would look better than stone, butcher block, or a solid surface like Corian," Jonathan shared with HGTV. "Yes, laminate is cheaper, but in many cases, you can actually take value away from a house by installing it."
Drew agreed, stating, "It frustrates me to no end when people spend their budget on a product, like laminate, that automatically seems dated — it's like throwing money away!" The design duo's main gripe with this material is the appearance, as it can make an entire kitchen look cheap. However, they're not against laminate completely, as they know that some may have a very limited budget. Drew continued, "If you have no other choice, at least get a laminate that's printed to look like stone. But make it a last resort." For the Property Brothers, it's typically best to opt for an alternative like stone or butcher block whenever possible.
What they suggest using instead
In their book "Dream Home," the Property Brothers mention a few other countertop materials they like (via the Boston Globe). "We love materials like quartz and Neolith for durability and no maintenance, but other products add beauty and value too, like marble and granite — they just need more maintenance. Try to avoid materials that scratch too easily, because you'll shed a single tear when you scuff them up within the first week."
As well as recommending alternative countertop options, Jonathan and Drew Scott also advocate for certain countertop finishes. Finish is an important factor for the Property Brothers, and in the case of laminate, a high-gloss finish can look cheap and bring down the overall value of a room. Rather than the typical glossy finish of most countertops, they are fans of a more matte appearance. The pair discussed opting for honed quartz countertops in Season 7, Episode 8 of "Property Brothers: Forever Home," pointing out that countertops don't necessarily have to have a polished finish. Honed countertops aren't 100% matte but instead have a chic, velvet-like appearance that sets them apart from high gloss options.