How To Use A Pool Noodle To Make Your Outdoor Furniture More Comfortable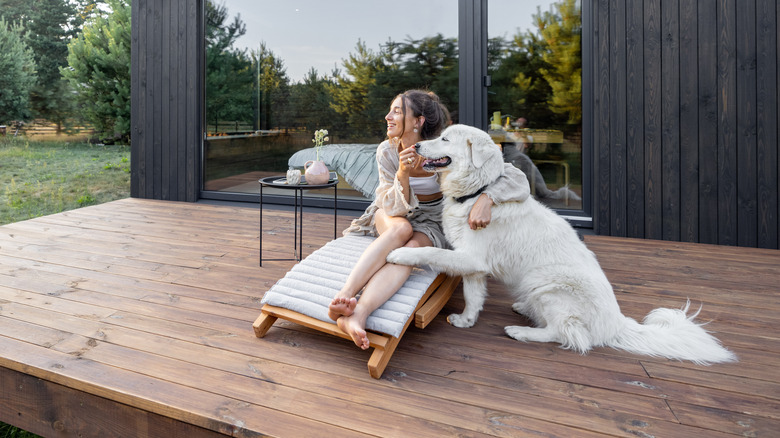 RossHelen/Shutterstock
When summer rolls around, it's never a bad idea to beat the heat by taking a dip in the pool. Whether you have a below-ground or above-ground pool in your backyard, the odds are you have some pool noodles lying around. You also likely have some outdoor furniture in the area as well. And, if they're made with less-than-comfortable materials (wrought iron, perhaps?) you've probably been itching to get rid of them. But wait! Before you decide to replace your hard furniture set with something more cushioned, we have a hack that's DIY friendly and easy, not to mention less expensive. Those pool noodles you have can be used for more than lounging in the water. Now you can use them for lounging out of the pool after making a few modifications to turn them into cushions. 
Thanks to pool noodles, you can enjoy the outdoors no matter what type of furniture you have. This genius pool noodle hack can be used on a variety of furniture materials, from aluminum to steel, wrought iron, and wood. If your outdoor furniture is rigid with little to no padding, cutting the pool noodles and gluing them to the armrests or seating is a great way to make your outdoor space more relaxing without spending your entire savings.
Making pool noodles functional
Some outdoor furniture has armrests that can feel as if they're digging into your arms, which takes away from enjoying the environment. Luckily, you can counteract this issue and add comfort to your favorite furniture pieces with the help of pool noodles. They are flimsy and padded, which makes for the perfect DIY armrest or seating and backing, as they instantly transform your hard outdoor furniture into one of comfort. This nifty hack is easy to do by taking a sharp knife — particularly a box cutter or scissors — and cutting a straight line down the middle to form a slit in one side of the noodle. 
Once the slit is cut, wrap the noodle around the armrest of your chair or couch and enjoy the added padding. You can also use this hack to create cushioned seating or backing with several pool noodles. You will need to cut the noodles down the middle (make sure they cover the length of the seat or back) and flatten them out. Use a hot glue gun to draw a line down the middle of the flattened noodles before pressing them onto your piece of furniture until the entire section is covered. 
How to make it pretty
We love this hack since it's creative and easy to do, but it does have one downside: It may not always look aesthetically pleasing. Pool noodles mostly come in a variety of bright neon colors that can clash with more muted furniture hues. They will also stick out and be more noticeable, so be prepared for them to make a disruption in your overall design. The good news is that concealing the pool noodle padding is easy and can be done in a cost-effective way. All you need is a furniture cover to throw over the noodles.
Find a furniture sheet that matches the color of your outdoor setup to lay over the noodles and frames of your pieces. Selecting a sheet that's the same color keeps the arrangement looking uniform in case the legs of your furniture stick out. Furniture covers also protect the surfaces from the weather, which is very beneficial for keeping them looking nice for longer. They also keep dirt and debris from scratching and damaging your furniture, while also elevating the style.