HGTV's Leanne Ford Reveals Her Favorite White Paint Colors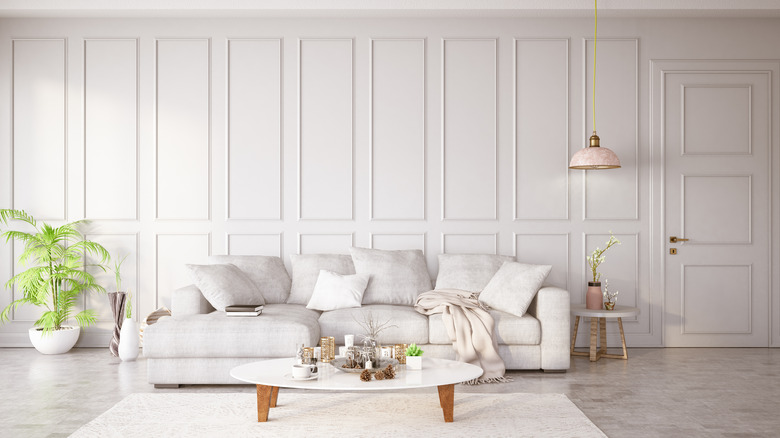 Asbe/Getty Images
If you've been struggling to choose the perfect white paint for your bedroom, bathroom, or living room, Leanne Ford has great suggestions to get just the right shade. Ford is an interior designer and star of HGTV's "Home Again with the Fords" and "Restored by the Fords." On her website, she shares DIY inspiration, mood boards with photographs of various aesthetics, pictures of past renovations, and advice for people trying to make their homes cozy and unique.
In her color guide, you can find suggestions for the paints she loves to help you create the room you're dreaming of, including several different shades of white. "I love creating spaces with soul, places that feel good to be in. And I want the same for you in your home," Ford wrote on her website. "Let this be a place you can come to be inspired, stumble upon things that you love, crank some good tunes, and steal a few ideas and tricks along the way."
Leanne Ford's favorite white paints
For those looking for a cooler shade of white, Ford suggests Cameo White by Behr Dynasty, which she described on her site as "light" and "airy." This hue could be used to brighten up an entryway or other small spaces. If you prefer a more traditional shade of white, Ford recommends Behr's Ultra White. "My friends will write me constantly to ask which paint to use, and that's my forever suggestion. It's the perfect white, no tint, and it works well in high gloss and/or flat," she explained.
While cooler shades of white are not always the best fit for certain rooms, Ford believes Behr Dynasty's Crisp Linen will brighten a space without sacrificing that warm, comfortable aesthetic. She mentions using this color in three different projects on the interior and exterior. Crisp Linen, as well as Cameo White and Ultra White, can be found at Home Depot.