Transform Your Empty Marinara Jar Into Faux-Vintage Decor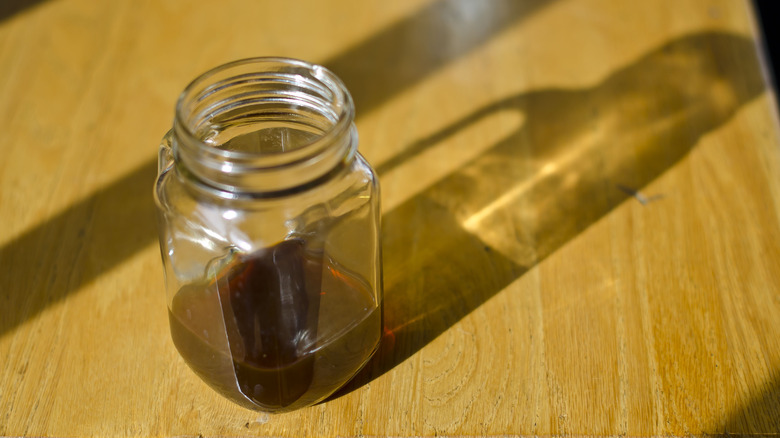 Bric Anderson/Getty Images
Vintage colored and tinted glass jars make perfect stylish and easy holders for all sorts of things, from plants and flower cuttings to pens, brushes and other items. While the fragile state of older jars means that finding vintage and antique ones in good condition is a bit more challenging, there is a great way to upcycle your ordinary glass jars into something new and beautiful with similar vintage charm. All you need is a recycled glass jar, some Mod Podge, and a few drops of food coloring or acrylic paint.
These jars not only look beautiful when filled but are also quite lovely when placed in front of a window where the sunlight reveals their transparent color in all its glory. Colored jars, particularly old Mason jars, are a firm presence in many popular design aesthetics, including farmhouse and cottage core styles. This hack and easy DIY project will allow you to create as many as you want with a minimal budget.
Making tinted glass jars
Begin by thoroughly washing your glass jar, cleaning the inside, and removing any labels or adhesives on the outside. Mix a small amount of Mod Podge in a cup or bowl with a few drops of food coloring or thinner acrylic paint. Because Mod Podge dries clear, these transparent colors will still allow light to filter through the glass. Mix colors to get the desired shade and intensity. Pour the tinted mixture into the bottom of the jar and begin to turn the jar, allowing the excess liquid to coat the upper part of the jar and drain out the opening.
Once you have achieved full coverage, place the jar right side up on a cookie sheet in a 200-degree oven. Since ovens will vary, leave them inside for 1 to 1 ½ hours checking every 20 minutes until the glaze has hardened inside the jar. Allow the jar to thoroughly cool before use.
Using tinted glass jars and bottles in your decor
While this hack works well for transforming marinara jars, it can also be used for jars and bottles of all sizes and shapes. While colors like aqua, brown and green are popular among older jars, you can blend your colors to create any number of rich vivid shades, including bright oranges and yellows. You can also further decorate the outsides of the jars with lace, twine, and glued-on embellishments. Mix in a little glitter with your Mod Podge and paint mixture for some shimmer. The glitter will adhere to the inside of the jar with the ModPodge, creating a dreamy clear coat. You can also use stencils to create patterns on the exterior.
These bottles and jars look especially stunning in a grouping of complementary colors, particularly near windows where they catch the light. You can fill them with potted plants, dried flowers, scented reeds, and other decor. They also make great colorful candle holders for LED votives and will cast a warm glow in the center of tables for your next gathering.