When Gray Is The Right Paint Color For Your Kitchen Cabinets, According To The Pros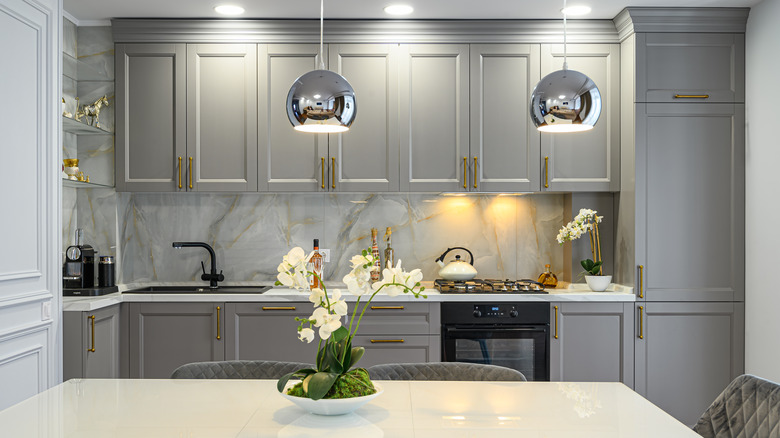 Serghei Starus/Getty Images
In case you haven't heard, neutrals are back. However, instead of beige and cream, gray is fast on its way to winning first place for the best neutral. Sophisticated yet grounded, gray is the color you should be aiming for in your kitchen, particularly for your kitchen cabinets. Speaking to Homes & Gardens, Helen Parker, creative director of deVOL, shared why she believes gray is the new must-have shade for your kitchen. "Gray is everywhere, dark, and moody or light and uplifting. In a kitchen, it creates a calming air and can be a lovely backdrop for adding a splash of color," she revealed.
Moreover, as Sue Kim, color marketing manager for Valspar, told Real Homes, "Shades of gray are fantastic foundational colors to bring into your home! It can be the puzzle piece that brings all the colors in your home together." Gray is relatively easy to incorporate into your home because of its ability to match well with other colors, making it a solid option if you want to cultivate a cohesive look throughout a space. Here's why you should consider the chic neutral hue for your next kitchen renovation.
Gray should be the color you paint your kitchen cabinets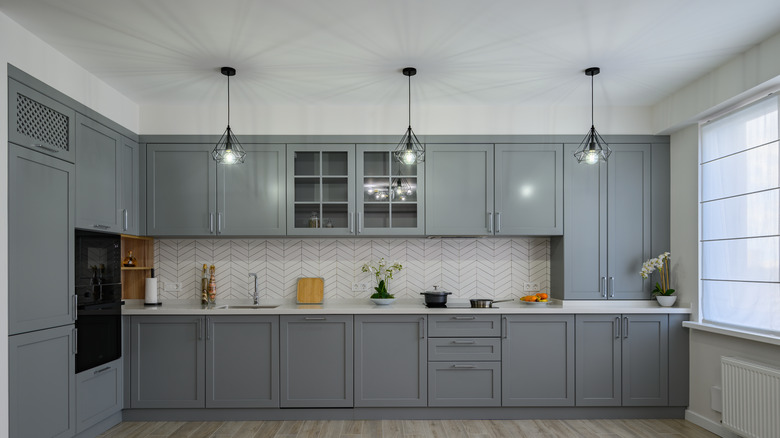 Serghei Starus/Getty Images
Alexandra Peck, owner of Alexandra Peck Designs, spoke to MarthaStewart.com about why gray is such a good choice for your kitchen cabinets. "Pale gray cabinets paired with silver toned or black hardware will give a more modern feel, while pairing these same cabinets with warm toned hardware, like brass will give the kitchen a more traditional or transitional feel," she shared. 
As mentioned, gray has been in for a while now, with different hues becoming more popular than others. Some gray color mixes like gray-green, i.e. the color of Reese Witherspoon's kitchen cabinets, are especially popular among designers due to their naturally soothing vibe. Gray has a bit of a reputation for being dull, but it certainly doesn't have to be. Much like how other colors have a wide shade range, shades of gray can range from having a warm base with brown undertones to a cool base with blue undertones, and everything in-between. An atypical neutral, gray will bring depth to your kitchen without appearing overly harsh.
The versatility of gray is ideal for often-used spaces like kitchens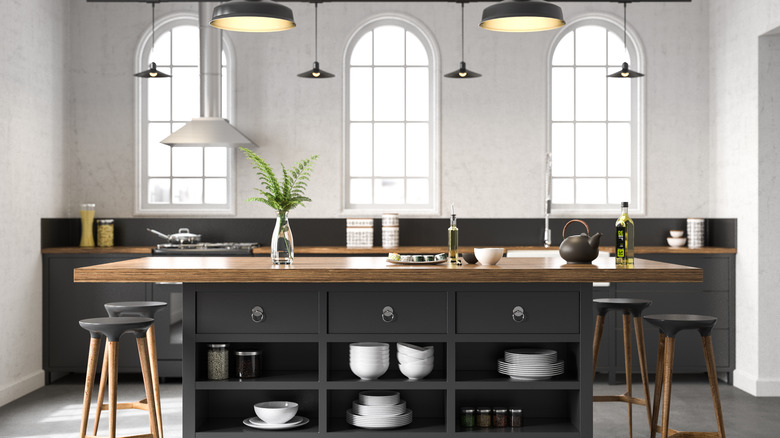 Nelleg/Getty Images
As Alexandra Peck pointed out, even just changing the color of your hardware can make a difference to how a color like gray is perceived. Brass, gold, and rose gold all have warm undertones that will create a cozy, traditional vibe, whereas silver and black carry a more modern, sophisticated feel. Plus, by choosing gray kitchen cabinets, you have the freedom to add brighter colors elsewhere if you're worried about a majority gray kitchen being too dark. There are plenty of accent colors that go with gray, whether you prefer a muted warm white for a welcoming look or are more of a color fanatic. 
If you're wondering about the shades you should be looking out for, light to mid grays are ideal for kitchens that are on the smaller side or that you want to look bigger. Dark gray is a statement by itself, and can make a kitchen appear closed-in. However, dark gray is a good option for a large kitchen, as it will lend a grounding force to a big space. Whatever your preference, there's no doubt that design pros are loving gray kitchen cabinets, so pick up a swatch or two now to start looking for your perfect gray.