Home Design Pros Share With Us How To Make Modern Decor Trends Timeless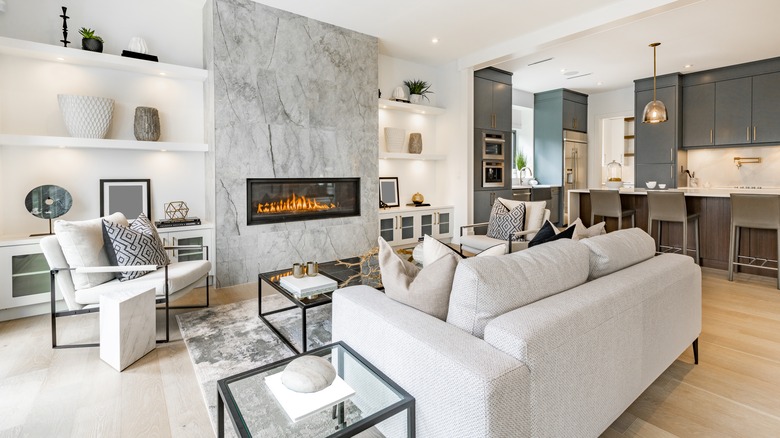 Sheila Say/Shutterstock
It may be tempting to embrace each and every decor trend that pops up on Pinterest. Sure, maybe your home is filled with the latest and greatest design ideas. But what happens when those trends aren't so, well, trendy anymore? You're left with an aesthetic that's neither modern nor timeless. Not only do you have the tedious task of redesigning your space, but your decor budget will also take a big hit.
That's why it's so important to rely on classic pieces and neutral colors that will stand the test of time. These allow your style to evolve and make it easy to integrate new trends in fun and flexible ways. Plus, you won't have to overhaul your whole look when your tastes morph over the years. House Digest talked to home and design experts to discover their go-to strategies for creating a space that has timeless longevity, even when packed with fun, new trends.
Create a neutral color palette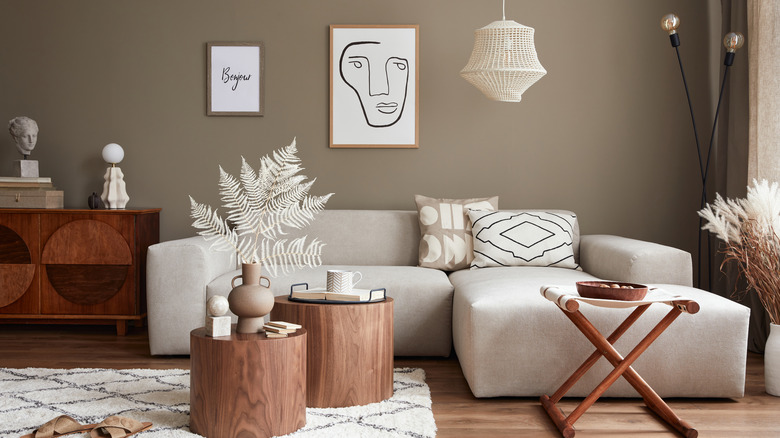 Followtheflow/Shutterstock
One of the most timeless ways to fill your space is with a neutral color palette that can provide the perfect foundation for your trendy style. As Feng Shui design expert Victor Cheung tells House Digest, "Neutral colors are versatile, and they create a harmonious backdrop for trendy accessories or furnishings. They also have a calming effect and won't overpower your space, making them an excellent choice for long-term decor." This way, you can balance micro-fads and a grounded aesthetic.
When selecting the best shade of paint, stick with the tried and true neutral shades while keeping your own style in mind. Cheung adds, "Opt for a neutral color palette for your walls, such as whites, beiges, grays, or soft pastels." Everything from a milky cream to a muted green can all be versatile shades that allow for long-term flexibility.
However, these neutrals aren't all created equal. The key to keeping them both timeless and modern is paying close attention to the temperature of the color. Gray is a modern choice that can also feel cold and trendy. So, opt for a gray paint shade with a warmer tone like Sherwin Williams Mindful Gray for a chic yet comfy feel. Or, if you love beige, check out cooler taupe-leaning hues like Sherwin Williams Barcelona Beige to avoid a dated, peachy look.
Integrate trends in accessories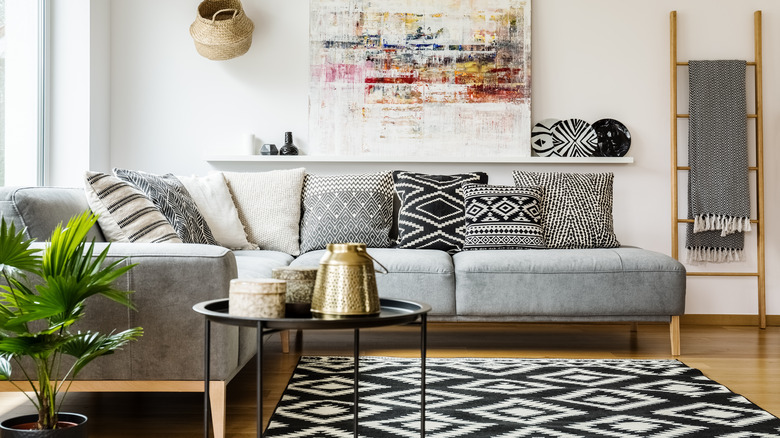 Katarzynabialasiewicz/Getty Images
Curating a modern and timeless aesthetic means that you integrate trending pieces in strategic ways. Murat Yashar, an interior designer at House of Worktops, explains, "Instead of incorporating trends into major furniture pieces or costly items, add trendy elements to your space through accessories."
The key is establishing a neutral backdrop with a carefully selected wall shade and versatile foundational furniture pieces. Then, you have the freedom to play with new trends in small touches. Yashar points out, "This includes decorative pillows, drapes, rugs, artwork, and other objects. These smaller, more affordable items are readily interchangeable as fashions change, allowing you to update your space without undergoing a major renovation."
There are several smart ways to make these simple swaps. You can style your sofa by investing in high-quality 18-inch square throw pillow inserts. Then, buy covers in your favorite pattern of the moment and switch them up for a budget-friendly impact. Or purchase a set of sleek, well-made wall frames in universal sizes. As your taste and the trends change, you can change the art prints inside for an inexpensive room refresh.
Incorporate classic elements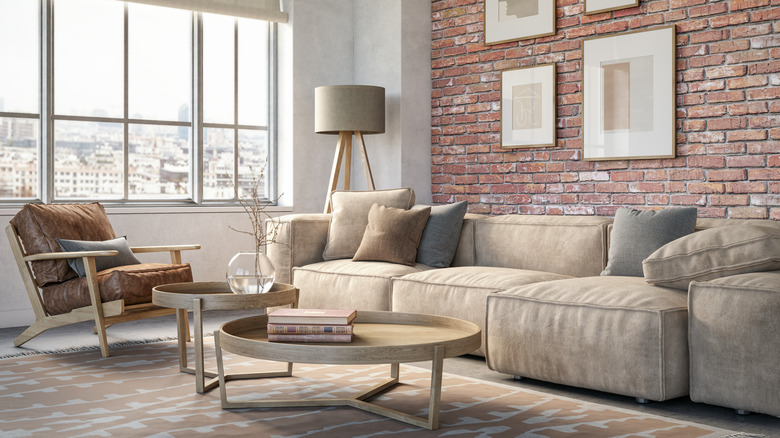 Creativastudio/Getty Images
When selecting your furniture, the key to a timeless design is leaning into the classics. It may be tempting to go with that structural sofa in a unique synthetic material or an ultra-sleek design in a trending color. However, choosing either a classic shape or fabric can give you a trending furniture piece that will stand the test of time.
Jonathan Faccone, interior designer and the founder of Halo Homebuyers, explains, "Fashion fades, but style is eternal. When decorating with trends, try to incorporate timeless classic elements such as natural materials, neutral colors, or traditional silhouettes to ensure that no matter what the trend is, they will still remain fashionable. This can be done by mixing and matching patterns, colors, and textures that are timeless with the current trends."
For example, say you love the Mario Bellini sectional sofa that is a throwback to Italian '80s design. Its bubble-like shape is very on-trend, but it might not be in 10 years. To keep it feeling timeless even when the fad changes, choose it in a classic color, such as white or leather. That way it will still have some staying power. However, if it's a trendy pattern or color you like, switch the formula and get a classic chair or couch silhouette upholstered in the loud fabric. Not only does sticking with traditional elements provide long-term versatility, but they allow your modern trends to pop. 
Go for quality over quantity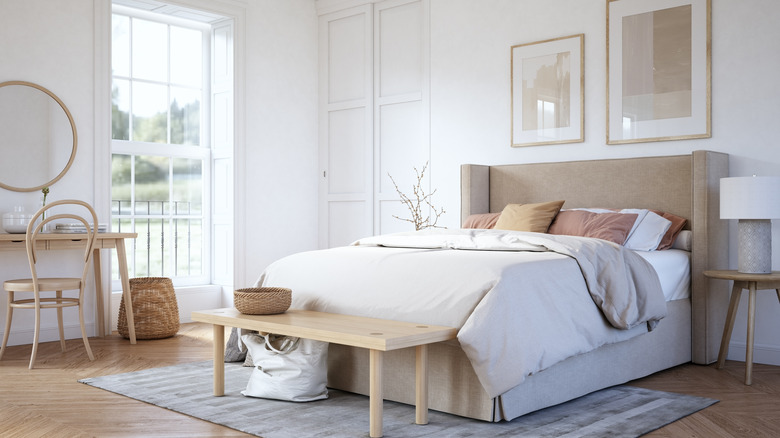 Creativastudio/Getty Images
Today, fast homewares are everywhere, from uber-cheap sofas to trendy dining sets. However, purchasing these budget pieces can often come with sacrifices in both their style and quality lifespans. As Jonathan Faccone, interior designer and the founder of Halo Homebuyers, shares with us, "It is important to buy pieces that are well-made and timeless. Quality materials tend to last much longer than cheap ones, so they will stay in style for a longer period of time."
For example, if you like quirky, architectural lamps, buying the designer version that costs upwards of $1,000 is an investment piece that will stand the test of time. Much like Barcelona chairs and Herman Miller coffee tables, these pieces stay in style decades after the fads have passed. But if you invest in the $80 dupe — which doesn't have the same craftsmanship or attention to detail as the original — you won't see it as a piece of art but a fad. That means you will grow bored of it once the craze has ended. As Faccone adds, "Investing in quality furniture and decor pieces can be expensive, but it is worth the cost if you want timeless pieces."
Always keep functionality in mind
Onurdongel/Getty Images
While it's true that trends can impact the look of a piece, they can also make a big impact on how it functions. So while that ultra low-slung couch or acrylic backless bar stools may look stylish and unique, chances are, they don't add much use to your space. Realtor Graham Hill explains, "Most people think of trends as something that is strictly aesthetic. However, it's important to remember that functionality matters too. Make sure whatever pieces you choose serve a purpose and are practical for your lifestyle. This will ensure that they stay in style even when trends come and go."
When sourcing pieces for your home, think function first, and visuals second. Decide what purpose you want a piece of furniture to serve, then look for one that meets your needs while accommodating your style. For example, while the trendy, low-slung couch might not be practical, find another trending item that will be. That can include the large and comfortable cloud couch or a deep, boucle sofa. This way, you will still love your furniture when the fad is over.
Focus on textures and materials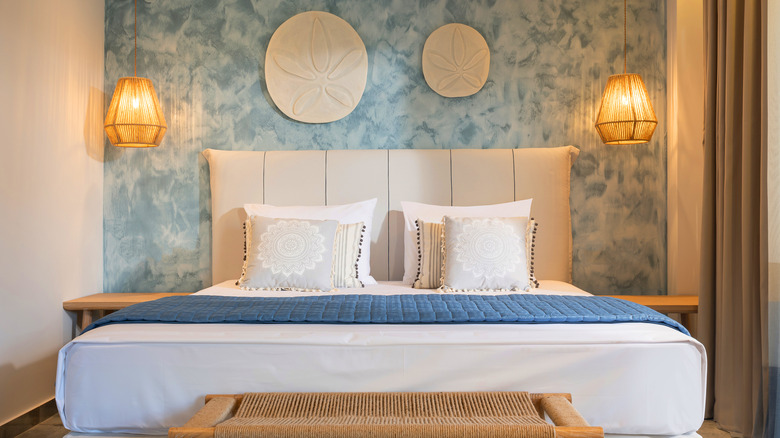 Hotel Art Photography/Shutterstock
Neutrals don't only exist in the vacuum of wall colors. A whole myriad of materials can infuse stunning texture into your home. Interior designer, Ted Howard, says, "Incorporate timeless textures and materials that add depth and interest to your space. Natural materials like wood, stone, and leather have enduring appeal."
When it comes to foundational pieces, materials like wood and leather create a timeless feel. Stick with classic colors and neutrals to ensure they'll stand the test of time. This gives you a balanced backdrop to then accent the room with quirkier, more modern trends. "Use trendy textures and patterns in smaller doses to create visual interest without overwhelming the space," Howard explains. Since they're anchored by timeless pieces, the trendy items won't feel out-of-date once the fads pass. So go ahead and add that wicker wall art or chunky woven floor poof — it can add a perfect touch of hipness to your timeless space.
Layer your trends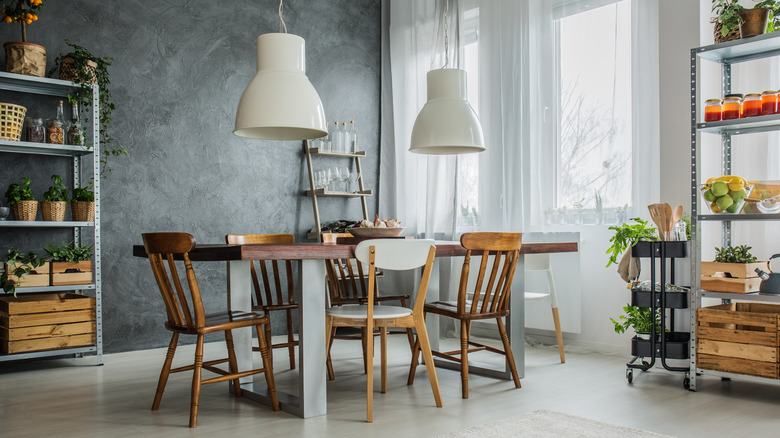 Ground Picture/Shutterstock
A timeless space is all about collecting the items you love. Plus, when you vary the look of pieces in a room, it looks more custom and classic. Editor-In-Chief of Design Morsels, Andrea Hundley, tells House Digest, "One of my favorite ways to make trends timeless is through the layering technique. Layering is the process of combining different patterns, textures, and styles to create depth and interest."
Hundley continues, "For example, let's consider the trend of mid-century modern furniture. Instead of decking out an entire room in this style, I recommend integrating one or two mid-century pieces into a room that features a mix of styles. This keeps the space eclectic, interesting, and far from dated." If you have a mix of decades in a room, it's hard to look dated since you don't subscribe to one epoch.
Of course, this strategy is customizable to your personal style and tastes. If you lean toward modern or industrial styles, add Scandinavian or boho touches to warm up the look. And if you're geared toward a softer style like French country, infuse art deco or mid-century modern pops for a little edge. When you play contrasting aesthetics off of each other, it creates more balance — and a more balanced space is a more timeless space.
Stay true to your personal style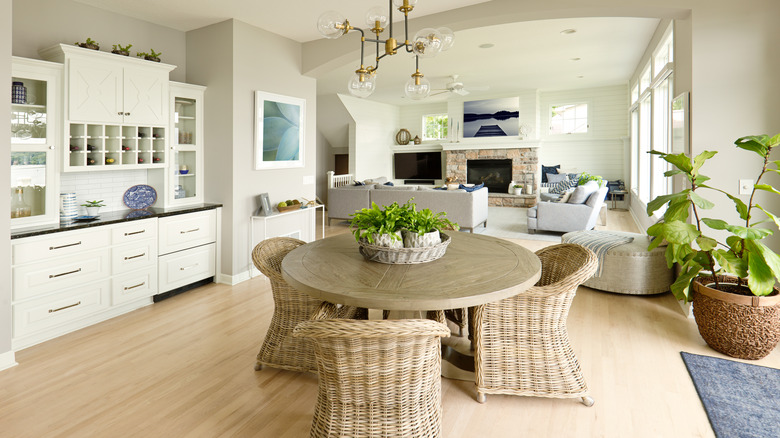 Yinyang/Getty Images
Your home's decor is an extension of your style and personality. Stay true to the things you love and the look you visualize for your space. House of Worktops interior designer, Murat Yashar, tells House Digest, "While it is enjoyable to incorporate trends, it is essential to maintain your personal style and preferences. If a trend does not resonate with you, do not feel obligated to imitate it."
Timeless doesn't mean the same for everyone. As you evolve, your home's style evolves with you, creating a classic look that's uniquely yours. What this means is, you'll likely pick up trends along your decor journey that become permanent parts of your space. The trick to loving these additions long-term is being ultra-selective about your choices and only sticking with ones that are authentic to your personal style. Yashar adds, "Choose trends that complement your preferences, way of life, and the overall aesthetic you wish to attain in your home. This will produce a result that is more genuine and enduring."