TikTok's Clever Organization Hack Makes Storing Kitchen Essentials A Breeze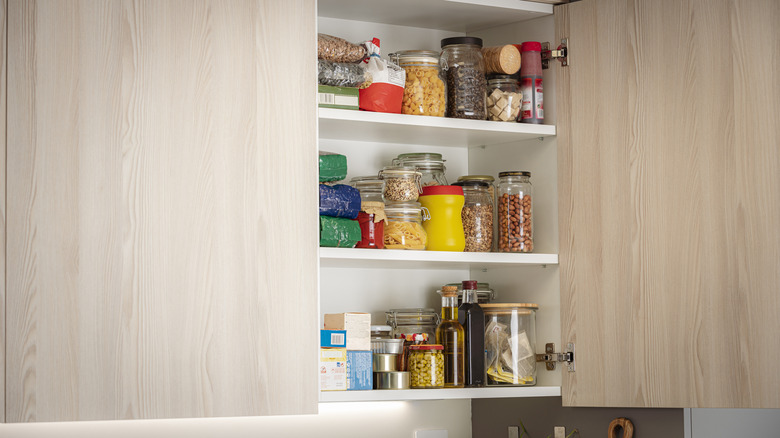 Fcafotodigital/Getty Images
Kitchen storage can be a challenge. However expansive your cabinets and drawers are, it can often be difficult to find a good, accessible place for those items you need all the time, but for whatever reason, are never easily close at hand. Rolls of tin foil, plastic wrap, and parchment paper are often one such variety, usually coming in long boxes that don't always fit soundly in available kitchen storage spaces.
TikTok user @theflippedpiece has an ingenious solution to these often reached-for supplies, creating a cabinet door storage hack that keeps your rolls of wrapping accessible, but hidden out of sight. All you need is an upright file or magazine organizer and some Command strips. You can create an easy-to-grab spot for these tricky items, as well as other narrow-boxed essentials, like freezer, sandwich, and trash bags. Even better, it's an inexpensive DIY project that is super renter-friendly and easy to assemble with no hardware. This project also frees up additional space by utilizing the inside of cabinet doors, so you'll be left with more room for your other kitchen items.
How to make a cabinet organizer
It all begins with a simple file organizer. Usually meant to hold paperwork, magazines, and notebooks on a bookshelf or desk, these can be purchased at practically any office supply or big box store. They typically come in a variety of materials, including plastic, acrylic, wood, and wire mesh. Their height and depth make them the perfect size for long boxes.
Use Command strips to securely adhere the file folder to the inside of your cabinet door and then fill it with all those boxed items and rolls that you need within reach. If you are looking to add a little extra style and flair, you can cover the boxes or organizers in decorative paper or paint them to match your decor. You can also add more to additional cabinets or stack them vertically to get even more storage. Repeat this hack on a closet or craft room door to store all sorts of supplies, like kraft and wrapping paper.