Can You Use Vinyl Flooring In Your Garage?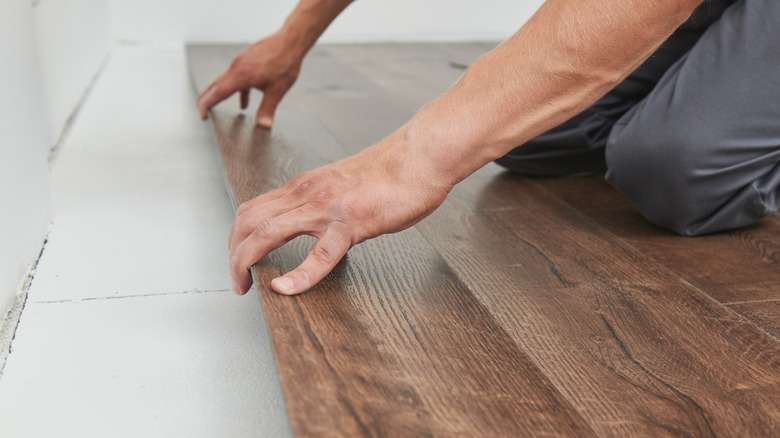 Dmitry Kalinovsky/Shutterstock
Garages can be harsh environments, taking on significant foot traffic, vehicular traffic, spilled chemicals, mud, and rain. Consequently, the flooring in use in this space needs to be able to withstand a wide range of circumstances and materials. Many people install vinyl plank flooring inside the home because of its durability, but could it work just as well inside your garage? Some versions of vinyl floors actually can work inside this challenging space. However, other versions have some limitations, especially if you plan to park cars on them, as they cannot stand up to this weight. Do some research to find the perfect product.
If you have drab concrete in place now, it's understandable why you may be looking to give your garage floor a facelift with a non-concrete option. You may want to use this space for workouts, for a craft room, or for a rec room, giving your home a bonus room. No one wants gray concrete to take away from the enjoyment of this space.
In a case like this, where you want to expand your living space without parking cars on it, making use of almost any stylish vinyl plank flooring is a workable idea. You can install these planks directly over the top of most subflooring materials. Just be sure that you make repairs to any holes in the concrete to create a flat subsurface. You then either need to seal the concrete or add an underlay material to prevent moisture from seeping through.
When using versatile vinyl flooring inside a garage is a good idea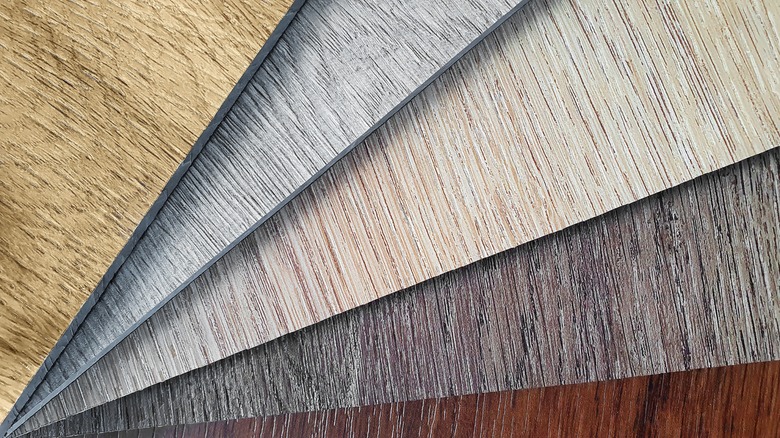 Wongsakorn Dulyavit/Shutterstock
One of the biggest benefits of using vinyl planks is the various design looks that they provide. When you have interest in making the garage space into a bonus living area, you probably want a design in the flooring that provides a pleasing look. You can find vinyl planks that look like different kinds of hardwoods. Multiple colors are available that resemble wood stains like you'd find on a hardwood floor.
Other vinyl planks can resemble stone flooring, like slate, marble, limestone, and others. Vinyl is able to look like many different kinds of floors because of the design layer on top of the plank that includes a photographic image that the manufacturer prints. It then protects the image of hardwood or stone with a transparent wear layer over the top. The wear layer on vinyl allows it to stand up to significant foot traffic and other challenges found in the garage without damaging the look. Some planks have a thicker wear layer than others, so you may want to stick with a commercial-grade product to give you the longest-lasting option.
Does any type of vinyl flooring work in garages with cars?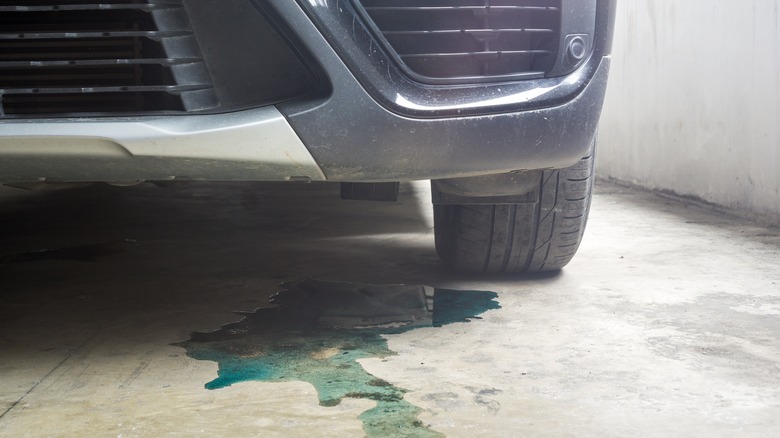 Smile Fight/Shutterstock
Although traditional vinyl planks like you might use in your home are not designed to stand up to vehicular traffic, you can find some types of vinyl that would be suitable in this use case. For starters, you can consider PVC tile flooring, or polyvinyl chloride. PVC and the wood-look vinyl planks that you may use inside your home contain the same basic materials. However, the planks tend to use layers that add rigidity to the material, while PVC tiles have a bit of flexibility to them. Some manufacturers even place draining holes in the PVC tiles, which allow them to work in areas with quite a bit of water. PVC is able to go directly over the top of concrete without worries about trapping moisture, and it's extremely easy to install. It is durable enough to support the weight of vehicles, and you can drive over the top of it without moving it out of place. PVC has a commercial-quality to it, which is why some companies use it in warehouses.
Additionally, some manufacturers change the composition of the core layers in the wood-look vinyl planks to make them more durable and impact resistant, allowing them to work inside a garage where you will be parking vehicles. So if you have a desire to use vinyl inside your garage with your motor vehicles, it's important to pick a product that can stand up to this usage.