Give Your Garage A Facelift With Non-Concrete Floors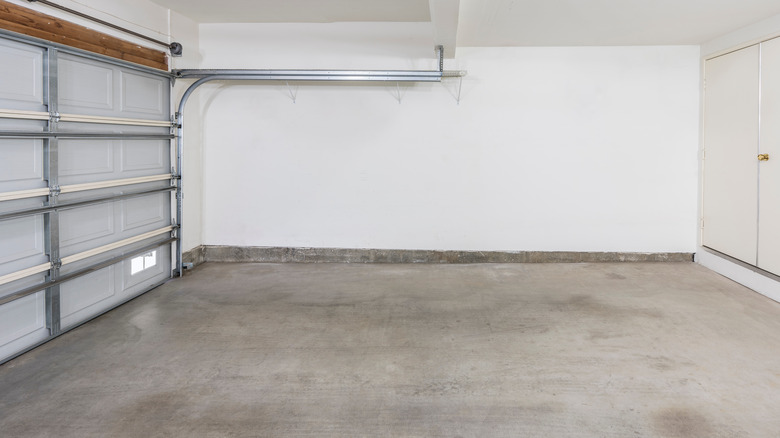 trekandshoot/Shutterstock
If you're lucky enough to have a garage but feel it's not being used to its fullest potential, don't stress! There is one simple area of your garage that can unearth all sorts of creativity and open the door to endless possibilities, and that's the floor! Boring, cold, unattractive concrete floors in your garage will work fine if you're planning to park your car in there and never look back, but why be boring when you can give all that extra living space a facelift with just a few small changes?
Your garage might be piled with cardboard boxes, serve as extra food storage, or simply be too unorganized to really know what's going on in there. However, that additional square footage can easily work as a home gym, studio/office, living area, game room, yoga studio, storage unit, or a combination of many things. Don't let the idea of a typical garage limit you. Spending a little time and money to upgrade your floors can lead to increasing the value of your home while providing you and your family with even more space to be creative. Whether you plan to park your car or makeover your garage into a majorly functional space in your home, the floor will make a big difference and there are a lot of options depending that can suit all of your needs and plans for your upgraded garage.
Assess your current floors and make repairs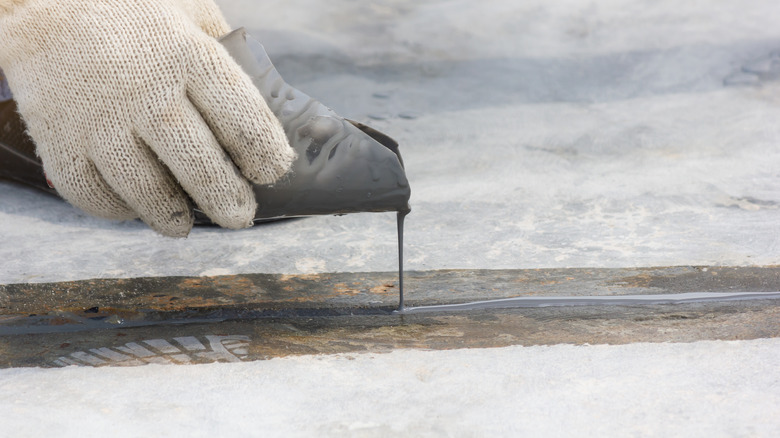 TS Photographer/Shutterstock
Making concrete repairs is a great first step in any home improvement project as it can save you time and money down the line and our garage is no exception. Many garages are built over a concrete foundation because it tends to be a cheaper option and it's sturdy enough to support cars and other frequent use. However, another near certainty when it comes to concrete is natural wear and tear. Cracks, which can be caused by moisture or pressure, and small divots and holes across the surface, known as pits, occur with overuse and are signs of normal deterioration over time, according to Onfloor Technologies. Repairing these issues might seem daunting but most can be tackled by yourself or you can hire a professional. Covering up these issues with an upgraded floor might look better on the outside but it's merely a temporary bandaid.
When making repairs, you'll want to start by clearing out the area completely. Evaluate the corners, seams, and any hidden cracks that might've been previously covered. Once you know the scope of the issue, thoroughly clean the area. Use a hose, air compressor, or broom/brush to clear away any dirt, rocks, or broken bits of concrete that may be trapped in the corners or cracks. Tackle the larger cracks with putty, sealer, or caulk that's been designed for concrete repair. These products will close the cracks, deter future fissures, and seal out more moisture, which can cause additional damage. Most repair products can be applied with a caulking gun or a putty knife. Be sure to even out bumps or excess caulk with a scraper to create a smooth surface. For pitted concrete, you can spot-apply types of polymer to level and reinforce the surface.
Decide what you'll be using the space for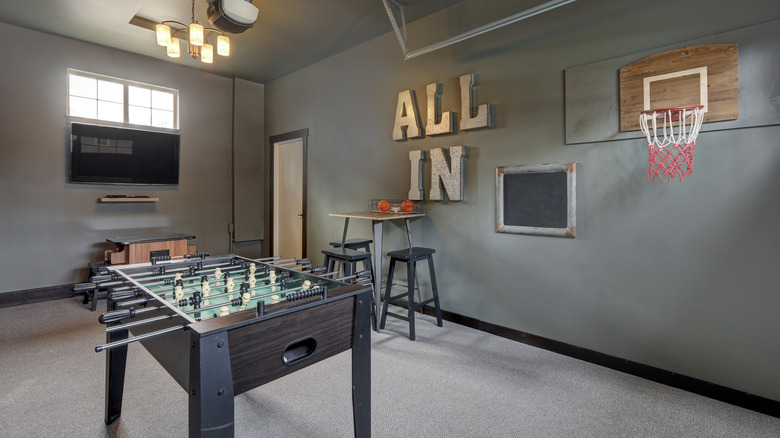 Artazum/Shutterstock
Starting with the floor is quite literally beginning from the bottom up and requires a little planning. It's important to figure out how your floor is going to function in order to choose the correct flooring. The last thing you want is to decide on a type that won't function in your new space. Start by asking yourself a few simple questions. Are going to be entertaining and will the aesthetic be important? Will this be a workshop and will clean-up need to be simple? Are you hoping for a cozy, warmer space that could use extra insulation? This will get you started in terms of what the look and feel need to be.
You also need to evaluate some logistical factors. For example, is your garage temperature controlled and waterproof? Are you in a humid area? If water tends to make its way into your space near windows and doors, then you'll need to avoid carpet and other mold-prone floorings. In fact, water getting trapped beneath any flooring and the concrete surface will cause a major problem with mold. Consider whether or not sealing, waterproofing, or adding temperature control to your garage is an option before settling on a floor.
You can also brainstorm in terms of sturdiness. You wouldn't choose a delicate tile for a workshop floor because it would be likely to crack and you wouldn't pick an expensive carpet for a painting studio. Take some time to jot down a few ideas and evaluate your end goals before making permanent decisions about flooring. Most importantly, consider your budget for the whole renovation process, not just the floor, and carefully factor that in.
Peel and stick tiles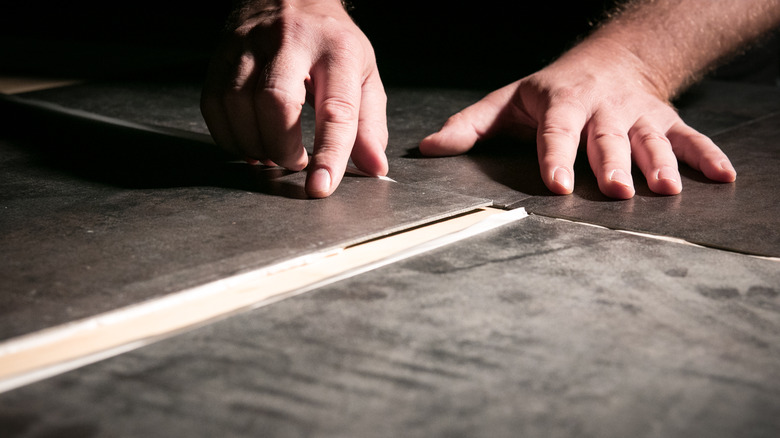 Benjamin Clapp/Shutterstock
Peel-and-stick tiles are just about as straightforward as they sound. The many designs available are an excellent option if you're looking for an affordable, easy, and stylish way to upgrade your garage floor. When are peel-and-stick tiles a good option? Although you would be able to park on top of these, they could wear and tear quickly, so they likely won't be the best choice. However, if your garage is going to be a multi-purpose space that doesn't necessarily need to be extra sturdy, such as for storage, as a sewing or art studio, space for a pool table or floor-to-ceiling shelves, then these inexpensive but stylish tiles will work perfectly.
Many peel-and-stick tiles are made of polyvinyl chloride (PVC) and backed with some heavy-duty adhesive, according to Garage Transformed. You should begin by measuring your garage — double checking can save hours of extra work — and buy the correct amount of flooring based on square footage. Grabbing a few spare tiles is also a smart idea, and they can always be returned if unused. Clean the area thoroughly with a hose, broom, or a shop vacuum, because gritty sand or small rocks will create uneven surfaces and air bubbles. Certain products will call for primer or special ways to prep the floor. Follow these directions for the best results.
Be meticulous when laying the tiles; the adhesive will be very strong and if you mislay a tile or leave a gap it will be difficult to peel up and restick it. Not to mention a small mistake can be difficult to realign throughout the rest of the floor. Simply remove the backing, line up the edges, and firmly place the tile against the concrete. Most DIYers can handle this project with just a measuring tape, a sheetrock knife, and some time and dedication.
Apply epoxy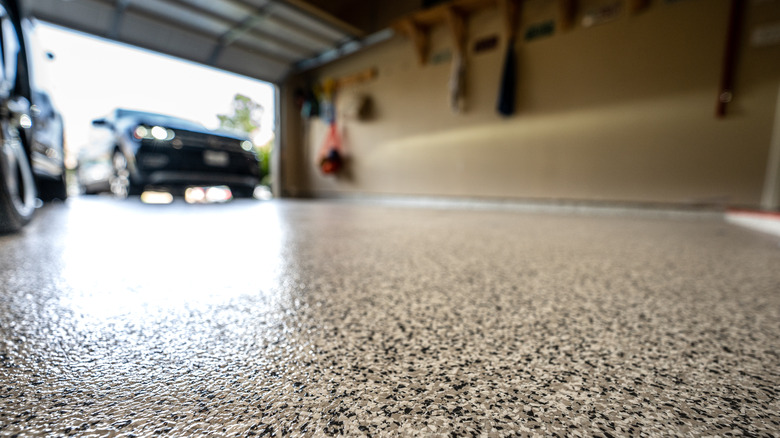 Bobcat Beasley/Shutterstock
Epoxy is a protective top coat that can be easily applied over concrete floors to create a seamless, sturdy, and finished look in your garage. This option can be more expensive and time-consuming; however, the end result is durable, and resistant to cracks, chips, dropped tools, or heavy equipment. Most epoxy is stain resistant, creates smooth surfaces that make clean-up a breeze, and is environmentally friendly because it lasts longer and doesn't end up in a landfill.
There are three common types of epoxy that work well with concrete. According to United Gilsonite Laboratories, there are high solids, solvent-based, and water-based epoxies that are long-lasting, two-part mixtures. Once both parts are added, the chemicals react to make a spreadable liquid that can be painted on and will harden into a solid surface. Water-based and solvent-based options are more resistant to stains and spills that might occur while working on cars or other machinery.
Although you should follow the individual instructions for each product, many are applied in the same way. First, begin by thoroughly cleaning and clearing away debris. You'll need to scrub or power wash any oil or grease stains or any lingering chemicals could react to the epoxy. Once the floor is dry, you'll need to prep the concrete with an etch/cleaner. This provides a grainy/textured surface that will help the epoxy adhere better. Finally, you'll carefully mix both parts, being sure to use safety equipment, such as a mask, goggles, and gloves. Most products should be applied in two layers and can be done with a paint roller. Allow each layer to dry completely, and the end result will be a smooth, durable, shiny surface that is certain to upgrade your space. This option is permanent and should last for ten-plus years.
Lay down vinyl planks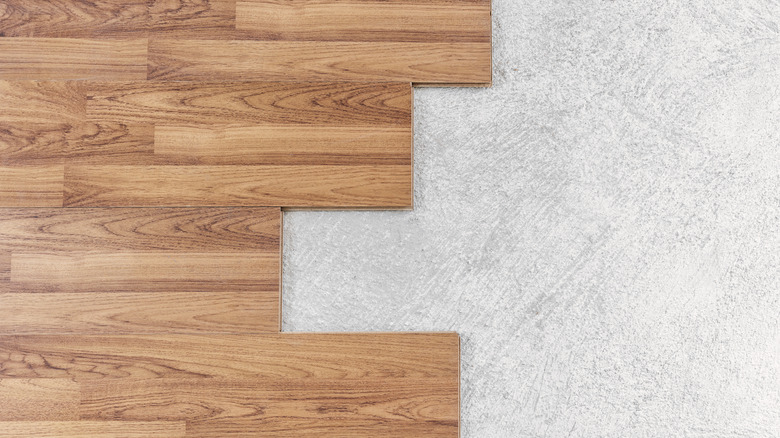 Sasin Paraksa/Shutterstock
Installing vinyl planks in your garage is a versatile, efficient option that can totally overhaul your space in terms of usage and aesthetics. Most vinyl planks mimic real wood floors, creating a finished and sophisticated appearance. Vinyl planks are commonly used inside homes around the world because they look almost as good as real wood but they are also more affordable, and simpler to maintain. Planks can support parked cars and motorcycles, giving your garage a luxury look; however, they can also transform a once dingy-looking space into an entertainment area, living area, yoga studio, home office, and more. This type of flooring will seamlessly extend your living space into your garage area.
Plank flooring was designed for heavy traffic throughout your home, so you can be sure that will hold up in your garage as well. However, if you want a little more protection, there are life-proof, waterproof, and extra-durable options available to you, according to M S International, Inc. Not only can you choose a product that fits your needs, but there are hundreds of colors, textures, grains, and plank widths to choose from.
Vinyl plank flooring is not too difficult to install yourself; however, Home Depot and other home improvement stores offer the service at a reasonable price. Look into adding an extra layer of insulation under the flooring if you want to block out some of the cold, or want more cushion for yoga or other workouts. Whether you're changing oil, spinning pottery, or hosting a weekly game night, this option is also simple to clean. A quick brush with the broom or vacuum will suffice, and because most options are stain resistant, a Swiffer or a standard mop will clear away most messes.
Interlocking tiles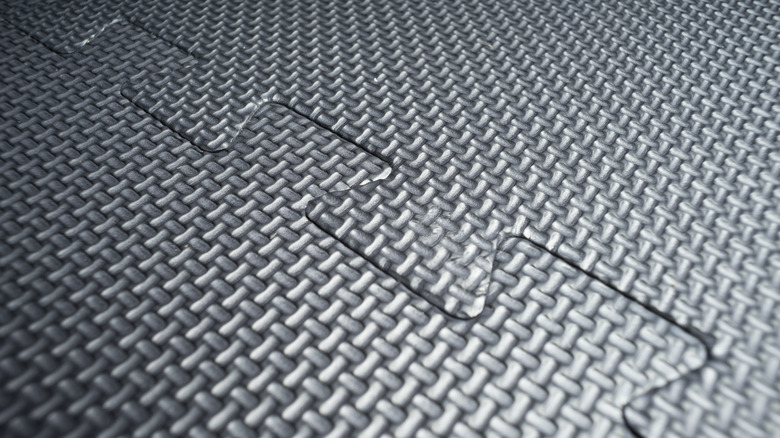 Calypso Photo/Shutterstock
There are plenty of permanent and semi-permanent options when it comes to garage flooring, but what about temporary or really low-cost options? If you don't consider yourself an experienced DIYer or if you want an easy, inexpensive, removable flooring option, then interlocking tiles are your best bet. Choose from plastic, rubber, or foam tiles and cover the whole garage or just a small area with ease because none of these options require permanent adhesive or complicated cutting and installing. Interlocking tiles simply fit together and most are easy to cut with a box cutter, which means measuring might be the most difficult part of this task.
Interlocking plastic and foam tiles are a great option if you're creating a play area that could use some extra cushion. Rubber tiles can go down in just the corner of your garage if you have workout equipment, or if you want to add a bar area. However, skip this option if you'll be parking an SUV in that spot. Although rubber might hold up, the interlocking tiles will likely bend, break, or just deteriorate too fast to make it worth your time. Snapping these together is an easier project but don't forget they're designed to come apart.
Foam or rubber tiles are also a great option if you're covering a small area where you're standing a lot. Concrete floors, even under planks and peel-and-stick tiles, can be rough on your back. If you have a slop sink, workbench, or any other space that requires long hours on your feet, consider laying some comfortable interlocking tiles in those high-traffic areas to create a cushioned surface that isn't necessary throughout the whole space.
Roll out a rubber mat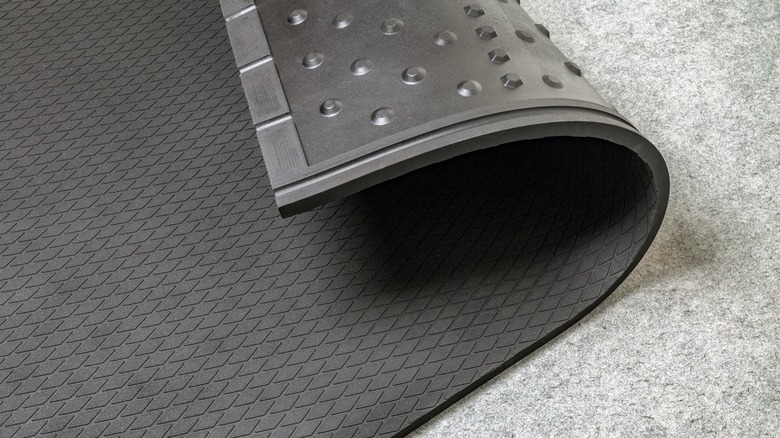 Morrowind/Shutterstock
This option is similar to interlocking tiles. It's a more cost-effective choice that is extremely easy to install. Not to mention, you can roll and unroll a mat depending on how you want to use your space that day and lean it in a corner for simple storage. Just like the tiles, this is a great way to protect a smaller area of your garage without covering every square inch, which can be costly and might be overkill. Rubber mats will be more durable than foam, which can wear and get uneven. Rubber mats can also replace plastic tiles that might crack if there's too much weight on them.
Roll out a rubber mat for a cushioned workout area or play area, or as a functional option if you do a lot of mechanic work. The extra layer will be comfortable and durable. Most rubber mats are not absorbent, which means you can roll them out and easily clean them if you've got big projects but don't want to make a permanent mess. Just spray the mat down with a hose and let it air dry for a very simple cleanup.
Roll out carpet or use an area rug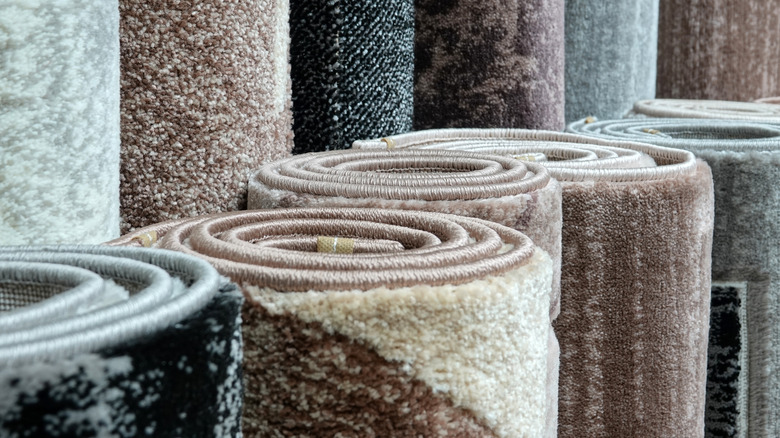 Richard Peterson/Shutterstock
Carpet is almost a surefire way to transform your garage from cold and uncomfortable to cozy and welcoming. Your garage can easily be another living room, a home theater, a family room, or even a guest room. This desire for more space has been on the rise since the pandemic and carpet is an excellent and totally viable option to achieve this if your garage is sealed against the elements and temperature controlled. Although, if you have sliding garage doors, you might want to leave a gap between the door frame and the carpet to avoid any moisture getting trapped. 
Carpet may sound like a permanent option, and it can be. You can apply adhesive to keep the carpet from sliding or bunching and you can place metal or wood carpet trim along the edges to keep it in place as well. However, rolling out a large area rug is also an option. If you aren't committed to carpeting the entire garage, place a nonslip pad over your concrete and roll out an area rug. This will give your space a cozy, modern feel that's perfect for relaxing and entertaining. You can get really creative and layer up multiple area rugs for an eclectic, artsy feel if you plan to use your garage as a recording studio, art room, or other creative space.
Carpet can also hide dust and dirt a little better than some other flooring options. Because your garage will likely get a lot of foot traffic, some debris is expected. Keep in mind that any dark or very light flooring is going to show more of that unwanted dirt.
Paint your concrete floors for an easy spruce up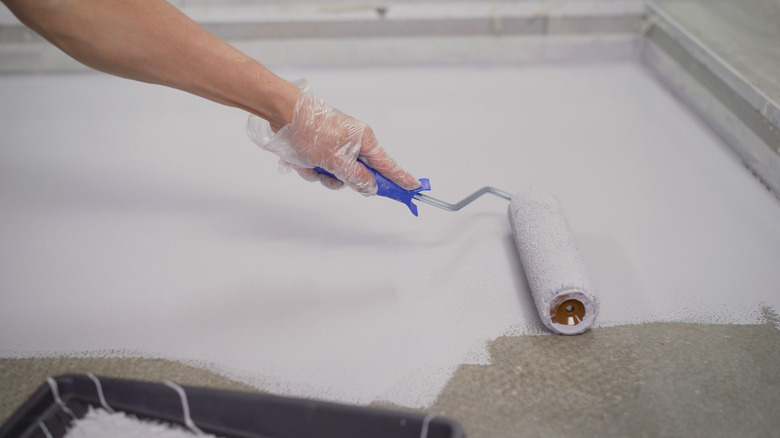 Sidorov_Ruslan/Shutterstock
Painting over your concrete floors won't do much in terms of durability or wear and tear. It may cut back on pitting or stains, but it's not guaranteed. However, it is a simple, inexpensive way to quickly spruce up the space, give it some style, and make your floors easier to clean. You may have been able to sweep your concrete floor, but a smoother, painted surface can allow you to mop the area and really get it spiffy. This is a great choice if you have some quality concrete already down but want to use the space as a bar, game room, or another type of entertainment area.
If you're painting, covering the entire floor area all the way to the edges and under the shelving will give you the most complete look. This isn't a time when you want to get sloppy. Begin by clearing out your garage completely or moving everything to one half of the room. If you can power wash or hose down the floor, begin there. A thorough sweeping or vacuuming will avoid any rough textures and help the paint stick better. If your concrete is polished, choose a paint that will stick to that surface and if it's not polished be sure to purchase a rough bristled brush that won't fall apart while painting. Even if you aren't using an epoxy, there are clear coats that can be applied, such as Seal-Krete 1-part Clear Gloss Concrete and Garage Floor Paint from Lowes, or Gloss Clear Concrete and Garage Floor Finish Topcoat from Home Depot. This extra step will add a bit more durability to your paint job and finish the look. Painting your floor gives you some room for creativity as well. If you're skilled with a paintbrush you can be simple or elaborate with your design and color choice.
Artificial turf is perfect for your at-home gym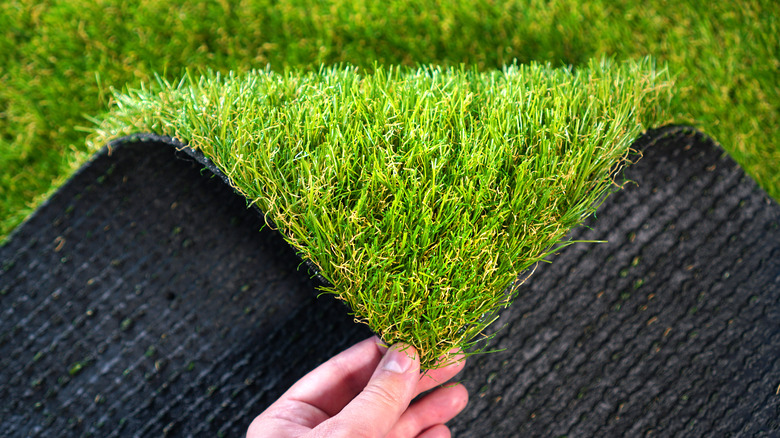 Varavin88/Shutterstock
If you're looking to really give your garage a facelift and make it nearly unrecognizable but seriously functional, you might consider adding artificial turf. This option is perfect for your home gym, whether you're all about workout machines, or weights and mat work. This flooring looks great, spruces up any dark garage, and provides that comfortable cushion you'll need while working out. Turf can also just be a fun, adventurous way to upgrade your space. If you do a lot of gardening, turf can create the perfect greenhouse environment. Or it can provide a safe, comfortable play area for younger kids.
Various forms of turf are available. You can grab a few interlocking tiles and add some green to a small space, which can be easily removed. Or you can get more permanent and use adhesive below a roll of turf to prevent slipping and bunching. Either way, the thinner the surface the cheaper the product will be. You can purchase very thin rolls of turf that won't be as plush or opt for a thicker roll that has some serious rubber padding beneath.