The Best Places To Go Dark Blue In Your Home, According To A Color Pro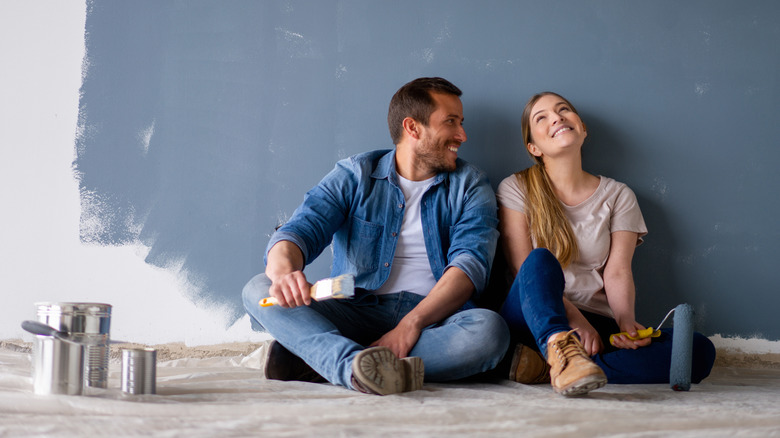 Hispanolistic/Getty Images
As a color, dark blue features heaps of different hues, ranging from classic navy blue to deep midnight blue. Though it features a family of colors that are delightful to delve into, dark blue is less easy to incorporate than neutrals or lighter colors because of its grounding presence. However, it definitely can and should be utilized in areas of your home where it will really pop. In an interview with design blog Camille Styles, Cristina Lehman, founder of C. Lehman Home, recommended using dark blue in your powder bathroom, small study, and family room. 
In addition to these rooms, Lehman stated that dark blue could also work well in a dining room if you want to add a grander feel. Because of its more serious look, dark blue often isn't considered as a potential paint color when renovating. However, its chic and sophisticated look could be just what your home needs. With the above rooms in mind, here's how to specifically style dark blue so it feels fresh and modern instead of dated.
The classy color will bring a sophisticated vibe to a room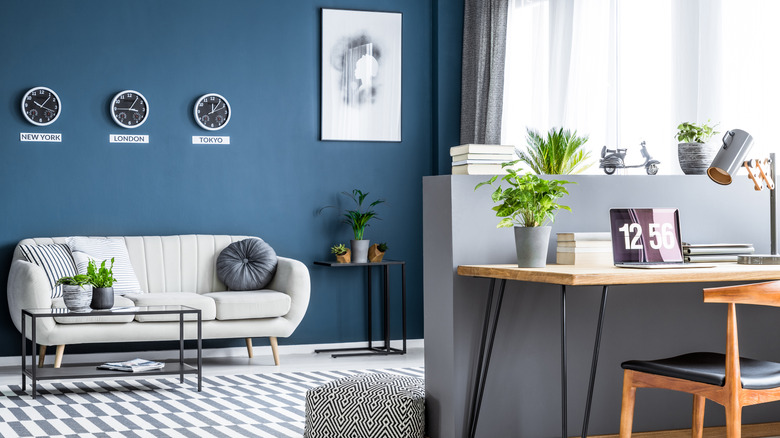 Katarzynabialasiewicz/Getty Images
According to Cristina Lehman, dark blue will give a room a contemporary vibe. "I love the darker blues for a cool and modern look," shared the design pro. In order to cultivate this modern vibe, it's important to know the best ways to incorporate darker blue hues. For example, if you plan to use dark blue in your powder bathroom, stick to one wall. Powder bathrooms are usually on the smaller side, and a bathroom painted completely dark blue could serve to make it look even smaller. To avoid this, decorate the rest of your bathroom in a crisp white shade for preppy energy. Ideally, bathrooms should feature a clean and fresh ambiance, and a dark blue wall will help to achieve this.
In a study, a grounded presence is key to creating a vibe that's perfect for working. Opt for dark furniture to give your study a traditional, refined look. Or, if your decor style is more contemporary, opt for a white or cream desk to brighten up your study overall. The same goes for your dining room: dark blue walls paired with a table and chairs made from dark wood is a match made in design heaven.
Dark blue doesn't have to be cool-toned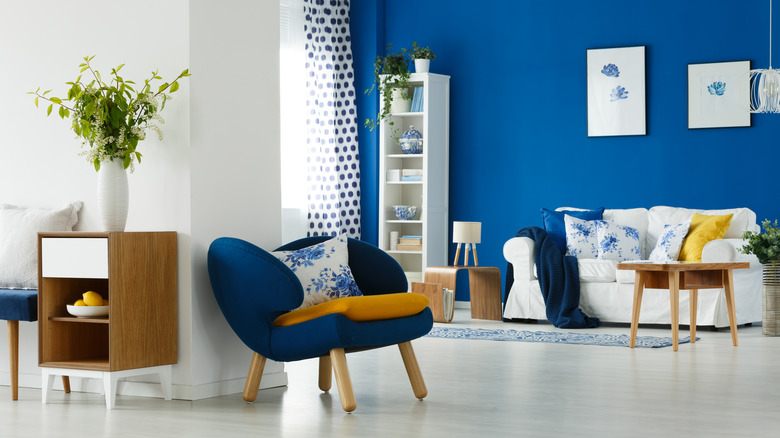 Katarzynabialasiewicz/Getty Images
Finally, in your family room, contrast darker blue with brighter or lighter colors to create a welcoming space. Warm mustard looks gorgeous with dark blue, and, by adding in sprinkles of this color in a family room, you're practically guaranteeing a cozy atmosphere. A good way to introduce another color to a room is via cushions. Not only will cushions transform your room, but they're an easy and affordable way to experiment with color palettes — plus, you can swap them out seasonally if you like to switch up your decor often.
If you're worried about whether painting a wall dark blue will make a room appear overly cool, Cristina Lehman suggests pairing dark blue with warm-toned accessories. Dark (specifically navy) blue and silver are a classic color combination, but, as silver is a cool-toned metal, it will enhance the natural cool undertones of many dark blue paint shades. Instead, reach for warmer accessories. This is easiest to do with metal accents, like choosing gold over silver,  such as an armchair with gold legs instead of silver, or a lamp with a gold base for small touches of warmth dotted throughout your family room.