Where A Pro Recommends Bringing In Trendy Muted Green Paint Tones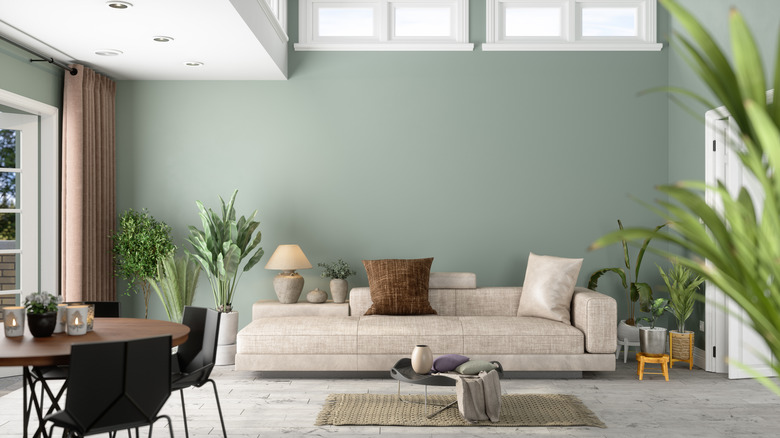 Onurdongel/Getty Images
Green has long been a favorite of HGTV regular Joanna Gaines due to its versatility and fresh look, and the color doesn't seem to be going anywhere anytime soon. While designers love the gray-green shade of Reese Witherspoon's kitchen cabinets, the green shade that's in right now is calm muted green. Designer Tanya Smith-Shiflett of Unique Kitchens & Baths forecasted muted green to be popular for a while. Considered more of a neutral than other shades of green, muted green brings a soft, soothing feel to any room.
However, this paint color is especially recommended for the kitchen, mudroom, or study/home library. Though brighter greens have their place in interior design, what's great about muted green is its timelessness. It may be trendy now, but, unlike bolder shades, soft green hues stand the test of time much like classic neutrals. Moreover, the sophisticated shade perfectly complements heaps of other colors, making it an all-around ideal paint color. Here's how to incorporate green into your own home décor.
Muted green could be the paint color you've been seeking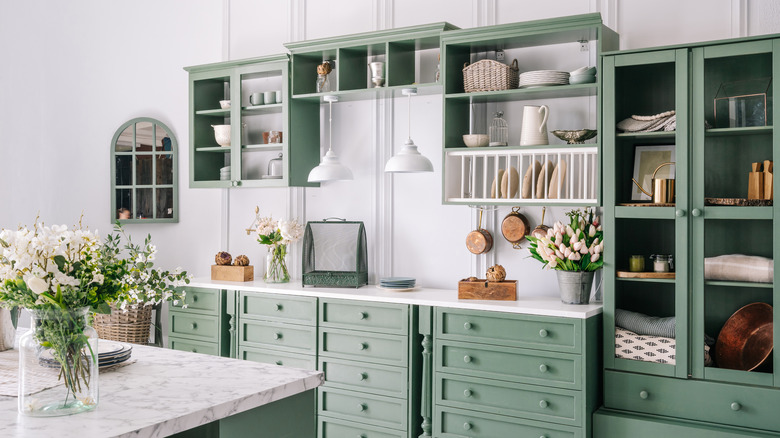 brizmaker/Shutterstock
Speaking with Homes & Gardens, Sims Hilditch founder Emma Sims-Hilditch called green "a wonderful color that works well all through the year and is ideal if you are trying to bring an element of nature or a heritage feel into a more contemporary city home. It's a restful and calming shade which not only works well on cabinetry but also looks great on walls." This calming aspect of green is partly why it works so well in a home library setting, where concentration is key. Plus, as both Sims-Hilditch and Tanya Smith-Shiflett of Unique Kitchens & Baths pointed out, green is a great choice for kitchens due to the shade's back-to-nature vibes it exudes.
To try the trend yourself, look into the following muted green paint colors. "Treron" by Farrow & Ball is the perfect gray-green shade for your kitchen cabinets, though it's on the darker side and, therefore, more suited to rooms with lots of natural light. "Green 09" by Lick features yellow and gray undertones, which both infuse a sense of tranquility into an often busy area such as a mudroom. Last but not least, "Balsam C2 684" by C2 Paint is just the right sage green shade for a study or library due to its cool-toned finish that will put you in just the right headspace for working and reading.