Nate Berkus' Favorite Flowers Are The Beautiful Arrangement Your Home Needs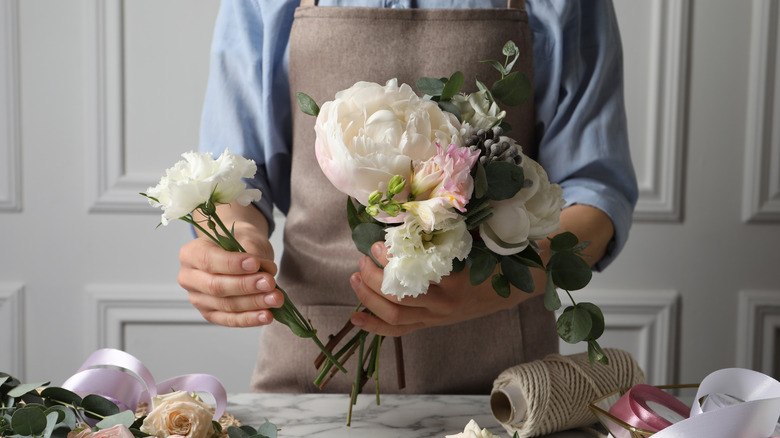 New Africa/Shutterstock
Nate Berkus, a fan favorite among celebrity interior designers, makes no secret about loving fresh-cut flowers to give any room a special touch. Thinking about taking a cue from him and adding flower arranging to your skill set? You can mimic many of the bouquets he creates by using his favorites — white roses and peonies — for your own fresh flower arrangements.
If you're thinking buying white roses and peonies is the easy part, we hear you. Florists and skilled designers like Berkus, who've been arranging flowers for years, do seem to work magic with those blooms. And, of course, there's the issue of spending your hard-earned paycheck on a luxury item like flowers. The good news is that Berkus often shares some simple solutions to solve problems like these and get you on the road to enjoying flowers in your own abode to give it an elegant and beautiful vibe.
Nate Berkus' tips for arranging fresh flowers on a budget
If you're hoping to add a bit of everyday luxury to your home, a good place to start is flower arranging. Nate Berkus has you covered with a great suggestion, which can be accomplished with white roses. "I'm a big proponent of taking a juice glass and putting six roses from the corner deli next to your sink," Berkus told InStyle. "If that's what you see when you're brushing your teeth in the morning, it makes your day a lot nicer." If a juice glass is a little too shabby chic for your taste, this tactic also works with any type of small cylindrical vase or container. Just cut the stems a little shorter than the height of the vase, remove the leaves, and add the roses one by one to form a beautiful cluster of blooms. 
And, yes, Berkus mentioned the corner deli when suggesting where to buy flowers. That's an obvious reference to affordable vendors in the city, but there are plenty of other places to pick up some white roses and peonies. Most grocery stores have bargain selections, especially when it comes to roses, and you can opt for half a dozen to save a few bucks, as the interior designer suggests.