Create A Pottery Barn Lighted Broom For A Halloween-Tastic Price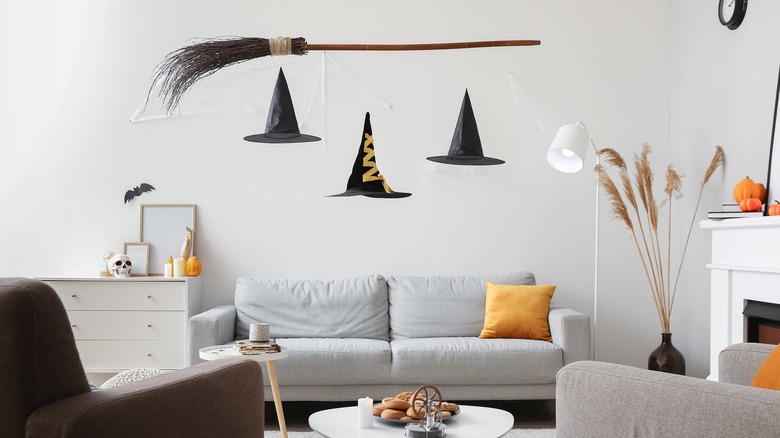 Pixel-Shot/Shutterstock
We may receive a commission on purchases made from links.
When it comes to decorating for Halloween, there's never a right or wrong time to start. You can plan how you want to decorate your home before October and buy spooky embellishments ahead of time. If you love DIYing your Halloween décors, you'll need to start as soon as possible to ensure it's displayed all month long. Retail stores always sell their most popular items quickly, so replicating them will feel like you have the original at a low cost. For example, Pottery Barn has a popular, fun, spooky witch's broom that lights up, but it sells out quickly at $129. The one they currently have on their website is an updated version of last year's; it's black with a few lights in the bristles for $150. However, instead of buying the expensive Pottery Barn version, TikTok user @meandmrjones DIYed a similar broom for only $20.
Making your own seasonal décor is a superb way of staying within your budget. If you've always wanted the light-up broom from Pottery Barn but need to stay within your budget, follow Jones's DIY tutorial. It's beginner-friendly and takes a day to complete.
Materials needed for DIY Halloween broom
TikToker Haley Jones uses a natural branch from her yard as the handle for her light-up broom. It gave the broom the ultimate witchy look. Cut off a bendy branch if you have large trees in your backyard. If you don't have trees, but your neighbor does, ask them to spare you a small branch. Alternatively, retailers like Michaels often have branches for sale, such as this Ashland Natural River Birch, for $19.99. You'll also need a broom brush; we found one on Amazon that's similar to Jones's brush for $11.99.
Other materials required for the project are a hot glue gun, a drill, a red Solo cup, a plastic clear plate, string lights, and gray spray paint. Dollar Tree is always an awesome place to buy smaller items, such as plastic clear plates; they have them for $1.25. Amazon has Copper Wire String Lights for $12.99; it has a thin copper string that effortlessly intertwines between the brush's bristles so that they're unnoticeable. Lastly, use any gray or neutral-colored spray paint for the Solo cup. Amazon has a Rust-Oleum brand for $6.19. The price will vary on how many items you purchase, so if you have materials at home but need to buy a few things, you'll be able to spend around $20 for your DIY light-up broom.
How to replicate Pottery Barn's light-up broom
Once you've gathered your materials, start fanning the broom's brush. Cut off the strings that secure the bristles together and stretch out the strands in every direction to fluff it up. Then, remove the metal ring from the tip and set it aside. Spray paint your red Solo cup before gluing it to the plastic plate. TikToker Haley Jones sprayed both plate and cup in her video, resulting in her having to scrape the paint off the plate. While the cup dries, drill a wide hole for the brush's tip to fit through.
Next, glue the Solo cup to the plate and let it dry. When it's ready, apply glue to the top of the cup and attach the brush's head; it should cover the entire cup and fan over the plate's sides. Repeat the step but with the branch; glue the brush's tip and insert it into the branch's hole. If you're using an entire broom, you only need to glue the broom to the cup and plate. Finally, add the string lights to the broom, starting with the brush and making your way up the handle. Set up your Halloween light-up broom in your living room or front porch for a witchy feel.