Make Your Budget Curtains Look Expensive With Curtain Training, Here's How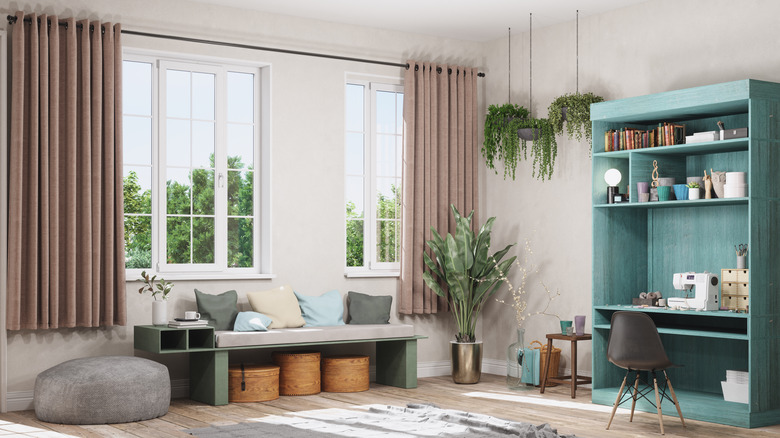 Onurdongel/Getty Images
When buying inexpensive curtains, their low cost can sometimes be obvious. Perhaps they're covered in wrinkles or they don't have that sleek, pleated look. Fortunately, by "training" ready-made curtains, you can make them look like they were tailored or custom-fit to your windows. Training basically means getting your curtains to retain their folds from top to bottom so they look organized and elegant. This involves using accurate measurements, decorating with chic accessories, and carrying out other care techniques so that your window coverings look their best.
Start by measuring your windows accurately so you can get curtains with the right length and width. For a more full and luxurious appearance, choose curtains that are just long enough to drape well. They should also be wider than the actual window so that they can bunch up on the sides, making your window appear larger. You might need to hem your curtains to achieve the best length. One tip for length is to leave enough space to slide a hand between the floor and the curtain, or hem them about a quarter inch off the floor.
The curtain training process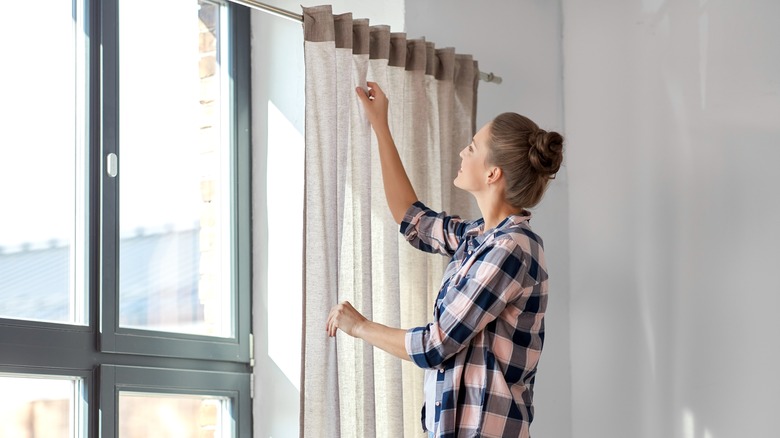 Ground Picture/Shutterstock
After you've purchased curtains that are the correct size, DIY some pinch-pleats by folding the top into pleats and adding hooks. It helps to sew the pleats so they're more secure. When you're sure of the length, iron the curtains and then they're ready to be hung on your windows. Steam your curtains after hanging to remove any more wrinkles and achieve that polished look. Once you've completed these steps, they're ready to be trained to refine your window treatments without breaking the bank.
Following the pleats you created at the top hem, fold and gather them gently and evenly all the way to the bottom hem, so that they're folded like a tight accordion. Hold them together with tape, string, or ribbon in three or four places down the length of the curtain, firmly securing them but not too tight so they don't crease. Pay attention to the bottom part of the curtain so it also retains the folds and doesn't flare out. Spray the fabric with a fine mist of water, linen spray, or starch, then keep it folded for about two days or more. When you release the string or tape, your curtain should keep its shape and drape beautifully.
Accessorize your trained curtains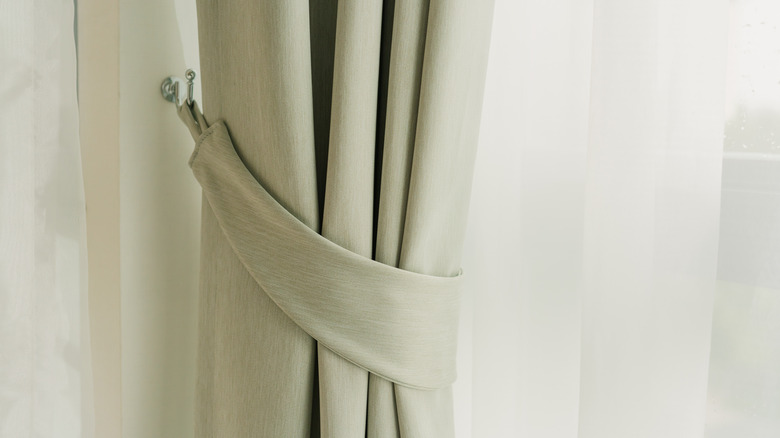 Whyframestudio/Getty Images
To elevate the look of your trained curtains, invest in a quality rod as well as high-end hooks or rings, tiebacks, and other accessories. One special type of accessory to consider is tiny weights that you can insert in the bottom hem of the curtains. This weighs them down and keeps those newly-trained lines straight. Choose hardware like rods and rings in high-quality finishes and elegant styles that fit your décor. One tip is to get chunky statement pieces for really long curtains in a spacious room. You can also add stylish finials or end caps to the curtain rod for an extra touch.
Tiebacks or holdbacks are another type of accessory to give your curtains an elegant look. They gently gather and hold the curtains to the sides, framing your windows nicely. Tiebacks typically need to be installed, but you can get some that are magnetic or made out of rope or beads. When you're done designing your window coverings, take a full look at them from a distance so you can make any needed adjustments.