The Storage Solution Nate Berkus Swears By For Pantry Organization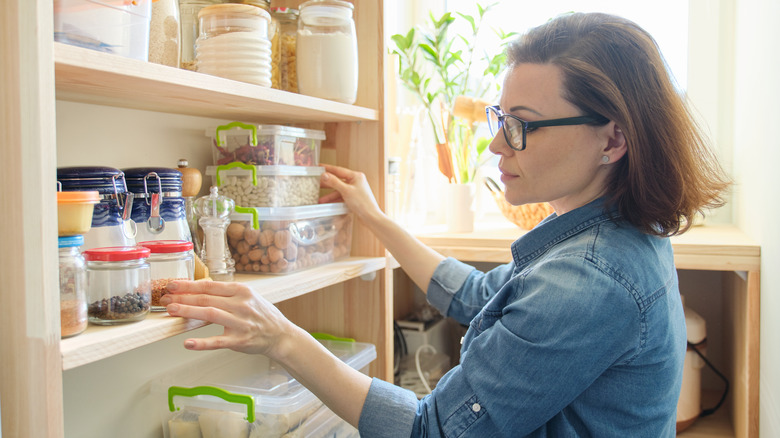 VH-studio/Shutterstock
Keeping your pantry organized can be a tough job, particularly if you have a large family or prefer to buy in bulk. However, there's a super simple storage solution that Nate Berkus swears by to organize your pantry, and all it involves is a spinning turntable. In a TikTok posted by @natehome, the design expert tells viewers that he uses a two-tier turntable to keep products together and then corresponds the items on the turntable with the labels on his pantry shelves.
Each shelf has a label for a specific food category, i.e. sauces and pulses. Once he's done loading jars onto the spinner, Berkus then puts it in the pantry as normal on its designated shelf, making sure there's enough room for it to spin around. You may have heard of using turntables, also known as lazy susans, in the kitchen, but they're a great item to have in your pantry as well. An ingenious way to stay organized, Berkus' hack is a great way to reduce food waste, too, as no products will get pushed to the back of the pantry where they could be forgotten.
Never let your pantry get messy again with this easy solution
@natehome

Nate Berkus lives for moments in life when he gets to leave a space more organized than he found it. That is why the @natehome 2-Tier Turntable Organizer might actually be one of the most useful home organization items ever. It's beyond functional & he promises that once you try it, you will immediately want to add 10 more in every cabinet.

♬ original sound - Nate Home
The spinner Nate Berkus uses in his TikTok is the Two-Tier Turntable Spinner from his collection Nate Home, and the interior designer showed viewers how to assemble the product in another TikTok. All you need to do is slot the wooden sticks into their designated holes, then add the second tier on top. The simplicity of this storage hack makes it too good not to try. Plus, think of how much time you'll save in the long run when trying to find a specific ingredient.
Though Berkus uses his own turntable to demonstrate, any spinning turntable will have the same organizing effect. This storage solution trick is especially apt if you have a small pantry or one that's awkwardly laid out, as it lets you group everything together. Moreover, Berkus may have demonstrated how to use the turntable with honey and jam jars, but you can use your spinner for anything that fits within a small jar or container — for example, rice, pasta, or beans. The best way to use an organizing solution is to customize it to your needs, so don't feel like you have to copy Berkus completely. Instead, think of the items you use the most and start there.