Turn A Dollar Store Paper Towel Holder Into A Storage Rack With This Genius TikTok Tip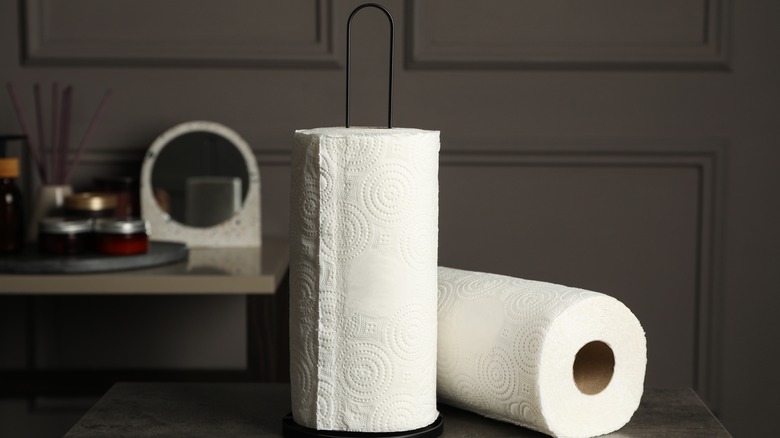 New Africa/Shutterstock
If you're looking for a creative way to spruce up your kitchen and want a bespoke item, there are plenty of projects to DIY. Not only will you have the satisfaction of knowing you created something for your home, but you'll save money doing so. While you may not think much of a basic paper towel holder, you can easily transform this item into an amazing storage rack. All you need is a dollar store wire paper towel holder and some creativity and you'll have the perfect place to store fruit, vegetables, spices, and so much more. And the best part? You'll make the most of that coveted counter space, making this a perfect project for anyone with a small kitchen. 
Another great thing about this DIY project is that you can make multiple storage racks for different uses. You could even use these storage racks elsewhere around your home, such as in your bathroom or even in your home office. And when someone asks where you bought them, they'll be amazed to learn you made them from a few simple items that many dollar stores already have in stock.
Grab your wire paper towel holder
According to @hometalk on TikTok, you need a simple wire paper towel holder, two round cake pans, a hot glue gun, twine, zip ties, wire bins, and marbles. Using your hot glue gun, securely attach your paper towel holder to the inside of the cake pan. After it dries (this won't take long) you'll want to start wrapping your twine around the wires. Start around the perimeter of your cake pan's interior, working your way toward your paper towel holder. Then, continue looping your twine all the way around, up to the top. Make sure to continuously glue your twine in place and keep the layers touching so the paper towel holder is completely hidden. 
Next, use zip ties to secure small wire bins from your twine-covered paper towel rack. Then, empty your bag of marbles into the second cake pan and place the twine-covered cake pan on top. The marbles allow your paper towel rack to act as a simple lazy Susan storage solution. Thanks to this fun and easy kitchen storage hack, you'll have custom storage space that's cute and functional.