Ideas On How To Use Pool Noodles To Make The Best Halloween Décor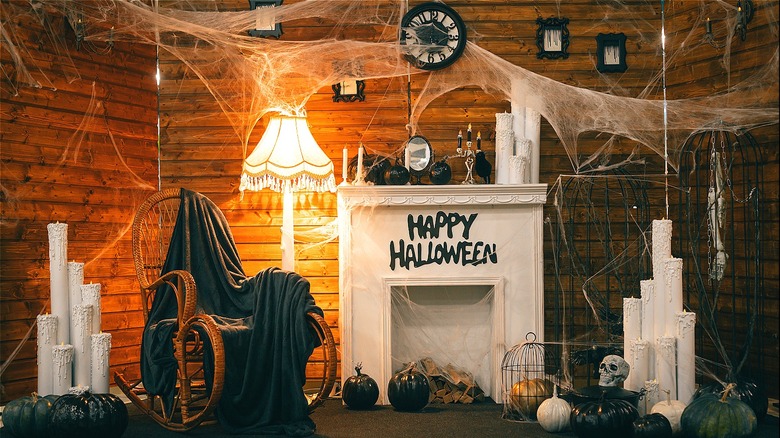 bodnar.photo/Shutterstock
Pool noodles are spectacularly versatile tools — they can stop your garden hose from kinking, be transformed into a trendy headboard, and, of course, make for fun, affordable swimming toys. Yes, these noodles have many uses far beyond the summer months and pool parties. They can also be used to create a ton of amazing Halloween decorations and help you make your own haunted house.  
When Halloween season rolls around, it's a mad dash to the craft store, and even DIY projects can quickly run up a steep bill. That's why we love using pool noodles to help create unique spooky season décor. They're affordable and easy to find in almost any store, and you can customize them with basic craft supplies and a vision. Whether you need a foundation for a wicked wreath or a not-so-scary lollipop for the yard, pool noodles have you covered. Not to mention that most can be reused and repurposed through the winter holidays, Easter, and beyond. So get out the fake cobwebs, the plastic spiders, and ... the pool noodles.
A realistic thorny vine arch
To create a spooky haunted root patch for Halloween, just take a pool noodle and cut the top part into two to three sections, then wrap them in plastic wrap to create a spooky root shape. Use a heat gun to melt the plastic onto the noodle so it adheres to itself, giving the pool noodle a gnarled and knotted wooden texture. Once the plastic can stand on its own, it's time to paint. Use plastic-adhering black spray paint as the base coat, dry brush a light-toned latex paint over it, and finish the whole thing off with your choice of wood stain. Get the full tutorial from Oak Lane Cemetery. 
A ghoulish gateway
Build an eerie archway to your front door with black pool noodles, garden stakes or broom handles, and flexible pipe. How big you want your arch will determine how many noodles you need. Coat the black pool noodles with stone spray paint to make them look aged and solid, then attach them together with tape. 
Stick the broom handles or stakes in the grass on either side of your walkway and feed the flexible pipe through the noodles. Slide the noodles over the stakes on either side, and there you have your arch. Decorate with cobwebs, spiders, and solar-powered fairy lights for the full spooky Halloween effect.
DIY Mickey Mouse door decoration
Disney and Halloween go together like witches and broomsticks. Make a darling Mickey Mouse pumpkin wreath with orange pool noodles, a wire pumpkin frame, plastic pumpkins, and yellow cloth (all of which can be found at a dollar store). Cut the pool noodles to the length of the pumpkin frame segments and attach them with hot glue. Then, add the plastic pumpkins as the ears and create a Mickey jack-o'-lantern face with the yellow fabric and scissors. Attach all the pieces and you have a Disney-fied Halloween door decoration. Use a green pool noodle as the pumpkin stem for an extra cute touch. 
Create a giant pool noodle arachnid
Make a spider abdomen out of filled leaf bags, old milk jugs, cardboard, or whatever you have on hand then spray paint it black. From there, take pool noodles to create the legs. We recommend spending a few extra bucks to buy black ones, but you can spray paint whatever you have on hand. Then, cut part of the way through the noodles to create the leg arch and seal them with black tape. Attach the pool noodles to the spider's abdomen for a giant, super-affordable Halloween spider lawn decoration. Have it crawling over a stack of pumpkins or making its way up to your front door for a big impact.
Fire-free creepy candles
No question that candles bring the spooky vibe to the next level, but they're relatively expensive, burn out quickly, and are fire hazards. That's why pool noodle Halloween candles are a perfect hack. Just cut the noodles to varying pillar candle sizes, then cut an opening for a tea light to sit at the top. Using puffy paint, create candle wax drippings along the rim. You can add the tealights now, or spray paint the noodles to your desired color (you can't go wrong with black). Let dry and then turn on your tea lights for a superbly spooky candle display. 
Trick or treat torches
Light your walkway with darling jack-o'-lantern lumiaries. Wrap a black pool noodle with orange tape (or vice versa) to create a spiral pattern, then stick it into your yard with a garden stake. Using hot glue, attach a jack-o'-lantern trick-or-treat bucket to the top, then fill it with solar-powered fairy lights and wrap the excess around a pool noodle. You can leave it as is, or give your pumpkin friend a little more personality with a hat, bow, or cape. To create a fun walk-up to the house, build a few and stagger them along your walkway.
Ding dong, the pool noodle witch is dead
One of the best Halloween gags is the crashed witch gimmick, which you can easily achieve with pool noodles. Use the noodles as the witch's legs, then cover them with striped stockings and a pair of shoes; we recommended thrifting a pair of black heels that you don't mind leaving outside, or cutting a shoe design out of construction paper. With a gardening dowel rod, secure the witch's legs behind a plant so they're slightly concealed. You can do this around a tree trunk, a potted plant, or in your garden. Place a broom next to the legs to tell the full story.
Noodles make a perfect wreath base
Making a homemade Halloween wreath can be shockingly difficult ... if you use the old-fashioned method with floral wire or branches. But just wrapping a pool noodle into a circle saves lots of time and frustration. Once you have your pool noodle wreath circle, secure it with tape and then spray paint to your desired color. From there, you can decorate it with black roses, tiny multicolor pumpkins, spider webs, or whatever else. The pool noodles offer a ton of surface area, so you have plenty of room to get Halloween creative. 
We represent the lollipop noodle guild
Halloween isn't just about the thrills and chills — it's also all about the candy. Use pool noodles to create giant swirling lollipops that will have all the trick-or-treaters flocking to your house. Use traditional Halloween colors (orange, black, purple, red, etc) for a spookier vibe, or use fun pastels if you want to keep it a little more whimsical. Wrap the noodles in a contrasting duct tape color, then coil the pool noodles into spirals, using hot glue to hold them in place. Then, attach the lollipop to a stem made from a garden stake or broom handle and place the giant lollipops in your yard. Finish them with a big tulle ribbon.
Halloween Noodle Critters
If you're looking for a Halloween craft that your little ones will love, look no further than these pool noodle Halloween characters. You just need black, green, and orange pool noodles (or spray paint to turn them to your desired color); a few sheets of craft foam in black, white, and purple; googly eyes; and craft glue. Cut out the shapes of your creatures faces in the foam — black wings for bats, a crinkly unibrow for Frankenstein's monster, and a jack-o'-lantern for your pumpkin. Attach the foam accessories to each noodle, then finish them off with some silly googly eyes. You can use wire springs for Frankenstein's monster, but to keep it kid-friendly, use sparkly pipe cleaners. Get the full tutorial from Crafty Morning. 
A chain reaction
Make a Halloween dungeon display with a pool noodle chain link garland. Take a black pool noodle, and remove a half inch of the foam all the way down the noodle. Then, just like you're slicing a baguette, cut off chain link rounds from the pool noodle. You can link them back together with some hot glue or tape and make a fun garland over a doorway or chain up some cursed souls to your porch. To age the chain links, use some latex paint or spray paint that makes them look rusted and old — this will just give them an extra spooky edge. These would also be perfectly inexpensive and lightweight shackles for a Halloween costume.
Blippity Blobby Bloop
If you have a little one in the house, then there is a good chance they're obsessed with all things "Hotel Transylvania." And who can blame them? The movies are filled with delightfully scary but sweet creatures, including a green gooey friend named Blobby. And you can make Blobby come to life with this super silly pool noodle craft. To make a life-size Blobby for your Halloween décor, you only need lime green pool noodles, hot glue or clear tape, and some printed-out Blobby eyes. You'll basically be creating a set of stacking rings from the pool noodles that'll get smaller as they go up. Mysillysquirts warns that the toughest part is creating the domed head out of pool noodles, but just be patient and you should be able to get the right structure.