HGTV's Nate Berkus & Jeremiah Brent Share Their Secret To Coastal Grandma Decor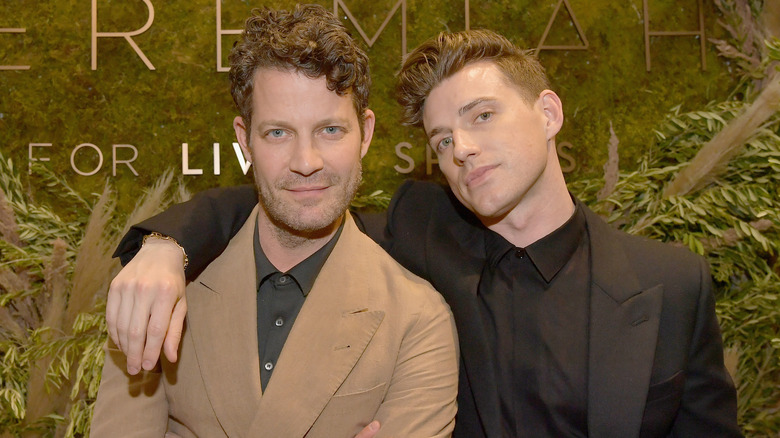 Amy Sussman/Getty Images
When it comes to luxe design, Nate Berkus and Jeremiah Brent have a seemingly effortless way of working together on "The Nate and Jeremiah Home Project." They've been known to tackle the coastal grandma aesthetic (even before it officially had a name) with beautiful results. Essentially, the style offers casual elegance perfect for relaxing at home or entertaining guests. What's their secret for getting this eclectic look just right? In a word, subtlety.
The refined way Berkus and Brent incorporate elements of this style was highlighted in an HGTV feature showing off coastal grandma rooms curated by some of the decorating channel's fan-favorite designers. For their room, Berkus and Brent worked around a rustic stone fireplace with a black and white hearth using cream and beige upholstered furniture selections that epitomize this aesthetic. Touches like seagrass window coverings, a woven wicker lampshade, and a rattan tray holding cream-colored fresh flowers add several natural touches that totally tie the coastal grandma look together. A touch of greenery on the mantle offers an additional pop of natural color to the room. Every element has a place in a subtle way that works perfectly together. 
Incorporating elements of coastal grandma style
At its core, the coastal grandma look is inviting and comfortable while imparting a luxurious feel. It includes natural touches and textures, which are often a bit rustic, without being too beachy or nautical. Upholstered furniture in subtle tones like creams and beiges are a mainstay, while darker contrasting colors like black and brown are often incorporated in decorative accents such as throw pillows, vases, or candles. While it sounds like it could be a bit boring, the layers of complementary décor Nate Berkus and Jeremiah Brent incorporate in a coastal grandma abode offer a lavish put-together look without any one aspect overwhelming a room.
Berkus, in fact, shared a Montauk, New York home imparting many of these elements on Instagram. The upscale home includes a living space designed to make anyone feel at home in cozy comfort. In addition to neutral-colored upholstered furniture, the room includes rustic tables and a beautifully textured jute throw rug. A rattan hall tree holding a collection of straw hats is a nice finishing touch. The caption, "feels like summer," sums up not only this particular living area, but the essence of coastal grandma décor done so well by Berkus and his partner, Brent.