Nate Berkus Reveals Some Of His Favorite Places To Use Wallpaper In A Home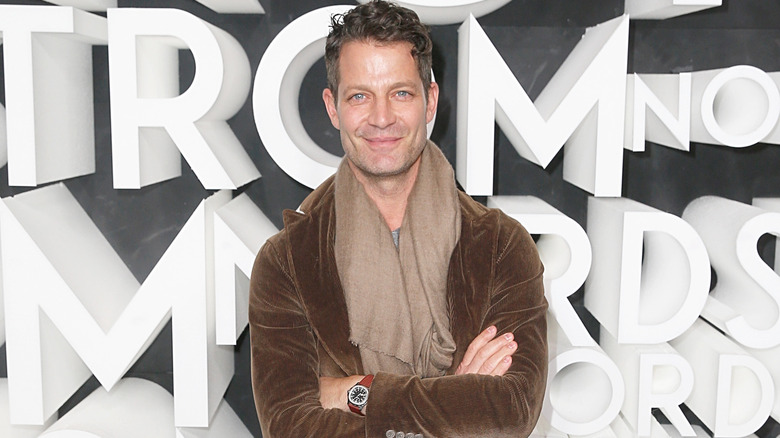 Dominik Bindl/Getty Images
Not so long ago, wallpaper was viewed as old-fashioned and out of style. As the comeback kid of home decorating, however, interior designers are using wallpaper more and more when looking to make a statement that just can't be achieved in the same way with paint. From textured wallpapers to options with bold patterns, this trend shows no sign of slowing.
If you're moving toward adding wallpaper to your home, you might be wondering exactly what some HGTV fan-favorite pros think about it. In a video for Living Spaces, which also includes his husband Jeremiah Brent, Nate Berkus revealed some of the areas where he personally likes to use wallpaper. In that interview, he specifically mentions small spaces like foyers and powder rooms.
Using wallpaper in smaller areas like powder rooms can really wow guests, and in the meantime between family gatherings and getting together with friends you'll get to enjoy it, too. Additionally, entryway foyers are often forgotten when it comes to decorating, which really shouldn't be the case since they're the first — and last — things people see when they enter and exit a home.
More on where to use wallpaper in your home, according to Nate Berkus
When it comes to wallpapering a home, Nate Berkus sees it as a way to make a big statement in a small area. In the Living Spaces video, he shared, "I really like wallpaper when it's used in a space that you wouldn't necessarily reach for it . . . I think there's something that becomes really impactful about seeing an allover pattern in a smaller scaled space," 
That doesn't mean you have to limit yourself to small areas if you want to creatively use wallpaper. In fact, Berkus revealed in an Architectural Digest interview that he and Jeremiah Brent selected forest wallpaper in their bedroom. "To live in the city and open your eyes first thing in the morning and be in, sort of, this moody, cool forest feels really right," he said. So, you can certainly start with a smaller space like a powder room or foyer, as Berkus suggests, and then explore ways to create drama in other rooms in your home using wallpaper as an alternative to paint.