How To Use Aluminum Foil To Create A Cute DIY Pumpkin Light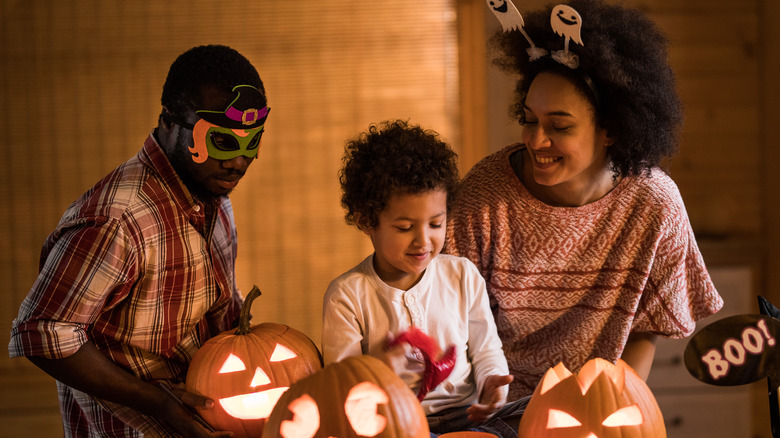 Skynesher/Getty Images
Halloween may not be considered a big of an occasion as Christmas, but for horror lovers it's the best time of the year. If you love making fun new decorations each year, look no further then the following Instagram video. Posted by @kristen.hyland, this video shows how you can DIY a cute pumpkin craft that's perfect for spooky season. Hyland's clever sculpting method ensures that your pumpkin lights will last for a long time. Plus, the steps are relatively easy to follow, so even the most DIY-averse can follow along.
Sure, you can buy a bunch of pumpkin lights at the store, but there's something special about putting the time in to create your own Halloween decor. Best of all, once you have mastered your DIY pumpkin lights, you can simply store them away safely until next year where they can shine again. Below is all the products you need and the method for how to make your very own pumpkin lights this fall.
DIY Halloween decorations are a perfect excuse to get creative
For this hack, you'll need to have white polymer clay, aluminum foil, acrylic paint, clay sculpting tools, an X-Acto knife for carving, small fairy lights, and a sealer of your choice. The first thing you need to do is roll the foil into the amount of lights you want (i.e. three or four). Then, cover each foil ball in quarter-inch white clay. Carve out the face you want the pumpkin light to have with the clay sculpting tools or a toothpick and create a hole in the front of each ball ( this is where you'll insert the lights later on). Next, bake the balls in the oven for 45 minutes at two hundred and thirty degrees fahrenheit and leave them to cool.
After the balls have cooled, remove the foil from the center of each. Now for the fun bit — decorating. Use the acrylic paints to decorate each light how you like, using your pre-carved design as a guide. Yellow, orange, and green are the most typical Halloween and pumpkin-like colors, but you could also do black and purple for a more gothic theme. Let the paint dry thoroughly before adding the mini fairy lights to each shape, and you're done! Cute and creative, your mini pumpkin lights will glow brightly without being too large for a small space.