Create A Trendy Boho-Chic Pillow With This Affordable IKEA Hack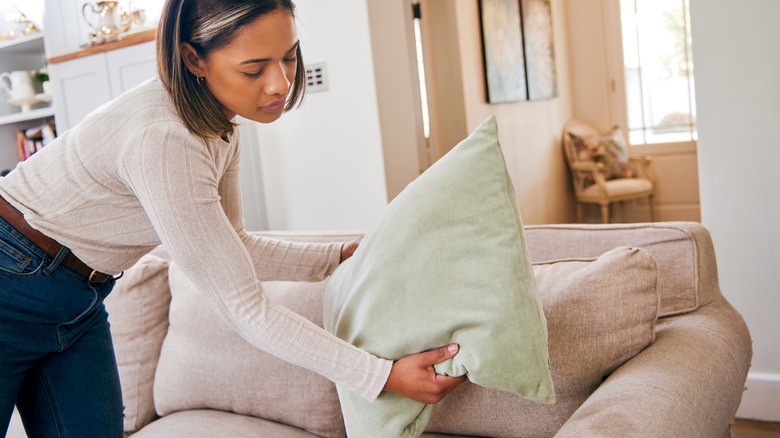 Moyo Studio/Getty Images
Décor pillows add charm and color to a muted space. They enhance the visual appeal of any room — you can place them on the couch in the living room, on a bed in any bedroom, or as seat cushions in the dining room. While décor pillows add taste through various prints, patterns, and colors, they can be expensive, especially if custom-made. However, there are always ways to find affordable pillows, like thrifting them or making your own. TikTok user @judithjelenadiy created a gorgeous boho-chic pillow with a few IKEA purchases. The key items for creating her trendy pillows were wicker placemats, something wholly unexpected and unrelated to pillow making, but perfect for achieving a boho look.
This DIY boho pillow is highly affordable and easy to recreate. You'll need two IKEA GALLSOPP placemats, a white pillow, natural jute twine, black and gray yarn (or any colors that match your home's interior), a pom-pom maker, a needle, and scissors. You can buy white pillows from IKEA for less than $4. In addition, you can buy a pom-pom maker, jute twine, and yarn from Michaels. Here's how to create your dream boho-chic pillow.
Steps for making a trendy boho pillow
Tiktoker Judith Jelena Paus starts her boho pillow by first making the pom poms. The pom-pom-making tool is easy to use – wrap your yarn around one side of the device, then repeat on the other side. Close the tool and cut the string down the middle with scissors. Then, cut an extra piece of yarn, wrap it around the center of the tool, and tie a few knots. After you finish tying, open the contraption and remove the pom-pom. Repeat the steps to make 10 pom-poms — five gray and five black. 
Next, sew the two placemats together along the edges with your needle and the jute twine. Stuff the pillow inside as you get near to sewing the placemats completely shut, then finish sewing the rest of the opening.  Finally, tie the pom-poms around the pillow, spacing them a few inches apart to fit equally around the new pillow. Voila, you have a stunning new décor pillow. Display it on your sofa, bed, or favorite chair, or make extra pillows to have a chic set.