Mina Starsiak Hawk's Simple Tips For Boosting Your Home's Curb Appeal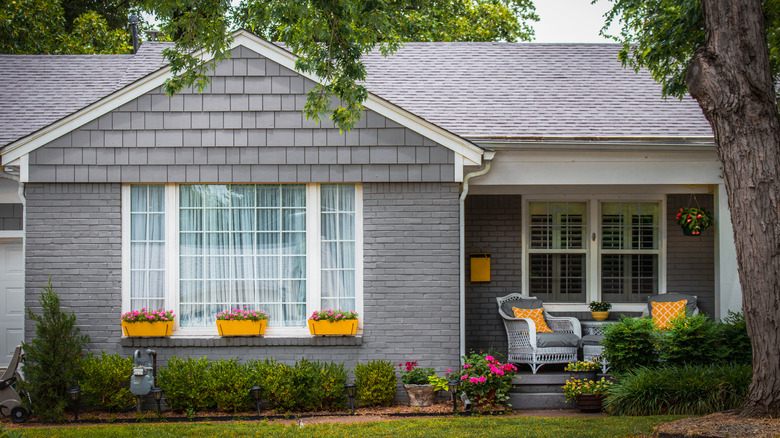 Vineyard Perspective/Shutterstock
When it comes to making an impression with real estate, curb appeal might not be as important as location, location, location, but if you listen to the pros, it comes pretty close. What potential buyers see when they first roll up on your house can indeed have an impact on their overall view of the property. And even if you're not planning on moving, nothing boosts your pride of ownership like seeing a freshly updated exterior as you're coming and going. One of the best aspects of giving your house a little exterior face-lift is that it doesn't have to be expensive or labor intensive, according to Mina Starsiak Hawk of HGTV's "Good Bones."
"An easy project would be to add flower boxes beneath your windows," Starsiak Hawk told House Beautiful. "They are simple to DIY and won't break the bank." She suggests making an addition like this in the summer, but once flower boxes are in place, plants can easily be changed out from season to season to keep attractive blooms in sight all year long. For example, pansies can add a burst of color that won't wither in areas with mild winters. As you might expect if you're a "Good Bones" fan, this HGTV star has some other opinions about exterior improvements that offer lots of bang for the buck. Adding other pops of color and plants (even fake ones!) can go a long way in upping your home's curb appeal. 
Don't forget the front door when making a first impression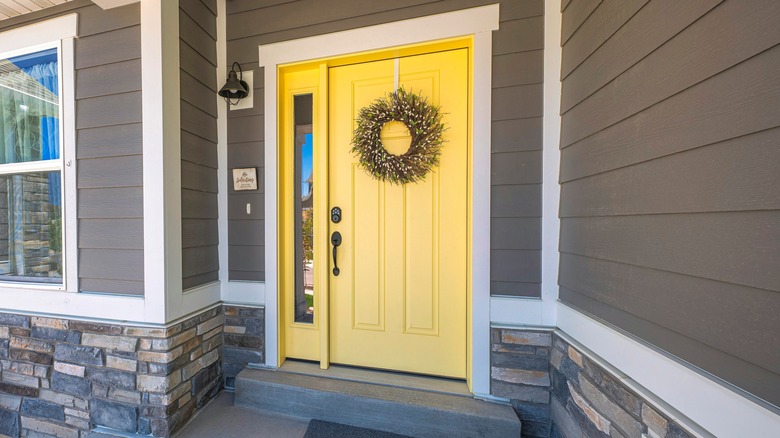 Jason Finn/Shutterstock
Another thing Mina Starsiak Hawk focuses on when it comes to curb appeal is the front door of a home. Making sure the paint or finish is in good condition is always important, but changing the color has the potential to sway homebuyers even more. Depending on the overall look of your home, adding some color in this area can create drama or add a bit of whimsy. From dark colors like black to cooler blues and even shades of yellow or a classic bright red, there are lots of eye-catching options perfect for boosting the value of your residence.
Wondering about colors to stay away from? According to a Zillow survey, lighter pinks and gray tones akin to cement are turnoffs in the curb appeal department. Trends come and go, so that doesn't mean you can't paint your front door one of these hues if you love the way it looks. This is especially true if you don't plan on putting your home on the market anytime soon. One thing to keep in mind when selecting a color, however, is that some homeowner's associations (HOAs) have a set color palette for front doors. Be sure to check the HOA bylaws for your community, if needed, before making a front door color change or risk having to redo it sooner rather than later.
Add artificial plants to boost curb appeal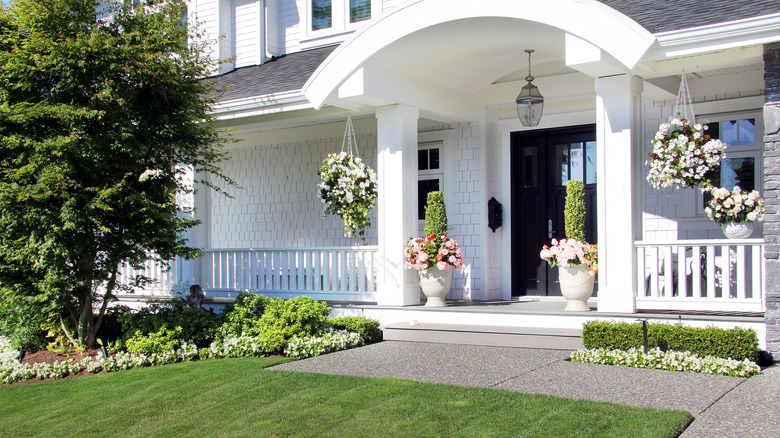 Hannamariah/Shutterstock
You might be surprised to learn that Mina Starsiak Hawk has dubbed herself "the queen of fake plants," revealing, "It's all I have in my house," she said (via Realtor.com). "They don't need to be watered, and they don't need to be transplanted." She suggests taking them out on the porch, too.
When renovating a condo in Indianapolis on "Good Bones," Starsiak Hawk took her love of fake plants outdoors. Of course, real plants took center stage where they were most visible, but artificial hanging baskets were added to the porch for an additional touch of low-maintenance greenery. "It's just another way to add a little pop of green to the outside and make it feel a little fun," she adds. In addition to hanging artificial ferns like she did, you can consider imitation topiaries to flank your front door and even add in some colorful fake flowers here and there. Just be sure to keep an eye on them and switch them out if they start to weather over time. This is another area where some HOAs are sticklers, so keep that in mind before investing in artificial plants and flowers to decorate your front entryway or porch. With a bit of forethought, you can find cost-effective ways to make the outside of your home more appealing while keeping your neighbors happy, too.