The Renter-Friendly Patio Greenery Makeover TikTok Can't Get Enough Of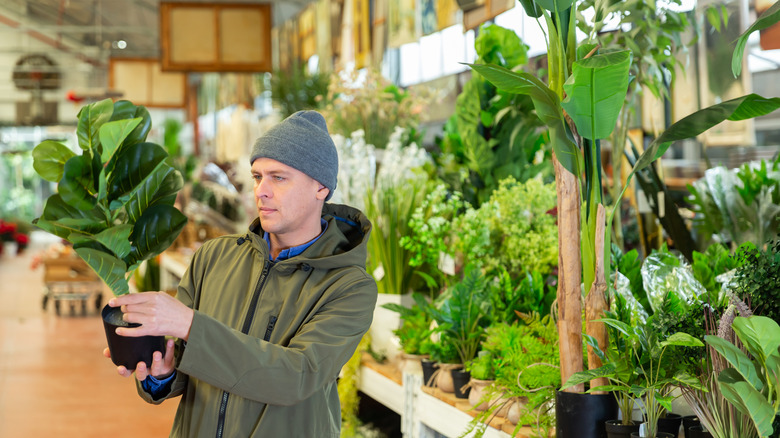 Jackf/Getty Images
Turning your patio into a warm and inviting area often doesn't require much other than somewhere to sit and plenty of greenery. However, when you live in a rented property, there are usually limits to what you can change about the place, including any outdoor space. Enter the following TikTok by @everythingeryn, who can be seen cleverly using removable materials and products that won't leave a trace behind when you decide to switch things up or move out. 
In the video, floor tiles, a moss wall, and plenty of plants help to turn the relatively small patio area into a lush oasis. If you have stipulations about what you can and can't change about where you rent, you don't need to worry, as this transformation can be done in both a renter-friendly and budget-friendly way. If you want to get the look for yourself, here's all you should know about this biophilic outdoor makeover that will perk up your patio immediately.
Revamp your patio space with these renter-friendly tips
One of the biggest non-permanent changes you can make to a space is enhancing the floor. Black tiles like these porcelain outdoor ones from Archiproducts are a good option for creating a refined look. But you can also find similar options in a variety of textures like wood to best suit your preference. 
Next up, add plant life. Decorating with greenery will automatically create a lush look. Pepper your patio with heaps of plants in different dimensions, whether fake or real. You can add patio-friendly ones like majesty palms and ornamental grasses for a big impact. There are lots of faux options designed for indoor/outdoor use like the budget-friendly FEJKA Kentia palm from IKEA. The moss wall aspect requires a bit more effort. You'll need a wooden frame and heaps of artificial moss. Then, stick the moss onto the frame with heavy-duty glue and place the wall where you want it. Add a furniture set to finish the look and to allow you to enjoy the space. 
There likely aren't stipulations regarding adding new items as long as they won't leave any marks behind. Remember that all rentals are different, and some have guidelines about the appearance of outdoor spaces. So, even though we love a good design transformation, if in doubt, it's always best to check that adding things to your space is okay.