TikTok's Creative Hack Uses Old Spray Paint Can Lids To Add Light To A Patio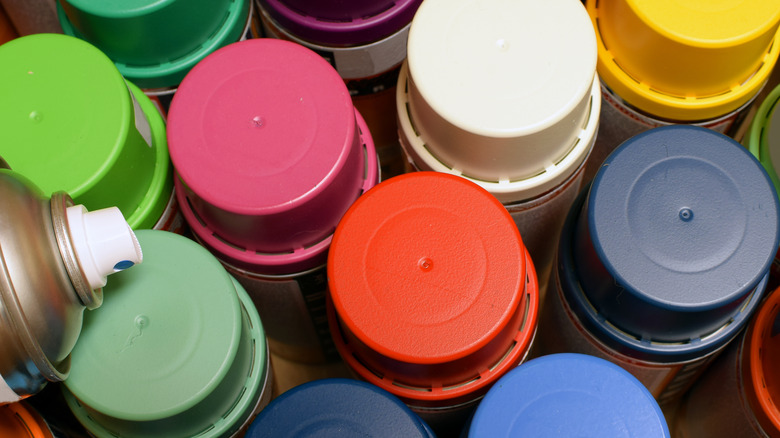 JRJfin/Shutterstock
Finding eco-friendly ways to dispose of your art, craft, and home design materials is important. Even better if you can turn them into amazing DIYs that not only keep things out of landfills but also provide a use for everyday materials that are more treasure than trash. TikToker @redeux_style recently showed off how she upcycles the most ordinary object into lovely DIY solar lanterns for your patio or outdoor space by simply drilling a few holes in a colorful spray paint can lid.
While recycling the spray paint cans is best left to the professionals at your trash service or local recycling yard, the colorful lids that top them are a perfect plastic piece for combining with ready-made, inexpensive solar lights. A colorful set of these lights makes a cozy and striking glow on a table or any surface. Even better, they are a great alternative to more expensive colored solar lanterns sold in stores.
Creating DIY solar lanterns
Begin by collecting a few lids from your spray paint cans — which are hopefully already in your home from painting other decor and furniture with all your favorite shades. Using a small drill bit, create several holes around the sides of the lids where you want the light to shine through. If you'd like a clean edge and a guide for drilling, add some painter's tape and mark where you would like your holes before beginning. When finished, you can simply pop them on in lieu of the usual clear plastic covers for most solar lights with a puck design. After being charged by the sun, they glow from the interior and cast light through the holes.
Create several of these to line your walkway or place a grouping on a table. You can also vary the size of your drill bit to create larger and smaller holes or create patterns and designs with where you place your drill. Lighter-colored paint lids tend to show the light more heartily, but even the darker colors will cast a cozy glow. A mix of black, green, and orange paint lids make a perfect set of exterior lights for the Halloween season.